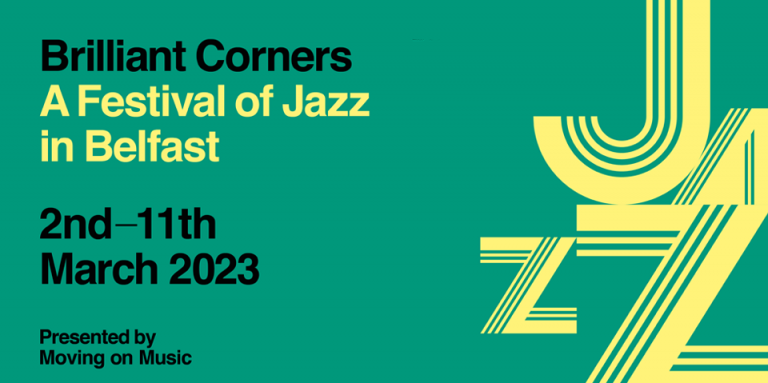 Belfast's finest annual jazz event is back this March for its eleventh outing, courtesy of the perennially-reliable Moving On Music. This year's Brilliant Corners festival features thirteen concerts – and two free events – across nine days from March 2nd-11th set predominately in the Black Box and Accidental Theatre.
As ever, the programming will appeal to all manner of audiences, from the pure experimentalism of Belfast's monthly Handmade Music, to the futuristic, urgent eclecticism of Run Logan Run and Sarathy Korwar, to rising masters of pure jazz like Binker Golding and Fergus McCreadie. The full schedule for Brilliant Corners is as follows – with each concert set to begin within 20 minutes of door times:
Thursday 2 March – Handmade Music #2 LaraJones / Alan Niblock / QUB Ensemble
Accidental Theatre, 8pm

Friday 3 March – Run Logan Run
Black Box, 8pm

Saturday 4 March – Ulster Youth Jazz Orchestra
Black Box, 1.30pm

Saturday 4 March – Sarathy Korwar
Black Box, 8pm
Saturday 4 March – Saru Sounds 'Speak No Evil' DJ Set
The Green Room (Black Box), 7pm – Free

Sunday 5 March – Ant Law & Alex Hitchcock Quartet ft Jasper Høiby + Sun-Mi Hong
The Black Box, 2pm

Sunday 5 March – Johanna Summer (solo)
Black Box, 7.30pm

Tuesday 7 March – Camille Bertault & David Helbock
Black Box, 7.30pm

Wednesday 8 March – Lina Allemano Four
Black Box, 7:30pm

Thursday 9 March – Fergus McCreadie Trio
Black Box, 7:30pm

Friday 10 March – Alexander Hawkins Trio
Black Box, 8pm

Saturday 11 March – Roamer
Black Box, 2pm

Saturday 11 March – Binker Golding
The Black Box, 8pm
Saturday 11 March – The Not King Cole Trio
The John Hewitt, 10pm – Free
You can pay per gig here, although if you're a real head, there are some heavily discounted Full Festival tickets – priced at just £45 – which get you into every event. Check out a MOM-curated Festival playlist below.
Moving On Music also have an open call for any NI-based female or non-binary musicians who play jazz or are interested in playing it to be part of an ongoing project beginning shortly after the festival, under the guidance of renowned saxophonist, composer and teacher Meilana Gillard.
Contact mark@movingonmusic.com or speak to Moving On Music officials during the festival to register your interest.