Events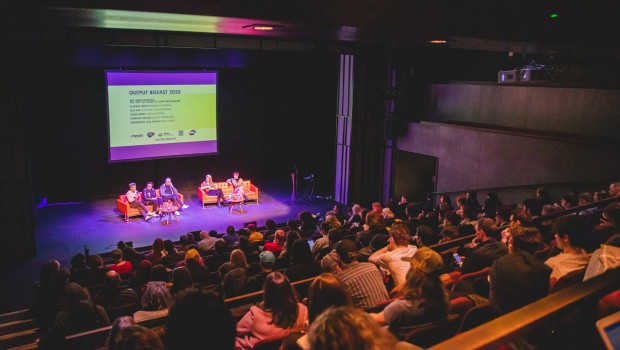 Published on April 28th, 2023 | by Brian Coney
0
Output Belfast x AVA 2023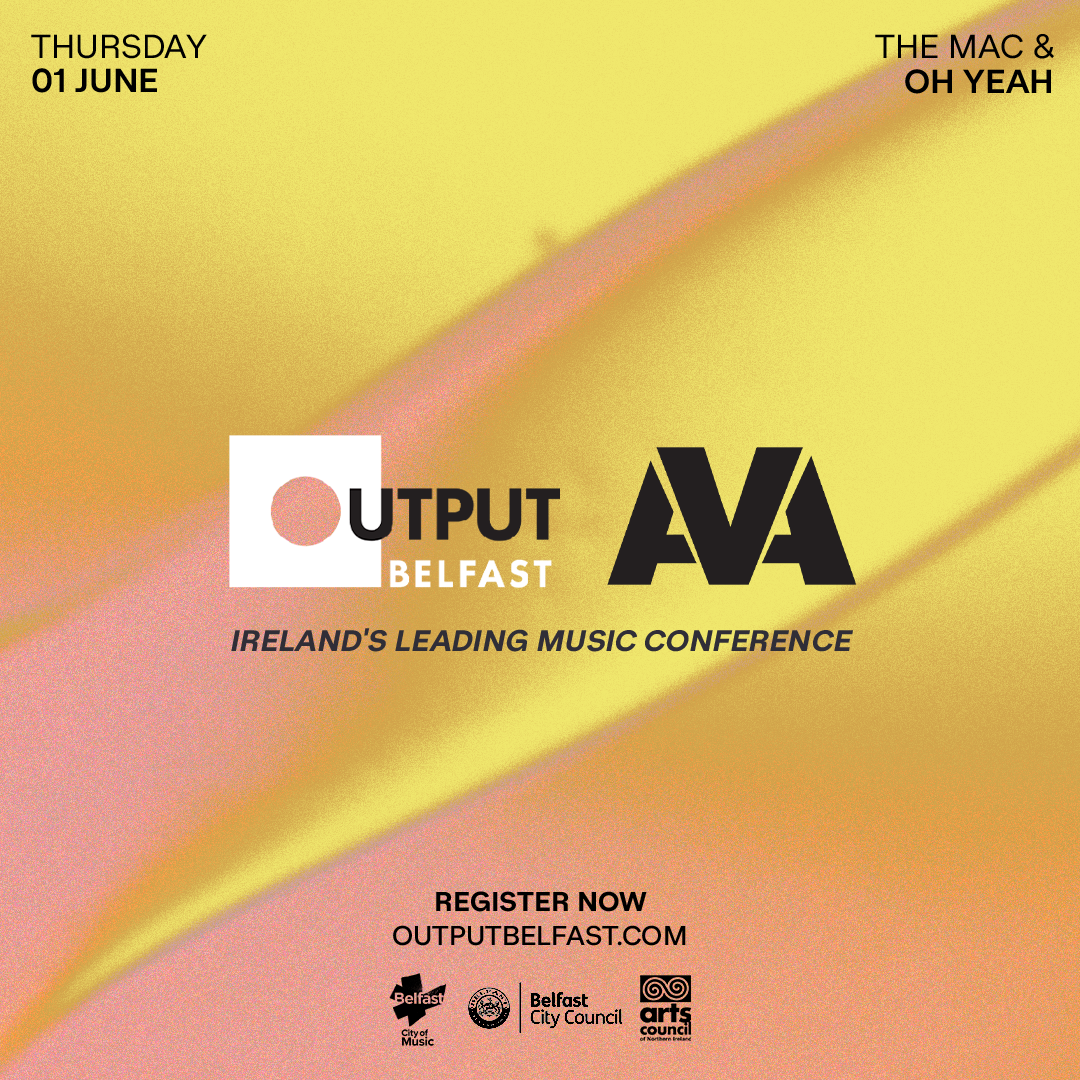 Ireland's leading music conference Output is teaming up with AVA for its 2023 return.
Once again taking over the MAC and the Oh Yeah Centre on Thursday, 1st June, this year's outing will see organisers join forces with the world-beating Belfast electronic music festival AVA.
With more than 800 delegates expected to attend over 30 sessions, workshops, masterclasses, panels, keynotes and state of the nation addresses across all aspects of the music industry, it's set to be the most diverse music industry education and networking programme the city has ever seen.
As well as opening keynotes by CMU founder and managing director Chris Cooke, and music, brand and event consultant Linda Coogan Byrne, this year's free panels, panels and workshops span subjects including nightlife policy, press releases, self-releasing music, songwriting, event curation and more.
With more details to be announced, check out the current line-up below.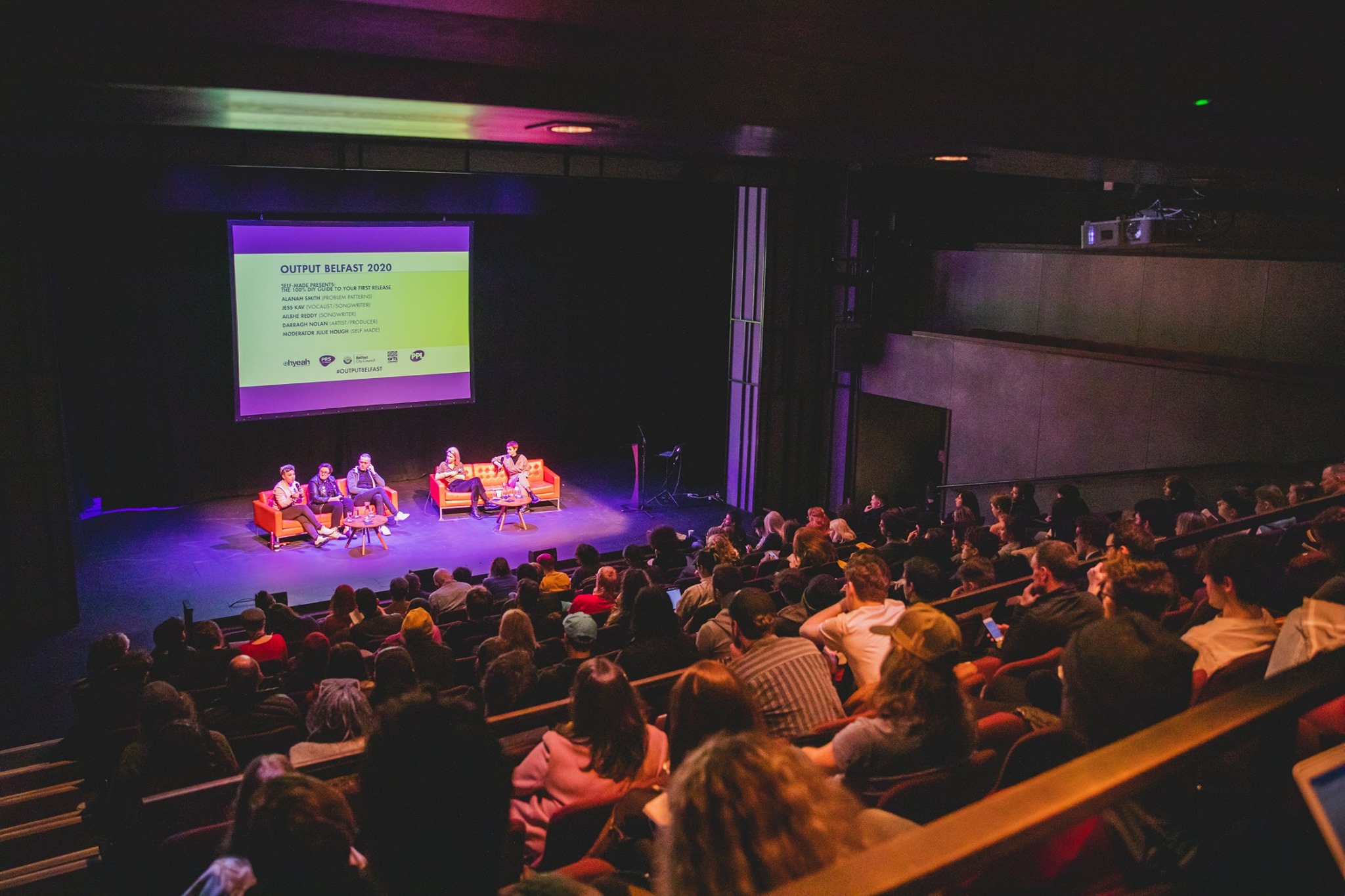 Announcing the details of Output Belfast & AVA Conference 2023, John Walsh, Chief Executive of Belfast City Council, said:
"Music is so important to Belfast. We're only the third UK city to become a UNESCO City of Music – and the very first city on the island of Ireland to receive this prestigious accolade. The diverse talent, innovation, and creativity we have is incredible – we're so proud of our music culture, the expression it gives, and the huge contributions it makes to our quality of life and economy."
"And we're excited to see its continued growth and vibrancy, showcased recently at SXSW, on stage, on tv and cinema screens, at music festivals and on dancefloors globally. This new partnership between Output and AVA is very welcome indeed – providing much needed practical support to artists to bring their work to the next level. Our Council Members recently approved a £100K boost for Belfast's music industry, investing in venues, a new digital music support service and marketing platform, and industry mentoring as part of our 'Music Matters: A Roadmap for Belfast'. So we're delighted to be investing in this conference as part of our support for the creative industries – and look forward to seeing the new partnerships and projects which will undoubtedly result from it."
Mark Gordon, Founder of Output Belfast, said: "AVA, under Sarah McBriar's leadership, has been instrumental since 2015 in amplifying the extraordinary talent and skills in Northern Ireland's thriving electronic music scene – and it's brilliant for me personally that having been a part of their conferences in Belfast, London, and as far away as India – that we now get to bring their expertise, networks and skills to what has now become Ireland's leading music conference. This promises to be by some considerable distance the most important music conferencing day Belfast or Ireland will ever have seen, and I'm delighted with our partnership."
Sarah McBriar, Founder of AVA said: "Mark Gordon and I have worked together since AVA began in 2015. We understand the great potential of the music industry across the Island of Ireland, and we believe that bringing our two conferences together will further boost what's possible for the event, the conference content, and its ability to inspire and elevate both artists and the industry. We plan to instigate greater education, greater support, and greater attention to what is creatively possible."
To sign up for the 2023 edition of Output Belfast & AVA Music Conference, visit www.outputbelfast.com/ and https://avafestival.com/
RA Roundtable: "Reimagining Nightlife" Policy, Community and the Creative Night Time Economy
Chloe Lula (Resident Advisor)
Boyd Sleator, Free The Night (Northern Ireland)
Ciara Power, Queen's University Belfast (Ireland)
Robbie Kitt, Give Us The Night (Ireland)
Gunnar Geßner, Hanover Night Council (Germany)
Resident Advisor presents a roundtable discussion on the intersection of policy and community in the late-night creative economy.
_
Your press release sucks! How to write a press release that works

Brian Coney (Editor, The Thin Air)
Niall Byrne (Founder, Nialler9)
+ More TBA
Music journalists talk us through the art of writing a press release, from what to include to who you should approach and how best to approach them.
_
Self-Releasing Classical Music as a Composer or Performer
Matthew Whiteside (Composer, Author and CEO / Artistic Director of The Night With…)
Tips for self-releasing Classical music, including budgeting, running recording sessions and getting your music on streaming platforms.

PRSfM  Presents: Stop, Collaborate and Listen – Developing a Career as a Producer/Co-writer
Rocky O'Reilly (Founder of Start Together Studios)
Stuart Fleming (Head of Membership Development Scotland & Northern Ireland, PRS)
+      More TBA
How to get started in producing and co-writing music.
_
On Music Presents: Kind of Blue – Placing Northern Ireland bands in Blue Lights
Catherine Grimes (Music Supervisor, 'Blue Lights')
Louise Gallagher (Producer, 'Blue Lights')
Simon Pursehouse (Sentric Music)
_
BBC Introducing: Dance Music – How to get started and how to break through in electronic music
Gemma Bradley (BBC Radio 1 Presenter & Artist)
Sarah McBriar (Founder of AVA Music & Arts Festival)
Caoimhe Moreland (Academy-Winning DJ)
Sally C (DJ & Label Owner)
+      More TBA
 _
The Art Of Event Curation
Dylan Murphy (District Magazine)
Emmett Costello – (AVA Festival, Inside Moves)
Molly King – (Other Voices, South Wind Blows, Ireland's Edge)
Rich McGinnis – (MAMA Festivals, Warehouse Project, Parklife, Circus)
Will Rolfe – (All Together Now, Forbidden Fruit)

AVA assembles four promoters working across different areas of the industry to talk about what makes a great festival tick.
_
SCGI Presents: Scoring Brendan Fraser – Inside the composed and supervised music for "Professionals"

Dina Coughlan (Music Supervisor/Co-Founder, Planet of Sound)
Kormac (Artist / 'Professionals' Composer)
Rory McPartland (Music Supervisor/Co-Founder, Planet of Sound)
_
'I get knocked down'  documentary Q and A with Dunstan Bruce (Chumbawamba) and Sophie Robinson
Sophie Robinson (Director, 'I Get Knocked Down')
The creation and reception of 2023 documentary 'I Get Knocked Down' – a story of the rise of Chumba and their epoch defining anthem "I get Knocked Down".
_
Legal 101 – Top 10 Most Frequently Misunderstood Legal Terms in Music

Jonathan Tait (Rights Manager, STV)
Ivors Academy Presents: Composing for Feature Documentaries
Nainita Desai (Award-Winning Composer)
Composer of Oscar nominated feature documentaries discusses the nature of creating scores that honour the rawness of feature documentaries.
_
Irish Music Industry Podcast Presents: The Rise and Fall of BalconyTV
Mark Graham (Podcast Presenter: 'The Untold Story of BalconyTV')
Stephen O'Regan (BalconyTV Founder)
Joanne Collins (Producer of BalconyTV Cork)
Stephen McGrath (Artist: Crow Black Chicken)
Based on 2023 podcast 'The Untold Story of BalconyTV' – A deep dive into the fascinating rise and fall of the global live concert music platform.
_
Get in the Vans – How Vans work with emerging talent in Music

Tony Arthy (Vans)
Benjamin McGee (Artist manager: Lemonade Shoelace, Chalk, Joshua Burnside)
_
How do you manage THAT? Pitching new music to established artist managers
Bekah Molony (Artist Manager: Celaviedmai, Negro Impacto)
Phil Jones (VP Artist Management, MNRK: Anand Wilder, Ailbhe Reddy)
Maria Torres (Artist Manager, MOTHER ARTISTS: IDLES, Heavy Lungs, 86TVs)
Conor Cusack (Artist Manager: Saint Sister, THALA, Jed Holland)
_
CMU Presents: The Economics of Streaming – Where Next?

Chris Cooke Founder & Managing Director, CMU
Jenny Goodwin (Policy Officer, IVORS Academy)
Naomi Pohl (General Secretary, Musicians' Union)David Martin (CEO, FAC)
An in-depth discussion on the steps that must be taken to ensure the digital music business works for both music-makers and the music industry.
_
Sing When You're Winning – Top Tips to Sing Harder, Better, Faster and Longer

Dave Jackson (Singer/The Voice Contestant)

_
Womens Work Presents: Artist Development Opportunities in 2023
Charlene Hegarty (Talent Development Manager, Oh Yeah Music Centre)
Gill Dooley (AIM Ireland)
Lea Heart (Artist)
Priscilla Kotey (Warner Ireland)
_

From Bedroom Beats to Timbaland Tunes – Making Cuts for Global Hip-Hop Tunes
Pamela McCormick (Director, UD Music)
WhipitConall (Artist)
Dylan Murphy (Head of Content, District Magazine, Manager: WhipItConall)
_
Go Fund Me – Opportunities for Funding for Artists and Music Businesses
Ciaran Scullion (ACNI)
Westley Holdsworth (PRS Foundation)
Hannah Gibson (HMNI)
An insight to funding opportunities available for musicians, creatives and music businesses – including schemes by the Arts Council, PRS Foundation and Help Musicians.
_
AIM Ireland Presents: Top Tips for Self-Releasing on a Budget

Gill Dooley (CEO, AIM Ireland)
Brian Scally (Director, Paragon Records)
Aine Cronin-McCartney (Label Manager, Bloom Records)
Julie Hough (Co-Founder and Label Coordinator, VETA)
Solomon Adesiyan (CEO, Trust It Entertainment)
Indie Label experts discuss ways for emerging and established artists to record albums, release music and market themselves on a budget.
_
Breaking Tradition – New Adventures in Trad Music in Ireland (Traditional Music)
Jo Wright (Music and Traditional Arts Development Officer, ACNI)
Danielle Carragher (Artist, Dani Larkin)
Clare Sands (Artist)
Brìghde Chaimbeul (Artist)
Rónán Ó Snodaigh (Artist, Kila)
Irish Traditional and Folk artists discuss how to break through barriers, secure international showcasing opportunities and achieve career longevity.
_
Marshall Law: Inside the Marshall playbook for management, music and touring

Steph Carter (Head of Education, Marshall)
Megan Devereux (Education Coordinator, Marshall)
Hannah Richardson (Artist, CHERYM)
_
CMU Presents: Pathways Into Music
Chris Cooke Founder & Managing Director, CMU
Phil Nelson (Music Lecturer, BIMM Institute)
How the music industry, and music education sector, can better support anyone on their own pathway into music as frontline artist, portfolio musician, industry executive or music entrepreneur.