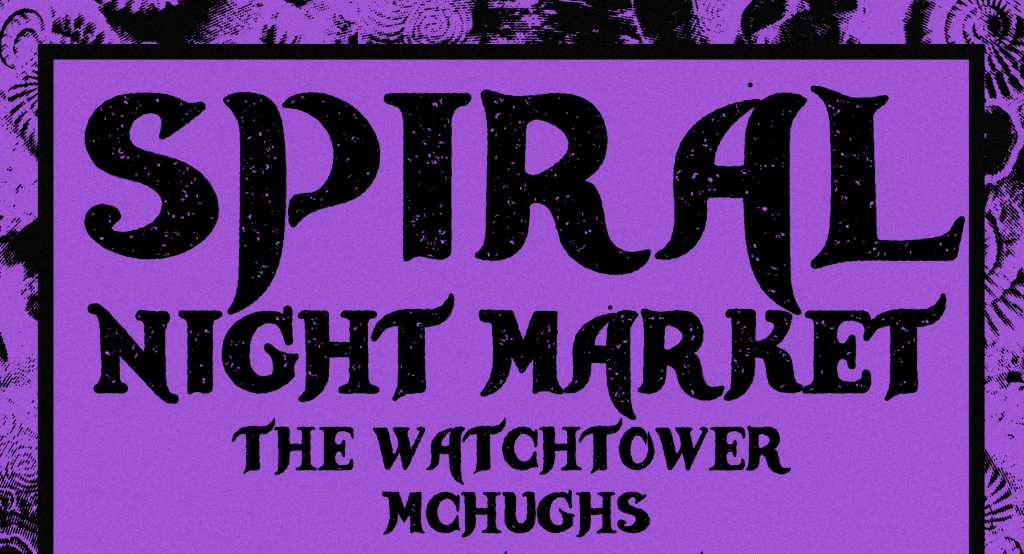 Much like the likes of, say, Letterkenny or neighbouring Dundalk, Drogheda is a textbook case of an Irish town that more than holds its own as a thriving creative community beyond the confines of our native cities.
Along with the likes of independent record store Bigmoon Records and any number of forward-pushing artists (Spit, A92 and hotgirl, to name just three) McHughs functions as a vital hub in the heart of the Louth town which you will, of course, find slap-bang between unlivable late capitalist hellscapes* Belfast and Dublin.
* poetic licence applied
In recent years, the Cord Street institution's venue space, The Watchtower, has played host to countless top-tier bills and occupies an increasingly important role in bringing together various pockets of Drogheda's keen DIY scene.
Which comfortably brings us to the first-ever Spiral Night Market.
On 27th October, right on the cusp of Samhain, the event's inaugural outing wlll transform the venue into a guaranteed ghoulish showcase of the often all-too-overlooked talent, artistry and creative spirit of Drogheda and its surrounding areas.
Running from 4.30pm to 10.30pm, the market will feature jewellery, records, vintage clothes, zines and more from various local makers and sellers, with cocktail specials and caricatures also very much on the cards. Better still, from 6pm until late, the market will include acoustic sets Meitheal, Khidyie, Tomás and Jake Under My Skin, followed by the Spiral Market afterparty with Dublin art-rock band Blazer sealing the deal.
Were that not tempting enough, entry is completely free. You would be spook… uhm… cursed…. yeah, cursed to miss it.
Seriously though, you would. Look how nice the poster is – that is unquestionably the scariest shade of purple.