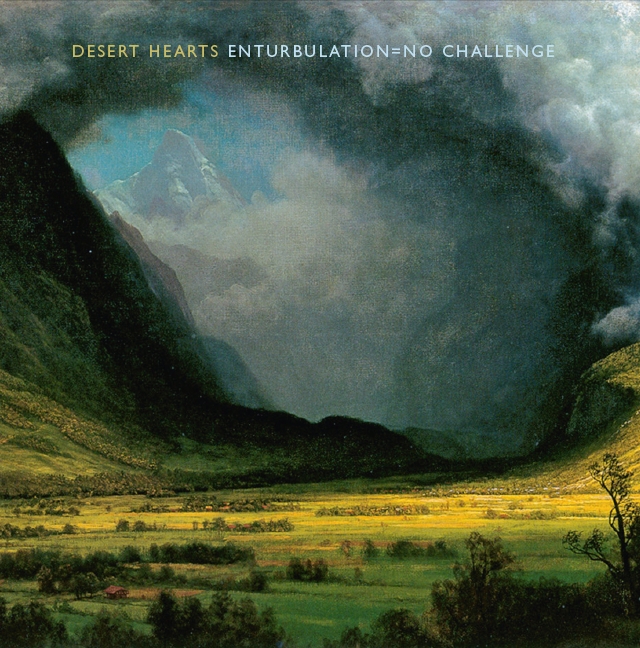 "The opposite of harmonious, cooperative, respectful, calm, serene, disciplined". A process of "agitating or disturbing". As anyone who's ever seen them can confirm, such words could serve as a neat description of Desert Hearts. They are, in fact, taken from the the Wiktionary definition of 'Enturbulation', a word coined by L. Ron Hubbard, used primarily by Scientologists and which, now, finds itself gracing the title of the new Desert Hearts album.
One of the fundamental practices of Scientology is 'auditing', a procedure through which the individual revisits the traumas of the past as a means of elevating them to a pure state in the present. Perhaps, this record is Desert Hearts means of auditing, their very own 12 steps towards catharsis.
Certainly, Charlie Mooney – boy from the black stuff – has never been as lyrically direct as he is here. These are tales of unrest, of people with a hunger in their broken hearts. Several songs tell of a gnawing 'want' that is eating the subject from the inside out. There's a want for love, to be "king" of that someone's heart. There's the want to "be good for you, this time". A want, ultimately, for "everything". It can be hard to bear witness as he picks, picks, picks at those emotional scabs.
And, yet, this unvarnished feeling is delivered via some of the most polished music that Desert Hearts have ever released. These competing forces are encapsulated by 'Oak Mot'. The subject matter comes wreathed in funereal black, the melody touches the bright hem of pop. The forlorn, broken-down croon of Mooney is woe's own and beautifully twinned with Roisin Stewart's soft coo. It's all part of the push and pull, the friction and willful turbulence that fuels this album. 'Arrow of Time', for example, starts out as a tight, rhythmic strut before lurching headlong into a violent guitar solo that calls to mind the hog-roasted squeals of Bobby in Deliverance.
Then there's 'Powertrash', the closest thing to a conventional love song that this band has ever written. It's unashamedly heartfelt, the tune swelling tenderly with violin, trumpet and vocal as it reaches a regret-tinged crescendo. However, if this is their soft underbelly, 'Liberators' proves that Desert Hearts can still be the meanest dog in the junkyard – rabid guitars, pounding drums and howling-at-the-moon vocals seeing them bare their fangs.
Throughout, the production of Ben McAuley is warm and sympathetic and, overall, the sound here is more rounded than the first two records, not as skeletal as the debut, Let's Get Worse, not as splintered as 2006 masterpiece, Hotsy Totsy Nagasaki. This can, in part, be attributed to the input of new members Stuart Bell and Stephen Leacock and the contributions of a number of guest players.
Licks of pedal steel – courtesy of Bell – add a pleasing country twang to opener 'Wolf Down' and, the penultimate, 'Tell The King'. The latter song is a real delight, sweet strings build to a swooning faint before brute guitar comes barging in. 'Aw Devastation', meanwhile, is all about the rhythm, the cascading drums of Leacock giving form and force, whilst the wryly-titled 'Jesus Took LSD and Thought He Was Me' is a gorgeously ramshackle helping of alt-folk that Bill Callahan would be proud to call his own.
And if, on the first few listens, part of me mourned that Enturbulation = No Challenge was not quite the companion piece to Hotsy Totsy Nagasaki that I'd yearned for, I eventually came to recognise that not only is it a worthy successor, it is an album that demands to be appreciated on its own terms – the emotions compressed and deepened, the songwriting soulful, containing moments that are inescapable. It is, in short, music that leaves a mark. Francis Jones
Out now via Third Bar/No Dancing | deserthearts.bandcamp.com/
Read Francis Jones' interview with Desert Hearts here