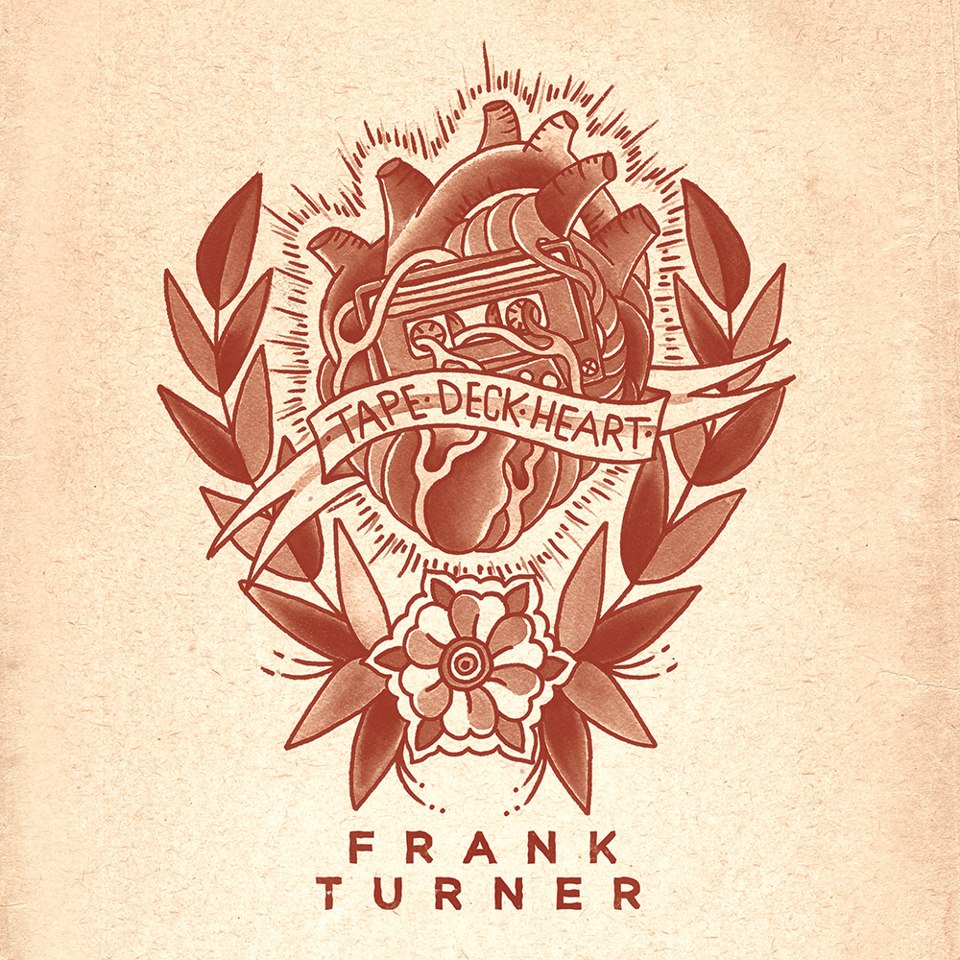 It's been ten years since Frank Turner first howled his lungs out on Million Dead's debut. One band dissolution, a genre hop, multiple releases and an Olympic ceremony later the Winchester lad is still wailing, albeit with a greater sense of melody. Tape Deck Heart is Turner's fifth solo album in seven years and it is around this point in an artist's career that the cracks invariably begin to show – this album is no different.
There is an increased feeling of lethargy with some of the music on display. A release schedule like Turner's puts a strain on any artist's musical ability and he is no different. However, in an attempt to placate some of these fears Turner has experimented more and more with the structure and format of these songs. The rollicking 'Four Simple Words' is a perfectly judged 'Happiness Is A Warm Gun'/'Paranoid Android' genre hopping romp that really allows the band to showcase their musical chops and prove that they are one of the best backing bands in the business today.
But the strongest musical piece from this album is the Sigur Ros-inflected 'Broken Piano', which doesn't so much break the man's formula as take it behind the shed and bludgeon it. A low, unsettling synthesiser carries the majority of song and eventually gives way to powerful pulsating rhythm section, which acts as some of drummer Nigel Powell's finest work with the band. This is without doubt the most experimental track the man has attempted and it does pay off. Ultimately though this is a standard Frank Turner album;  4-chord punk inflected folk music with hints of Springsteen and Against Me!, sing-along choruses and a beat you can dance to. While it may only be one trick, its a damn fine one that still works just as well as it did seven years ago. The music is bouncy and fun and meant to be sung along too – which is odd considering some of the lyrics on display.
On his last two albums, Turner has sang the high praises of perpetual motion. However, it is here that he allows us to the see the real impact of such a lifestyle. He sings of the highs and lows of love in the visceral detail and at points the albums seems to approach Here My Dear levels of rage, sadness and profundity. The pinnacle of this being the heartbreaking 'Anymore' which concludes with a line that is just cripplingly sad. It's a wonderful thing to see an artist cut through the bullshit and show their as the true selves. Turner's decision to be so unflinching in his honesty has always been one of his saving graces and whatever mythology of Turner exists, he's been spending the last few years tearing it down to the ground. He isn't a rock star, he's ordinary folk and his love, loss and life shines truer as a consequence.
While Tape Deck Heart never quite reaches greatness, it is an excellent effort nonetheless. Turner's emotional honesty and attempts to break his own formula help to stave off feelings of decay that destroy many bands that reach this point. It's been ten great years for Frank Turner, let's hope the next ten will be just as good. Will Murphy
Out now on Xtra Mile |  frank-turner.com