Album Reviews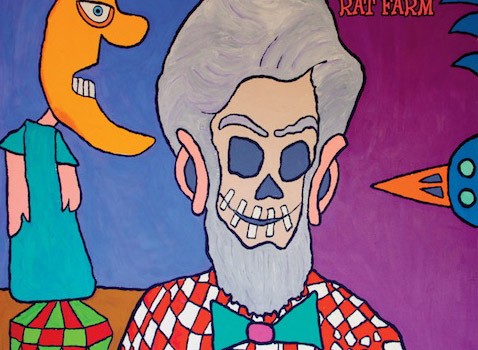 Published on May 3rd, 2013 | by Stevie Lennox
0
Meat Puppets – Rat Farm
It's something of a miracle that the Meat Puppets' last three of their fourteen records have been among their most chilled-out, considering the trauma that's plagued their careers in recent years – one notable exploit being bassist Cris Kirkwood's 21-month prison sentence for assault on a police officer in 2003 – but despite, and perhaps in spite of these things, the brothers Meat have come full-circle. Starting out as a bunch of Deadhead hippies, Curt and Cris Kirkwood soon discovered hardcore and had several bouts of musical schizophrenia before Kurt Cobain propelled their name to alt. rock cult heroes via 3 covers from their defiantly original opus Meat Puppets II for MTV Unplugged in New York.
Rat Farm sees the trio return to their folk-rock roots – think a more laid-back, bluesy Up On The Sun – following 2011's patchy-at-best effort Lollipop. The spirit of the Grateful Dead – the American Beauty-era especially – lingers heavily over this release, including all of the upbeat mid-tempo stoner warmth that comes with the territory, especially Curt's lyrics, which – in a classically Deadhead way – constantly display an imaginary childlike sense of wonder at the world. The album lives in the same lazy, sun-drenched sonic wilderness that's home to the most recent couple of Dinosaur Jr. albums. While Curt's never afraid to let rip with a scorching Neil Young-inspired lead line – see: 'One More Drop' – and highlight and closer 'Sweet' is a modern Meat Puppets tour de force, the psychedelia dial has been turned down to 'subtle', and there's a sense of restraint at other times, shown on the rather twee country-folk of 'Sometimes Blue', among other tracks. There isn't any boundary-pushing to be found on Rat Farm compared to that which was accomplished in the band's first decade, and you're unlikely to find yourself repeating . Where earlier efforts fall down and Rat Farm stands high, however, is in the harmonies; it's only seemingly been in the last few years that the brothers made the decision to learn how to actually sing, and the results have lent polish to everything since.
The fact that their "we won't practice or sing in key because it's not hip" days are behind them is where both the strengths and weaknesses of Rat Farm lie. Without resorting to putting – as Cris would say – "a prog rock part in the middle", Rat Farm displays the kind of songwriting maturity you'd expect this far in. There's a huge sense that the trio feel well-settled, that there's no one left to impress, and this removal of ego allows the musicianship to serve the songwriting rather than serve their own musical egos. While Rat Farm doesn't lie among the higher echelons of the band's now fourteen-strong back catalogue, it's worthy of a few spins during a lazy summer sunset. Stevie Lennox
Out not on Megaforce | www.themeatpuppets.com/

Summary: Check out: 'Sweet', 'Original One', 'Again'.
Similar artists: Dinosaur Jr., The Grateful Dead, Neil Young & Crazy Horse.