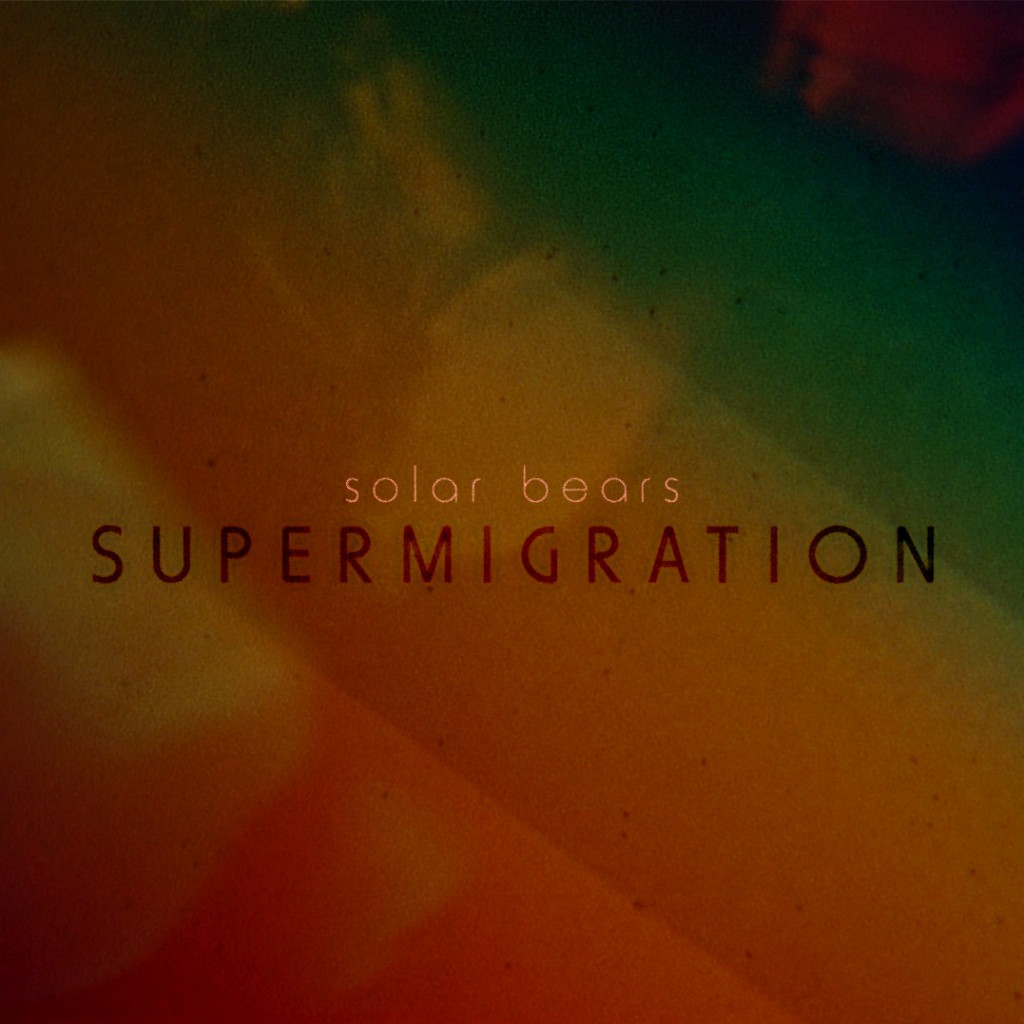 Despite having moved out of their bedrooms and into a professional studio to record the follow up to 2010's She Was Coloured In, Irish duo Solar Bears are in no mood for reinvention on their second LP. Indeed, with John Kowalski and Rian Trench having spent a considerable amount of time since their debut perfecting their live set, much of Supermigration is focused on refining their psychedelic,  ambient-pop style- and what a style it's become. The duo's shared love for science-fiction films and krautrock-inspired electronica is as prevalent as ever and, perhaps most impressively, as seamless. It's hard to tell whilst listening whether a track is more reminiscent of a moment from Moon Safari or a mis-remembered moment from a sci-fi B movie- Supermigration is a vivid, technicolor journey, and one which is a lot more glossy around the edges than its predecessor.
Crucially, Supermigration sees the introduction of guest vocalists, which help to immediately elevate the duo's already accomplished songwriting. Sarah P of former blogosphere sensation Keep Shelly In Athens contributes to the starstruck synth-pop of 'Alpha People', whilst former Air contributor Beth Hirsch's lofty vocals sit alongside a fiendishly catchy riff on the rousing 'Our Future Is Underground'. And such hooks are a necessity when cinematic krautrock is your deal. Indeed, it's when the duo stray into meandering kosmiche territory that their appeal begins to fade. The wide-eyed 'Love Is All'  and limp comedown of 'You And Me (Subterranean Cycles)' are  two examples of when Supermigration borders on the aimless, and also a pointer as to why the album's first half feels like a bit of a false start.
Each hook-laden electro-pop song is immediately followed by the ambient comedown, and so on and so forth.  It remains an issue throughout Supermigration, and is probably the clearest example in recent memory of when a quick rethink of the track listing would have done an LP a big favour. Even so, it's not enough of a quibble to negate the post-punk-inspired stylings of 'The Girl That Played With Light', surely the duo's most accessible and direct number to date; the New Order-esque riff around the song's midway point probably one of the most assured influence drops in the genre for many a year.
The resulting cocktail is an album which is evocative throughout, albeit one which is unlikely to leave many transfixed. A few pacing problems and unfortunate tracklisting issues mean that their highs are spread a bit more thin than we might have come to expect, but in those highs there is little doubt that Solar Bears have the perfect mix of cinema, nostalgia, and sparkling pop under their musical belts. In those moments, Solar Bears are a group to treasure. Andrew Lemon
Out now on Planet Mu | www.planet.mu/artists/solarbears