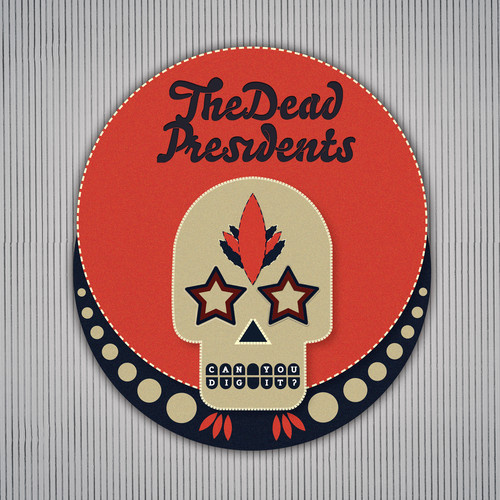 It's been a long trek for The Dead Presidents, having been a power trio in their early years, suffering from lazy comparisons to Thin Lizzy due to frontman (and former bassist) Matthew Wilson's charismatic – to say the least – onstage demeanour. Having released very little other than an early brass section-free version of the band's signature tune 'She's Falling In Love Again' prior to this EP, the Dead Presidents spread almost solely on word-of-mouth press throughout the local circuit, with the launch of this very EP packing more people into QUBSU's Radar than any in recent memory.
One of the instantly noticeable facets of Can You Dig It? – the name itself a cheeky reference to '79 cult classic film The Warriors – is the density of the production. Opener 'Dancing With The Devil' teases with a gradual build – a band warmup, of sorts – with some catch & release dynamics before a chorus intended for regular summertime radio play, while 'Hard Being Perfect' showcases Wilson's balladeering, apologetic lothario side.
There's certainly a degree of George Clinton-produced Freaky Styley-era RHCP to be found within the grooves of this EP, notably on the aforementioned opener and the genuinely storming p-funk-recalling 'Trying So Hard', the latter of which manages to showcase not only the chemistry within the rhythm section, but the Hendrix-inspired, soulful vintage Fender spring reverb-seeped lead playing of Tom Downey. It's on this track that the EP pulls together musicianship, character and well-refined pop songwriting to offer an absorbing simulation of the Dead Presidents' Commitments-esque live experience.
If there's a one-two on this EP, 'Fallin' In Love Again' is the knockout punch. Bringing everything from the previous songs together into a 4 minute slice of groove, hooks and finely-tuned craft, it offers a fresh take on the forlorn love song. If this seven-piece can continue their momentum, the Dead Presidents can really achieve something extraordinary. Not only is Can You Dig It? brimming with tasteful influences from funk, soul and blues; there's almost an excess of crossover appeal. We could have a hit. Stevie Lennox