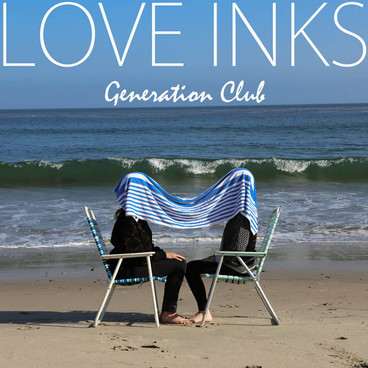 For newcomers, Love Inks are a lo-fi dream-pop trio named after an ancient voodoo practice. For the initiated, their highly-anticipated second album could be the one to have them wrestle the spotlight off The xx, Beach House and every other band on next year's Electric Picnic bill. The music revolves around the husband and wife team of Kevin Dehan (bass) and Sherry LeBlanc, the provider of an original sultry voice found somewhere between Hope Sandoval of Mazzy Star and Stevie Nicks of Fleetwood Mac.
In Generation Club the trio is completed by recent addition, guitarist Derek Brown. The minimalism on display is based around a core of Dehan's soundscapes, all having been notably recorded on a half-inch tape machine. It's a lo-fi aesthetic predominantly built around hazy synths, simple drum machines, reverb-drenched guitar and LeBlanc's overtly delicate vocals. Whereas E.S.P. was about loss, lyrically the new album's manifesto represents turn, change and progression – taking its focus from new beginnings and moving on.
First track 'Hold Out' is a dreamy wave of modern lo-fi punctuated by a heavy bottom end sample with subtle, sweeping synths undulating throughout. LeBlanc's vocals appear as if added as a final touch; the gloss applied at the end of Dehan's free-standing soundscape. 'Hearts Up' follows and is a clear highlight of the album with LeBlanc's vocals progressively ascending into the foreground. Second single and last minute highlight of the summer 'Outta Sight' continues the strong start. Being the lead single of their sophomore effort it's clear that Love Inks have found a regenerated confidence in themselves much like counterparts The xx did on Coexist. The perfect balance of pop quality, indie credibility and homage to shoegaze royalty fall in line and create the most under-appreciated song of 2013 thus far. The bed of 'Outta Sight' is most definitely anchored in E.S.P. while its placing as the third track tips the listeners on what they can expect from here on in.
'Night Lunch' properly matches Dehan's knack for ethereal sonics with LeBlanc's celestial lyrics in providing the listener with a head-in-the-clouds snapshot of a blossoming relationship; Its "life can wait when it's you and me" refrain providing another moment of yearning sublimity. At times sounding more in the vein of Ladytron during the first few bars before the now familiar vocals return, it's probably the 'heaviest' Love Inks get, and for the listener probably the most telling as to where album number three can go. Closer 'Waiting On A Plane' is pleasant enough, although regrettably unmemorable and sounding a little jumbled at times.
In a week that sees Mazzy Star, the masters of minimalism, return after 17 years it is unfortunate that Love Inks' latest offering is released at the same time. It could get lost in Mazzy's wake despite the band walking a different route sonically, thematically and lyrically. File Generation Club alongside the first two Beach House albums under 'unrecognised hit on critics' end of year polls'. Peter Devine