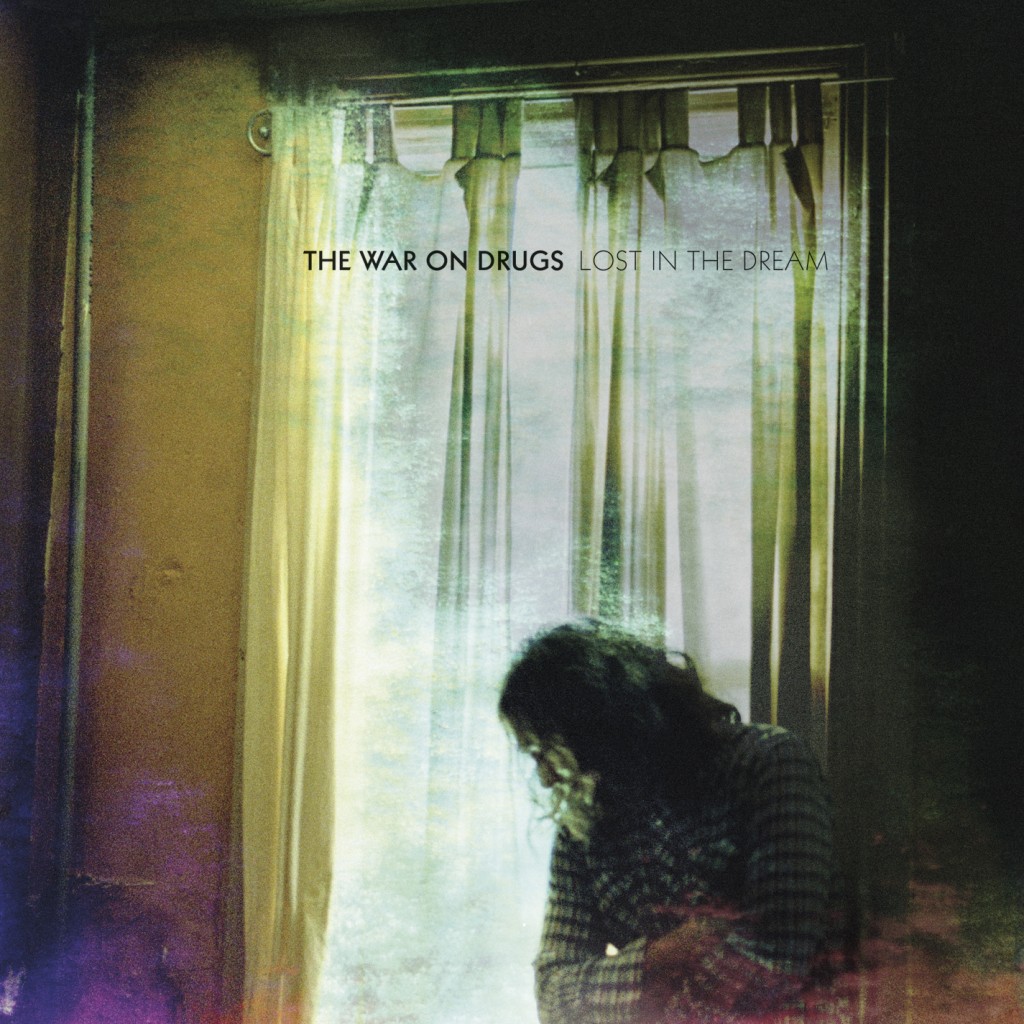 For myriad reasons, we are sadly unlikely ever to hear a collaboration between prime-period Bob Dylan and Jason Pierce's Spiritualized at their peak. For one thing, the laws of space and time prevent it – the two acts' greatest moments occurring some thirty years apart. Damn you, physics!
Fans of imaginary musical dream-teams need not despair though, because we have the next best thing in the form of Lost In The Dream, the third album from Philadelphia's finest pioneers of psychedelic, spaced-out Americana, The War On Drugs. There's no two ways about it: frontman Adam Granduciel's voice unmistakably recalls a young, mid-60s Dylan (when his voice was all weird and nasally and not all weird and croaky like it is now). Meanwhile, the band's music – familiar chord structures, melodies steeped in classic rock history, but swathed in reverb and synth washes, several of them dissolving into dreamy drones – is at times eerily reminiscent of Pierce's heartbreak classic Ladies And Gentlemen We Are Floating In Space.
Lest there be any doubt, this is a good thing. Much of Lost In The Dream is superbly realised, the songs unhurried and graceful, unfolding at their own blissed-out pace and gradually embedding themselves in your skull. A hi-hat hit drenched in delay introduces opener 'Under The Pressure' before a driving beat and a simple, catchy piano riff kick in. Like much of the band's work, at heart 'Under The Pressure' is a straightforward rock song, worthy of Springsteen or Petty, but the spacey production takes it into another realm altogether. A subtle horn section, beautifully underplayed, gives the tune extra punch before it dissolves into three and a half minutes of beatific droning.
There's plenty more to savour here. Despite our slightly facetious Dylan-Spiritualized comparison, this is no one-note knock-off. Witness how 'Red Eyes' unexpectedly explodes into life, Granduciel's excited "Wooh!" ushering in a searing lead guitar line, or how stately ballad 'Suffering' unfurls over six sumptuous, atmospheric minutes. 'Disappearing' is driven by an exquisite, fluid bassline, before embarking on an extended instrumental coda that's breathtakingly beautiful, while 'The Haunting Idle' is a magnificent ambient instrumental that segues seamlessly into the FM rock of 'Burning'. The outstanding title track is a muted, country-ish ballad, Granduciel declaring that "Love's the key to the games that we play/That we don't mind losing".
Compared to 2011's Slave Ambient, Granduciel's vocals seem to be marginally higher in the mix here. This is a mixed blessing: half the fun of that previous album was to be found in trying to decipher the singer's cryptic mutterings; moreover, while Granduciel might resemble Dylan vocally, his lyrics are no match. The other significant difference is in the length of the songs: with only two tunes clocking in at under five minutes (and several lasting for considerably longer), this is a fairly hefty undertaking, and those looking for short, sharp pop hits might find their patience tested.
We're nitpicking, of course. Perhaps the best way to approach this languid, rapturous record is not to focus on small details, but rather to take a cue from the album title: turn off your mind, relax and lose yourself in the rather gorgeous whole. Until they invent time machines and we can get Bob and Jason together in the studio for real, Lost In The Dream will do quite nicely. Neill Dougan
[soundcloud url="https://api.soundcloud.com/tracks/122923868″ params="color=ff5500&auto_play=false&hide_related=false&show_artwork=true" width="100%" height="166″ iframe="true" /]