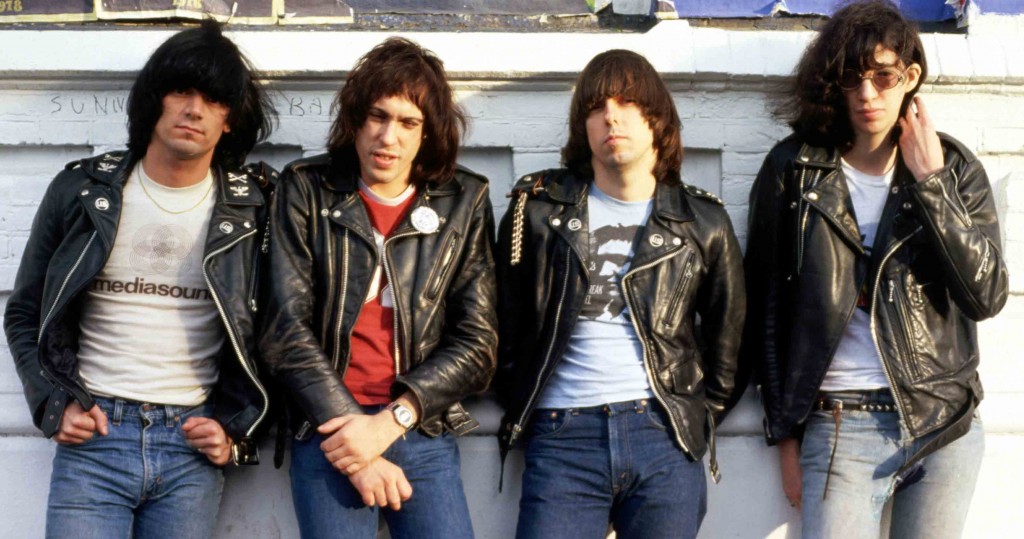 There's a school of thought that suggests you have to mean every word you sing, that the songs are born out of personal experience, and you need to live it like you sing it. Nick Drake and Ian Curtis delved to the depths of their souls, and lost their lives in the process. Mark Kozelek and Mark Eitzel exposed their own failings and regrets through songs, whilst Elvis Costello laid himself bare, inviting the world to pass judgement.
But whilst this does make for an intensely personal listen, it doesn't strictly mean that you have to suffer for your art in order to perform great songs. After all, Ol' Blue Eyes himself, Frank Sinatra, didn't have to be on his death bed to belt out 'My Way', and Johnny Cash was able to take the words of Trent Reznor and make them his own.
So in the spirit of not suffering for your art, here's a selection of some incredible songwriting, where the words weren't written by the singer. There's other examples, but dude – these guys wail.
1. Joey Ramone & Dee Dee Ramone (The Ramones)
Out of all the bands to emerge from punk rock, The Ramones might be the most perfect. Conceptually tight, and possessing a razor sharp musical attack, they define what a cool punk rock band should look and sound like, as well as having the songwriting chops to back it up.
The band's secret weapon was Joey Ramone's voice, a surprisingly articulate and expressive instrument, capable of unleashing jagged rage, sweet sadness, and plaintive emotion. But some of the band's greatest songs were written by Dee Dee Ramone, bass player extraordinaire. Channelling his own experiences as a street-smart kid growing up in New York, Dee Dee articulated rage, anger, and ennui, as well as celebrating the simple pleasures that made life worth living. Given voice by Joey, his words come alive, positively jumping off the page into rock history.


2. Dave Gahan & Martin Gore (Depeche Mode)
After the departure of songwriter Vince Clarke after their first album, Depeche Mode were left in an unenviable position: how do you follow up hit singles if you've never written songs before? Rising to the challenge, Martin Gore assumed control, his incredibly basic words and melodies surprisingly keeping the band in the charts.
It's incredible to watch him develop as a songwriter, adding new levels of depth with every release, and this process must surely have been helped by having the perfect vessel to deliver the songs – Dave Gahan.
The 'Fisher Price' melodies of the first few records were quickly left behind in favour of darker, more unsettling material like 'Master & Servant' and 'Everything Counts', but by the time of Songs of Faith and Devotion, Gore was almost using the turbulence of Gahan's life to inspire his songwriting. As Gahan spiralled further into substance abuse, Gore penned lyrics like "I would tell you about the things they put me through, the pain I've been subjected to, but the Lord himself would blush," creating an unforgettable portrait of despair.


3. Ozzy Osbourne & Geezer Butler (Black Sabbath)
Sabbath weren't afraid to gaze into the void, and in lyricist Geezer Butler they had someone perfectly capable of capturing their nihilistic, sci-fi influenced worldview. With America still embroiled in the mire of the Vietnam War, Butler equated the conflict to some epic battle between light and darkness, where no-one could come out victorious. If these were the End Times, Geezer Butler was writing the epitaph.
But in the hands of Ozzy Osbourne, these words became positively primordial, a howling, anguished cry for help in the darkness, haunted by the evil that stalked the world. As a rock vocalist, Osbourne brought something completely different to the chest beating machismo of Robert Plant or Ian Gilliam (who would eventually deliver the vocals on one of Sabbath's worst albums), instead delivering a hollow wail that perfectly complimented the 'downer' vibes of Tony Iommi's downtuned guitar. These are lyrics you don't just hear; with Ozzy in control, you feel them.


4. Robbie Robertson & The Band (The Band)
Sometimes, one gets the feeling that Robbie Robertson didn't know what a good thing he was on to. In The Band's legendary farewell show, The Last Waltz, he is seen singing all the songs, joining in the complex vocal interplay between Rick Dank, Levon Helm, and Richard Manuel. But, put simply, his vocals just ain't there. Never a strong singer (as his solo albums would ably prove) Robertson wrote incredible songs that were brought to life by the supremely talented interpreters he'd surrounded himself with.
Writing beautiful character studies, Robertson's words were inhabited by the singers in the group, Danko bringing a simple, country boy charm to the songs, Manuel handling the heartfelt and emotionally complex material, whilst Helm brought the grit and dirt that made The Band one of the most culturally important groups of their era. With Robertson's songs, and three gifted singers, The Band created a body of work that continues to endure.


5. Geddy Lee & Neil Peart (Rush)
Rush were Canada's answer to Led Zeppelin, a blues-based power trio, fond of big riffs, and balls-to-the-wall energy. Then they lost original drummer, and found a replacement in gangly, moustachioed nerd, Neil Peart. A keen reader of science fiction and fantasy, Peart brought an otherworldly sensibility to the band, propelling them into a world of epic songs that spanned the vastness of time and space, before going on to articulate the loneliness and alienation of being different.
And they were sung by Geddy Lee.
Over the years, many criticisms have been thrown at Geddy (he's a banshee, his balls never dropped, etc), but his trademark high pitched scream perfectly suited the sci-fi explorations of Peart's words, his vocals scraping the stars themselves, whilst he belted out lyrics about necromancers, futuristic cults, or growing up in the suburbs on your own. When he takes it down a level, Geddy Lee could be honest and heartfelt, able capture the melancholy and wistfulness of Peart's lyrics as he struggled to deal with the death of his wife and daughter, but in his 70s pomp, there isn't a single person in the history of existence who could touch him when it came to singing about outer space. Steven Rainey