Galleries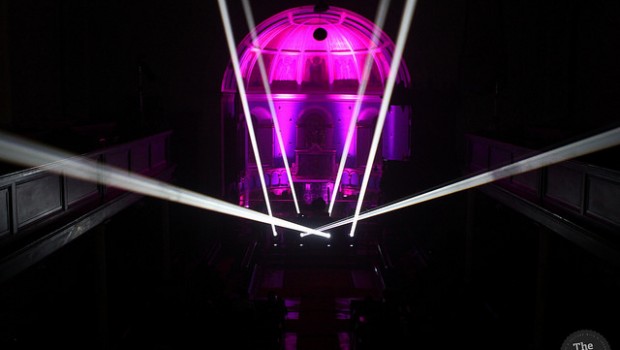 Published on November 20th, 2014 | by Aidan Hanratty
0
Luke Abbott, Somerville, Subplots @ Pepper Canister Church, Dublin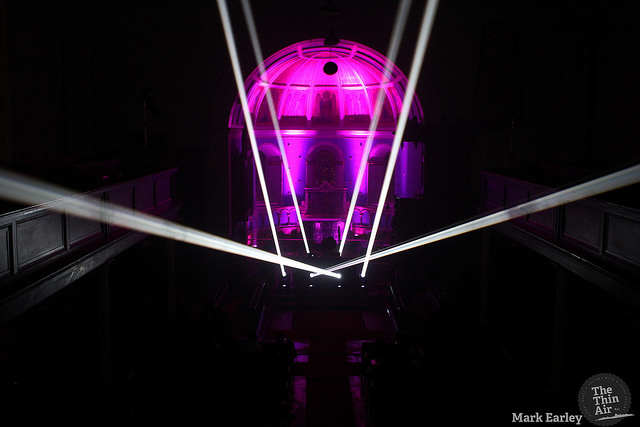 Arriving at the Pepper Canister church on Dublin's Mount Street last Saturday evening one was met with seemingly incongruous signage screaming Hidden Agenda. Truly esoteric, casual bystanders might have suspected a hijacking, an unsubtle protest at the church in modern Ireland. The fact of the matter was something less overtly political, yet just as exciting. The Dublin venture whose name adorned these signs was putting on a thrilling concert in this venue, an evening of music grounded in folk that gazed ever skyward.

Stepping inside, the mood was one of quiet wonder, as smoke softly drifted through air and rich, thick lighting added a ritualistic effect. Mood music was curiously apt, as gentler numbers from the likes of Burial and Boards of Canada lent narcotic ambiance. Moving forward I was unsure whether or not to genuflect and kneel as I took a pew near the front. This bizarre dichotomy wasn't lost on the crowd, among whom there was a feeling of reverence mixed with mischief.
Indeed, openers Subplots announced that after their performance they would be selling CDs next to the mass leaflets. This Dublin duo, with added percussionist Ross Chaney, performed songs that were both taut and rambling, flowing yet focused. Phil Boughton's vocals fall somewhere between those of Thom Yorke and James Blake, all pained upper-register crooning. The band's sound can be woozy, incessant and hypnotic, all in one song. Future Tense, from their forthcoming album Autumning, was a particular highlight.

Maria Somerville followed, traversing a world somewhere between folk indie and electronica. She sings songs of delicate beauty, which ebb and flow from hushed anxiety to swarming emotion. Holes was particularly strong, growing from tiny beginnings through a soaring crescendo. Her natural accent comes through in her singing style, an effect that adds, if not authenticity, at least a very recognisable identity.

While the two support acts performed in the area between the altar and the congregation, Luke Abbot's setup was far back on the altar itself. Stepping out with little fanfare, he took to his laptop and immediately immersed the room in thick swathes of modulated synth, leading the proceedings as would his religious counterpart. Emotive and highly affective, the evening was jolted to life, after the lilting haze of the previous acts. Dressed in loose jacket and billowing scarf, Abbott looked for all the world like Harry Potter if he had foregone Quidditch practice in favour of more sonic wizardry. The magical comparisons don't end there, as Abbott manages to extract from his laptop and synthesiser a sound that is at once energising and deeply moving. 

His music drifts through time signatures and modes, heavy compound lurches and straight-up 4/4 structures. It's a marvel how something so grounded in electronics can evoke visions of bucolic scenery, yet Abbott achieves this with no small mastery. 'Amphis', which in its two forms takes up almost half the run time of his Wysing Forest album, gets a spectacular run out, just one of several standouts in a show that went beyond 70 minutes. While the quiet attention that was present for for the two opening acts is lost somewhat during the more expansive sounds of the headliner, not least because of the growing crowd, the atmosphere was electric and I know I was not the only one entirely lost in the music. 

This occasion was the first in Hidden Agenda's new Higher Ground series of events, which aim to showcase local and international talent in unusual and unexpected venues nationwide. If they can repeat the success of this first effort, we should have some great nights in store. Aidan Hanratty
Check out Mark Earley's photo set from the show below.