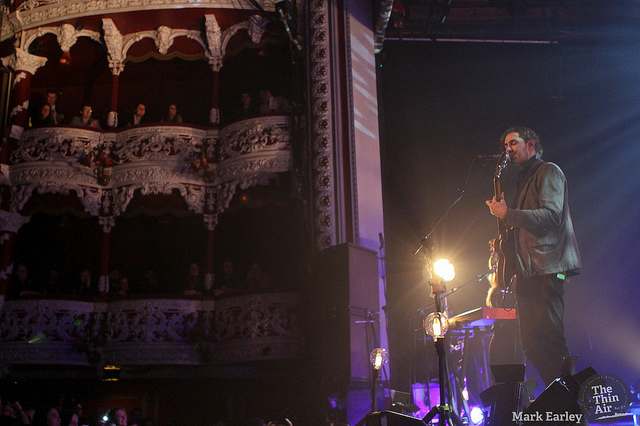 Hozier returns to his hometown crowd for the first time since things have really blown up for him. The pride and excitement in The Olympia is palpable. What makes this pride stand out even more is that all of tonight's acts are homegrown talent.
Alana Henderson opens with her cello and piano-driven set. Next up are Wyvern Lingo, who are incredibly impressive, the three piece putting on a show that raises the standard for the night in a way that a support does not often do. With their harmonies, unique sound and stage present, the girls put on a very enjoyable set. With songs like 'Fountains' and 'Snow' showing each of their individual talents, when they  finish with an acapella 'Used' it's impossible not to notice how well they work together, also on this last song the lyrics are a particular highlight.
As Hozier takes to stage, the crowd is so loud that it takes him a moment to be able to speak, and when he does he laughs and says, "Give us a chance". He is visibly taken aback by the outpouring of love from the crowd. They are quiet and respectful for the most part, although the attention span seems to be a bit low, and in more quiet songs such as the duet 'In A Week' with Wyvern Lingo's pianist and vocalist Karen Cowley, the crowd start talking amongst themselves. As well as this there's the ever annoying "you're gorgeous" being screamed by the irritating fan girl, and an offensive heckler (who Hozier skilfully shuts up). It has to be said that Hozier deals with these situations very well.
There is a sense at times that there is a lack of crowd participation but in some sense that's a sign of a crowd being in awe, people are content just watching this man. 'Take Me To Church' and 'Jackie and Wilson' get the crowd singing and dancing, while fun songs like 'Someone New' stand out because of their cheeky and chirpy sound, the crowd stay relatively quiet.
There's nothing new to be said that hasn't already been noticed about the phenomenon that is Hozier. You are presented with a young talent with an incredibly soulful voice, brilliant guitar skills and intricate lyrics, but tonight we were also treated with a frontman. Hozier is sometimes accused of being too quiet and uncaptivating in a live setting – tonight shows a very different side. From stopping in between songs to explain stories about them, or about the whirlwind that has been the last year for him to the constant grin on his face, it feels like he has really stepped into his element now.
There's a resounding feeling of pride and sadness as the night ends, with the feeling that he's not our little secret anymore.  Orla Conway.
Photos: Mark Earley.