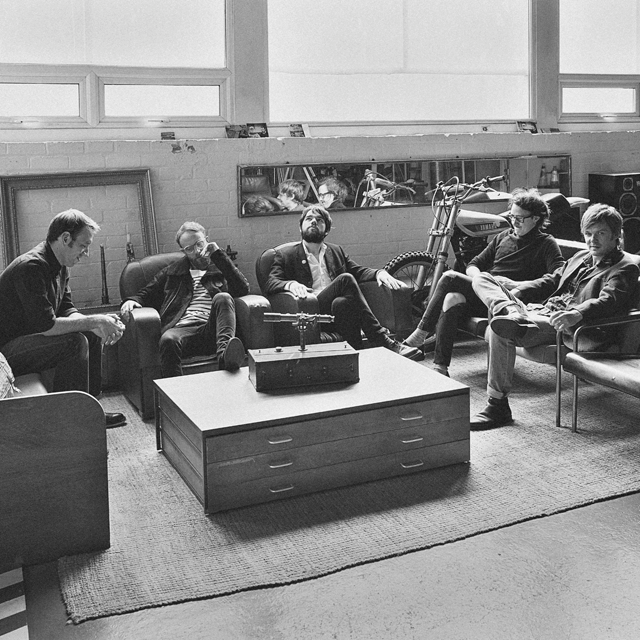 Jonny Currie talks to Idlewild guitarist Rod Jones about recording their new album, memories of Belfast, and preparing for the upcoming tour.
It's been five years since the band's last album Post-Electric Blues – was it easy to pick up where you left off in terms of writing and recording for Idlewild again?
Surprisingly so. From about the age of eighteen it's all we'd ever really known. It never felt like a living because we were so caught up in what we were doing. Although towards the end of the process with the last record it felt like it was like that: making another record to pay the bills, and I think we realised right away then that we had to stop because we didn't want it to become that.
I think me and Roddy (Woomble) knew we were going to write together again at some point. We just didn't know how long that would be. It could've been ten, fifteen years or it could've been two years. It just got to a point where we were enjoying listening to each other's work and feeling like we should try to write some songs and see what it becomes. We didn't know if it would turn into an Idlewild record. Very quickly in one afternoon we sat down in my living room with an acoustic guitar and chucked some ideas down. We ended that day with seven or eight ideas, which at least half developed onto the record. There's obviously some sort of chemistry and that's what makes a band a band.
Writing about the new album, Everything Ever Written, Roddy has said it is the most mellow Idlewild have sounded, and in other places, the most chaotic. Did you begin the process with a particular sound or mood in mind?
I had sonic references in my mind because I was producing it from early on. I like a lot of records that have a "sound" or a real style to them, like this year the War on Drugs record – that has a real thread through it. That's not a way we've ever really approached it. We've written a song and then decided what's the best way to put that song across. It was a very eclectic process this time. We wrote it in a variety of places and went through a filtering process of re-drafting songs right up to the recording. You can only do that if you're doing it yourself. We had the freedom to experiment a lot more.
You've recently completed an acoustic tour of the Scottish Highlands and Islands, is the band looking forward to playing to louder, raucous crowds again in the new year?
I think its something we're all looking forward to. We also have no idea how we're going to do it yet. We're keen to try and present it quite differently – not in a sense of less volume or noise but to try different ways of filling the space. For us it's about keeping it exciting and fresh still. I don't think we're going to be re-working Modern Way of Letting Go, for example, into some sort of jazz punk – it'll be what it is, but the possibilities with the new members of the band will take things in an interesting direction.
Idlewild are returning to Northern Ireland at the Limelight in March. Do you have any particular memories of playing in Belfast?
The crowds in Belfast are always quite up for it in a way that makes you want to give a bit more. I remember one particular gig with Twilight Sad supporting us in the Mandela Hall which was really good fun. I remember it predominantly because of the cameraman, who was filming for some reason, really closely to the band with lots of equipment. There was a massive bang. I think Roddy thought someone had shot at him or something!
You're all involved in other musical projects. Do you have a timescale in mind for recording and touring with Idlewild?
We've never had that outlook with the band. Planning and art really don't go together for me. We want to put out a record we're proud of and play some shows that we want to play. For as long as we're making music there will always be the chance of us working together on stuff. I wouldn't be surprised if in twenty years time we'll be putting out a record together. We're all close friends – the kind of friends where you'll not see each other for two or three years and then get back together and it feels like just a day.
Go here to pre-order Everything Ever Written. Idlewild play Belfast's Limelight 2 on March 20.