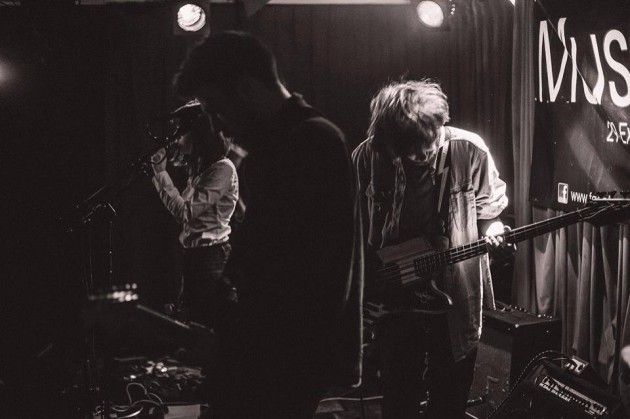 Quarter and the Makeshift Ensemble's Block Party last week announced the newest additions to their Block Party festival, happening across North and South Main Streets on February 6 to 8. Added to the multidisciplinary arts weekend's lineup are psych heavyweights The Altered Hours, shoegaze outfit Elastic Sleep (pictured), as well as Tandem Felix and Fierce Mild.
Irish Times journo Jim Carroll brings his Banter series to The Vision Centre @ St. Peter's on the Saturday. The first session – Inside the Miracle of Sound – will see Jim speaking to Cork musician Gavin Dunne about getting his start in the business, using social media to create a buzz and what happens when the big boys come calling. The second Banter session – Alternative Economies – is it possible to make a living from doing something you love? – sees some folks who've found a way to make alternative economics work give their thoughts on going it alone. The panel includes James Byrne (Any Other City, Villagers), Eat My Noise, Aoife Potter-Cogan (ArtLink) and Siobhan Kane (Young Hearts Run Free). Arts journalist and academic Siobhan Kane also hosts Life Has Surface Noise, which explores our obsession with music and why some records remain dear to us throughout our lives. Joining Siobhán will be music enthusiasts Peter Toomey, Justin Grounds and Daragh O'Halloran, and some very special guests. Full details of the rest of the new announcements are available at quarterblockparty.com.
As mentioned on last week's column, happening the same weekend, Hear My Noise's Noisefest at Fred Zeppelin's announced new band Bailer as part of their initial line-up. The hardcore three-piece followed up by announcing their presence over social media this past week, including the release of debut single Animosity over Bandcamp yesterday afternoon. Mixed by Murdock's Aidan Cunningham and mastered by Alain Douches, 'Animosity' sets the tone decisively for the three-piece, with a frantic, riff-heavy attack. Get an earful and download it free, at bailerofficial.com
While we're on our new releases, Cork grunge veterans Paradox have new album Chapters launching at the Crane Lane on Saturday. While historically never shy of nailing their flannels to the mast, the three-piece's new LP promises a lot more textured, progressive alt-rock, including the addition of strings to their mix and the production assistance of Screenreader man Brian Casey. Having brandished a muscular brand of grunge since their formation in 1997, including a jaunt Stateside to record and release their debut album, such a move is brave, and warmly welcomed. Having spent last year writing and recording after a busy 2013 that saw them locally supporting Shonen Knife, Therapy? & Kerbdog, this ought to be a big return show. Saturday night, free in at the Crane Lane Theatre, support from Reverend Green Goes to Jail…
In somewhat of a head-scratching announcement, turn of-the-millennium cock-rock revivalists The Darkness have unveiled an extensive tour of Ireland ahead of a new album release. However, in what is admittedly a stroke of genius, Cork's Cyprus Avenue has hopped on the band, reunited with catsuited frontman Justin Hawkins, for Paddy's Day, which should be great craic to say the least. Tickets are €22.50, and available from cyprusavenue.ie. Other stops on the tour of "exclusive venues" include Clonmel and Tullamore. In other touring news, in case you needed reminding, Duke Special and new Rough Trade signee SOAK's gig at Coughlan's on Thursday is entirely sold out. Fear not, though – those seeking indie-rock noises should head for Fredz the same night, where Cork indie veterans Spacecake launch their new single.
Speaking of Coughlan's, the folk venue is defending its IMRO National Venue of the Year title, after emerging the victor for the 2013 vote mere months after opening. In just over two years, the venue has grown exponentially, and is spreading its influence to the upstairs venue in the bar formerly known as The Pavilion, PANA. Defending its championship will be no mean feat, though, and the shortlist can be found at https://www.surveymonkey.com/s/imrovenueawards. PANA itself has flung its doors open, posting pics of staff orientation on its new social media pages, and announcing this week's slate of gigs, the highlight of which is Tuesday night's funk/hip-hop/jazz improv session with local chancers STINK!. Your writer will be in during the week, more thoughts in next week's column… Next week, we'll also start spotlighting the best of podcasts and local radio around the city. Services like UCC 98.3 and Room101 (full disclosure: the writer has a show), as well as showcases like 96FM's The Green Room and RedFM's Green on Red provide a space for new and original music on radio, providing now-rare opportunities for artist discovery on the airwaves. Mike McGrath Bryan
Deep Down South is a new Cork music column, running weekly on The Thin Air on Mondays. If you've got any gigs, releases, or other cultural events happening Leeside, throw us an email at mike (at) thethinair.net.
Photo by Daragh Munnis.