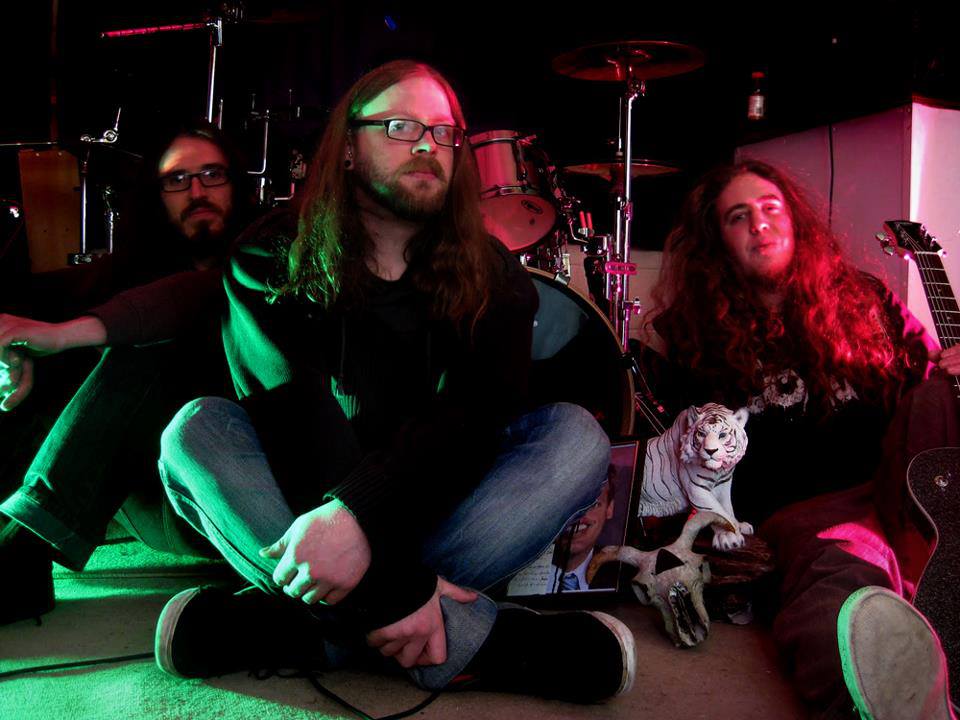 In the very first of his regular column on all things metal – Lost In Necropolis – Conchobhar Ó Dochartaigh catches up with Belfast-based doom/sludge metal three-piece Nomadic Rituals ahead of the release of their debut album to talk doom, recording and their thoughts on the local metal scene.
Tell us about how the band formed. Was there a shared vision or aim in mind? What influences would be a good reference point for those unfamiliar with you?
Craig, our vocalist/bassist, asked us if we wanted to form a sludge/doom band, so we organised a jam to see if it could work. I would say we had a good idea of what direction we wanted it to go right from the start. Slow, low and heavy was the aim. I suppose we were influenced by a number of the bands in the local scene at the time like War Iron, Slomatics and Dwell in Sun but drew from other acts such as Conan, Sleep, Sunn O))) and Mastodon. I suppose our sound is an amalgam of a lot of these different influences with touches of weirdness just for good measure.
Things have certainly been moving at a decent pace (unlike the music!), with the upcoming album scheduled for release soon. What can we expect from it, and what do you hope to achieve with it?
We had been practicing and jamming for at least 6 months before we played a gig, so we wouldn't say we move too fast really. We had recorded a demo during this time, more so we wouldn't forget how the songs went than for an actual release. We weren't particularly happy with how it sounded but decided to put it out on Bandcamp etc. just to give people an idea of what we were doing. The album should be closer to what we actually sound like live. Quite a lot of what we do relies on volume and saturation so we have been spending quite a lot of time trying to capture this on the album. We have had brilliant help from Niall Doran at Start Together Studios making it bigger, heavier and spacier than the existing rough demos. We also have a few new songs in there that we have been playing live recently, so it's not just a rehash of the old material.
The atmosphere you create is crushing, and brings a real feeling of despair. Are you by nature people of a melancholy disposition, or does the music function as an outlet?
I don't think we are the most melancholic bunch in the world, far from it at times, but when you look at what surrounds us in the world today, it's hard not to latch on to a sense of despair. Economically, culturally and politically, things are pretty bleak and at times the music and lyrics reflect this, though not always. We aren't a bunch of sour baked woe bringers. There are little hints of humour in the lyrics here and there but not too much.
What equipment and gear is integral to your sound?
When it comes to integral gear, the one thing we need is volume! The music needs to have a certain volume to have the impact and immersion that we aim for, we have been plagued by various people and sound men wanting us to keep turning down but it's really not in our nature. We tune to A standard with a 5 string bass through an Orange head, and a baritone guitar through a bass head into a guitar cab. Our pedal set up is pretty simplistic, nothing boutique or strange, though we have a Kaoscillator synth that we like to use for general electronic drone nastiness when we can.
The doom scene in Belfast is definitely growing, and for such a niche movement has always enjoyed relatively populary on the island as a whole, (within the context of the underground metal scene of course), with War Iron, Mael Mordha and Mourning Beloveth well respected abroad. Do you think there are any underlying reasons for this?
In general, the Doom and Stoner rock scene worldwide seems to be growing, with more and more festivals catering towards that audience and bands such as Sleep reforming and touring definitely has helped. In Ireland I think the Dublin Doom Days have definitely had a big hand in drawing people to the music as well as bands such as Conan putting on some awesome shows here while touring. I suppose it would be easy to attribute the fact that Doom is popular in Ireland to other factors such as the Troubles or the Economic downturn but I think it is more ingrained than that. It's something that is part of a deeper psyche of people from here, right back into our old myths and legends there is a fatalism and cynicism that permeates our consciousness. Bands like War Iron, Slomatics and Mourning Beloveth are well respected abroad for two simple reasons; they all write astoundingly good music and have worked as hard as hell to get where they are today!
Following on from that, who from the local scene do you think people should keep an eye on?
There are so many new and interesting bands popping up all over the place at the moment it's hard to pick out just one or even one genre. pigs/as/people are building up to a new release soon, Abbotoir are gearing up to do some live gigs, Ceaseless Blight are fairly making a name for themselves too, and Tome are always damn good live. Take your pick there!