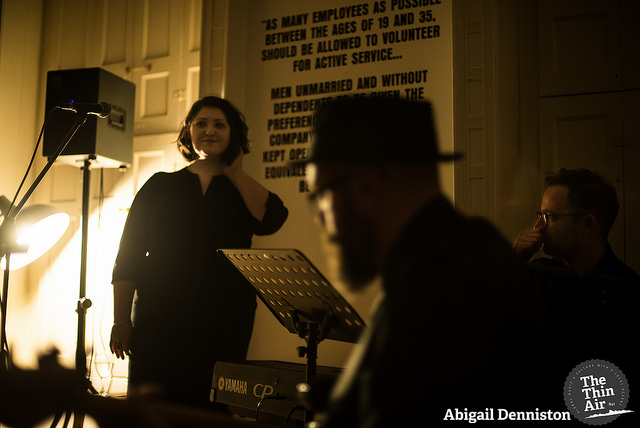 Capping its series of fine wine and classical music in performance, the Little Museum of Dublin has embarked on its own little tradition in its maiden season of Santa Rita Concerts.  Named in honor of the winemakers responsible for the pre-show libations, these evenings boast fireside chats with musicians, often connected with classical label Ergodos Records, followed by their intimate performances in the drawing room of the museum's grand Georgian house.  To end the season, the floor was given to Ergodos' own Michelle O'Rourke this past Wednesday evening.  The enchanting songstress presented a hauntingly graceful set of songs entitled Left Behind: Songs of the 1916 Widows, composed by Little Museum curator Simon O'Connor. As the foreboding name suggests, the performance featured a catalogue of emotionally wrought numbers lifted from the lives of women whose husbands were executed after Easter Rising, including one martial tribute to the legendary Constance Markievicz.  Musical talent was on display in full force, but more importantly, the night felt like an exercise in story-telling of lives often forgot.
Accompanied by bassist Dara Higgins, drummer John Dermody, and pianist, guitarist and composer Simon O'Connor, who also penned the thoughtful lyrics, O'Rourke softly guided the tightly packed house through a journey of nostalgia for lives overlooked by history.  Opener 'Come Home Drummer Boy' relayed the heartbreaking account of Agnes Hickey.  Left widowed with children, Agnes' voice in song recalled how her husband Michael Mallin searched the windows of their house for a final glimpse of their family on his march to Kilmainham Gaol.  Grace and Muriel Gifford live on in song, too, as the grief-stricken sisters who faced post-rebellion widowhood together.  O'Rourke's sweet, operatic vocals glided over bare-bones arrangements from the O'Connor-led band, delivering an unmistakable sense of longing, pining, and loss contained in the stories of these women.
The songs were stripped of superfluous flare in favour of a stunning stillness which revived the beauty of these tragic, untold tales.  Higgins on bass provided a quiet consistency which underscored the night with calm reassurance.  The same can be said of Dermody whose percussion assuredly matched the tone of each number, driving home a range of sensations from frustration to despair.  'Holidays' found an anger unheard in the rest of the set which introduced a slight influence from punk.  Meanwhile, Markievicz's battle hymn marched in stark defiance of the somber tone that permeated most of the set—the Countess would undoubtedly approve. While the seven-song set seemed to rely on a stop-and-go agenda throughout performance, the choice seemed to befit the narrative aspect of the night, with each story given its due in reverence and closure through O'Connor's spoken interludes.
These musicians from Ergodos carefully injected serenity into an already beautiful piece, and the captured effect proved fitting for the night's task in reflection.  Given the show's timing nearly a century after the events recalled, the performance serves as an important reminder of the lives that were at stake in the rising, the generation of women who picked up the pieces of their fallen men, and how very near they all are in the collective consciousness.  These real stories shared in song invoke the integrity of a past unknown but worth knowing.  Here's to hoping for the Little Museum of Dublin's success in mounting another season of such inspired works that reflect the city's cultural past. Joe Masden