Features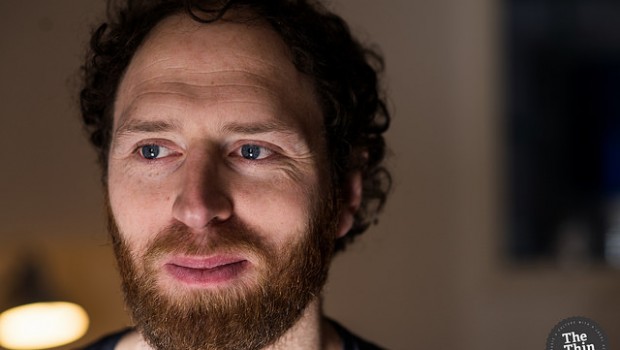 Published on April 8th, 2015 | by Loreana Rushe
0
DIY Dublin: Homebeat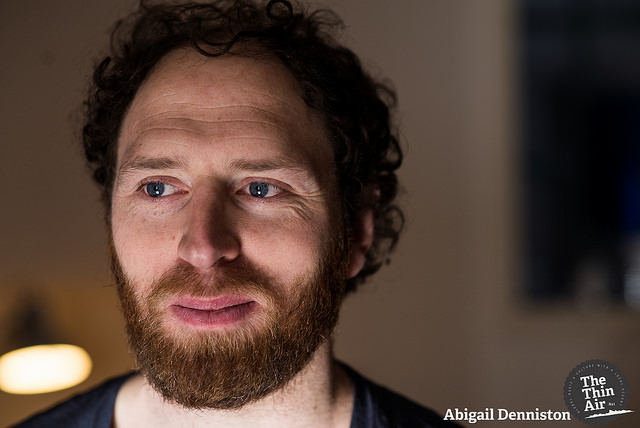 In the second of a new regular feature called DIY Dublin, we talk to various people setting up their own businesses and doing it for themselves in the heart of the city. Aidan Hanratty chats to Emmet of DIY, alternative space loving music promoter Homebeat about getting started, nurturing talent and the dynamics of space. Photos by Abigail Denniston.
From home to Homebeat
I'm from a little town called Newcastle West in Limerick, but I've been living in Dublin for the bones of about 15 years. I was in college in the late 90s/early 2000s when things were kind of horrible in the city, and as soon as that finished I got out, went to Australia, New Zealand, travelled for a while, came back, left again etc for a good few years, and at the time I really felt creatively frustrated. It felt like the power, creatively, in the city was very limited. It felt like you were either part of the Whelan's, Glen Hansard gang, or you weren't part of that and you were in some blue neon bar drinking Heineken. In about 2009/10 and there was a bunch of us living in a house that tended to have big parties. We used to have sing-songs afterwards, and we said it'd be cool to have a little house concert some time, so we did that, it went really well, and then we decided "let's do this around a bit".
House is a feeling
At the time you don't really have an idea why you're doing it, except that it's nice to be doing something. Looking back on it, I think it was a reaction to the fact that throughout the Celtic Tiger years there wasn't any place to go that was comfortable – a lot of the gigs we went to were good, but you didn't really have an interaction with the band, it just felt very divorced, very separate. I never felt part of the scene, I didn't know a lot of serious musicians at the time, so we started that off and we started doing house concerts, and everything's grown from that. It allowed us to get in touch with a lot of bands at a grass-roots level, and early on it seemed to strike a chord, people seemed to like it, and we got a little gang of people who we became friends with, and everything's just gone from that.
Mabos
The big thing in the middle was Mabos, the space that was down on Grand Canal Dock, it was a kind of multi-use warehouse arts collective run by the guys who run Kings of Concrete, they were friends of a friend. I'd been away again, and when I came back I did a gig with them, we all got on really well, and I ended up running the music, production, booking side of music in there for about two years. That was massive, we were doing house concerts and that's all 50-100 people squashed into a sitting room. It was very meagre in terms of that, but it was fun and it was a really nice vibe, and you learn a bit about how bands put stuff together and how they work. I'd always been doing gigs since I was young, throughout college, but Mabos was a great chance to do things on a big stage. You could fit in a good amount of people, 400, 500 plus on a really busy night, so that was a real good chance to learn about the dynamics of a space and how to move people around a space, and I think a lot of the things that are really important to me about putting on stuff comes from that experience.
Nurturing talent
What became apparent through Mabos is that what interests me in the whole thing is the idea that a space can transform the idea of the show or the atmosphere. If you're in a bar like Whelan's or The Workman's Club you can be standing next to a bunch of people and if you turn around and talk to them it's kind of weird. If you're in an informal space like a sitting room or a big warehouse where things are really relaxed and everyone's having a nice time – there's no real sense you could get thrown out of here – it means you can turn around to those people and say hi and they'll actually talk back. I always believed that there's a huge amount of talent [in Ireland], and it's so important that those spaces are available to nurture that talent, and I suppose I became a bit more involved in the idea that I think we're living in a golden age of Irish music. The past five or six years, especially when we came out of the Celtic Tiger, meant that people did have opportunities to rent spaces and try things and do different things, and I think that spawned a massive creativity that wasn't there beforehand, or was sheltered. I think it's really important that we showcase what we have here, cause I really think the DJs or the musicians that we have here are just as good if not better than anywhere else in the world. There's a real Irish habit of looking abroad and [feeling that] everything's better, and it kind of annoys me to hear people go "oh Berlin is amazing, or New York is amazing " – to me Dublin has been the most exciting place to be for the last four or five years, bar none. It's a pity we can't stay out a bit later at night, but that aside, the creativity that's here and the talent that's here is just as good if not better than anywhere else.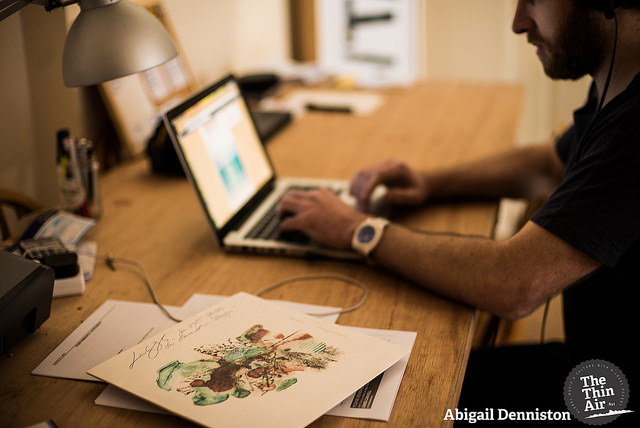 Putting your head above the parapet
I feel like there are two different sides of people involved in the creative process, and I think their mind-set is very different to the traditional Irish, mainstream view to things, they're all people who've been away to places which probably have been more tolerant than Ireland was of sticking your head about the parapet. To my mind what dragged us out of recession was places like The Fumbally cafe they've transformed an area that had nothing in the middle of nowhere, like literally the buildings that are around there are worth twice if not more what they had been before, that's through people's attention to detail and doing things with real heart and doing things not just based on commercial success but while recognising that you have to be commercially viable to do something, there's nothing wrong with that – the idea of the starving artist is overplayed as a valuable thing.
Showcasing talent
To call yourself a promoter it sounds like you have a big business sense and you're making money out of it! I don't know if I'm a promoter per se. I'd hope in a sense of showcasing [Irish] talent and giving a voice for that talent – a lot of my friends were accountants or office workers or working in business, so I didn't come from a huge group of people who were doing massively edgy things – I wasn't going to raves or underground parties when I was in college, I just wasn't in that scene. It's nice to feel that I've brought somebody who mightn't normally come to that kind of gig. I put on a show with Lubomyr Melnyk, he's signed to Erased Tapes, he's a 66-year-old Ukrainian virtuoso pianist who's developed this style called continuous music where he plays overlapping, hugely intricate pieces that go on for about 40-45 minutes. I put him on in the Unitarian Church, it was his first concert in Ireland, and a load of people came to that that just would never go out of their way to go to something like that. So it's really nice when you do that and you put on something really small – we put on loads of gigs in Mart in Rathmines, we had Patrick from I Have A Tribe, and Valerie Francis just a few weeks ago, and it's just nice to think that maybe because someone has come to a Homebeat gig and they've picked up on it on Facebook and they've just come along, it's nice to think that you're showing something new to someone who wouldn't normally go to see that kind of music.
The dynamics of space
Every different space is a different dynamic, and every show you have, there's an atmosphere that you're trying to create. We're going to take over The Project on April 22 with Jan Jelinek, who's a German electronica composer, so that will have its own vibe, and that'll bring its own crew. And hopefully that will bring people that mightn't have been to more of the guitar-based gigs that we do, and that's what it's about. It's about bringing people together. Really it feeds off the same core group of people, and it's really nice if someone who would have been at one of the original Homebeat house gigs might come along to see Jan Jelinek and think "well I would never have gone to see this but for the fact that I trust Homebeat."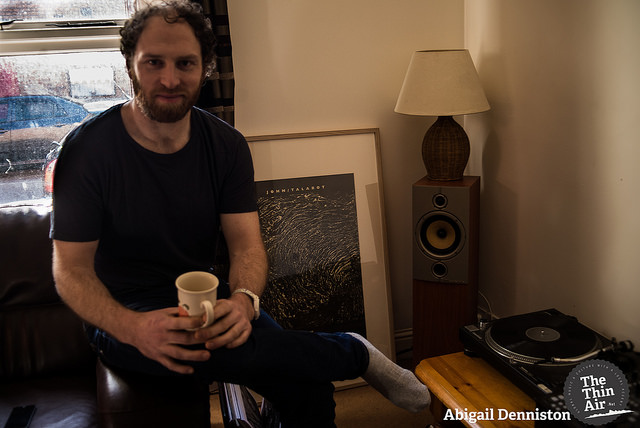 Blurring lines
The goal for Homebeat is trying to do things in non-traditional spaces. The Project is a really lovely space; they're great guys to work with. Blurred Lines is the name of a series, hopefully. It's really exciting to get to do something there, it's right in the centre of town – it's underused in a music sense. Ben Bix & Feather will play in the cube downstairs, and then Somadrone and Jan Jelinek will play upstairs in the main space, and there'll be DJs playing in the bar. The idea is to try and move people through the space. There's no point in just coming in, just going to one corner of it. If you're going to be brought in there, you should be given the opportunity to explore it and given a reason to explore the different parts. The RHA [takeover] was very similar, we tried to do something in every gallery so people would actually walk through the space and interact with it, and you animate it a bit that way. Hopefully Blurred Lines will work out the same!
Festival friends
We do two festivals: Fading Light, which is a tiny little thing in a village called Caherdaniel in Kerry in October, and we do Another Love Story, which is a festival we started last year in this beautiful estate manor called Killyon Manor, which just so happens to have a ballroom tacked on to the back of it – in those days I think if you were wealthy enough and your daughter was getting married you wouldn't hire a marquee, you built a ballroom on the back of your house! So we were really lucky to find that and to become good friends with the people who own it. People camp on the grounds, but the unique thing about it is that the party is in the house. They basically let us run riot in the house for the weekend, which is an incredible act of trust, but that act of trust – people feel that when they get there, when they realise they're actually in someone's home… In the middle of the festival last year one of the kids who lived there was going down to the library room to get something out of a drawer, and one of the punters stopped them and went "sorry, this is someone's house here, you can't just go through the drawers"!When that's happened, you know the message really got across.
A magical experience
Another Love Story is a chance to put on something interesting in a really beautiful space, it's a really beautiful place to hang out, it's really soft and kind of magical , it's covered in trees, the house is covered in ivy. It's a chance to programme something in an interesting way. You talk about being a curator and that's what you want to be seen as, with the eye or the ear to pick out things that are interesting or different – it's about presenting something really interesting in a space that doesn't alienate people from that. You can't be too precious about these things – the problem with a lot of interesting music, or a lot of interesting art, is that it's sometimes presented in ways that alienate people that might be interested in it, but are often intimidated by the presentation. Having a lot of friends who might be really appreciative but often would feel like "it's too cool or too high-brow", I think if you can set it in a situation that people are happy to interact, and also not be too precious – I would think on any night out probably 60pc of people at any gig are just there to be on a night out, and have a chat with their friends, and yeah see some music, but the shushing brigade – we do a lot of quiet gigs and that happens naturally and it's nice if it does, but also I think if it doesn't happen naturally then you can't bully people – it's their night out as well, they've paid to be there. You shouldn't try to bully people into submission in those things.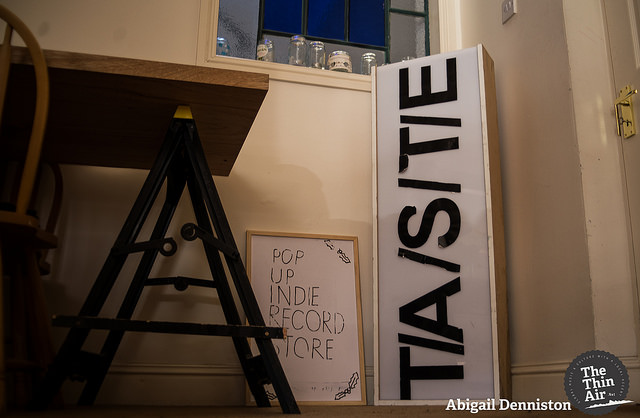 Leave no trace
We do Another Love Story with Happenings, we work with them a bit. They put on the outdoor cinema in a lot of the parks. It's funny how I've ended up working with people who are also kind of trying to animate spaces that aren't usually used for those things. We're all trying to create something for people who live here – there's such a sense that those spaces are off limits, we don't have any control over them. And I think what Happenings do brilliantly is that they open the doors to those spaces. They're really good at talking to the right people and getting them to trust them. "Listen, we're not going to trash the gaff here" – they have a leave-no-trace policy. So if you go in and bring a couple of hundred people into a park to watch a movie, and when Dublin City Council come in the next morning and everyone has taken all their rubbish with them, and just show them that we can actually interact with those places in an adult way, it's not just about drinking cans and getting pissed – it's about enjoying them and leaving them as we found them – that's a really powerful thing.
The great outdoors
Fading Light is a slightly different kettle of fish, it's held between two or three little pubs in Caherdaniel, which is tiny – there are only about seven or eight buildings. I think the word festival now has a language all of its own, its own connotations, and you kind of imagine the same burger joints – there's a commonality running through them. That's not to say that they're not all amazing events, because they are, but I feel it's a thing as you get older – less and less of my friends are keen to go to those things, so you try to create something that accommodates what people want to do. We were lucky enough to go on holidays there when we were kids, and I love that part of the world, it's a beautiful place, and what it's about, first and foremost, is it's just an excuse to gather a gang of people, bring them down there. We let them loose during the day, we put on a few things like a cycle, or running technique workshops or surfing lessons. It's about getting people out into the great outdoors. Then we start the programme from about 5 in the evening, people come back for an evening pint. We had Margie Lewis in a tiny room, loads of people played but Margie really stood out. It's a really exciting thing to bring something so contemporary, to this tiny little old man's pub in a village in Kerry in the middle of October.
Life on the margins
You'd certainly be aware that it's a bunch of people, predominantly from Dublin, invading a village for a weekend – it's an ongoing process and it's something that I'd be aware of – I'm from west Limerick so I'm well aware of the idea of being invaded by a bunch of jackeens from the capital. It's easy to laugh at it but it's a real concept, when you're from the country and most of the money is spent on Dublin, maybe sometimes people from the big urban areas don't really understand, they think it's just begrudgery, but it's not – it's based on a real thing where the focus of the country is on Dublin and the rest of the country, especially at the periphery like that, it's very easy to feel left out and marginalised. Drop Everything, which is a similar idea in some ways, they were definitely doing it first, it's a similar dynamic in that there's a bunch of people from the outside coming in, but I know Mary, who runs it, is particularly focused on that, and really good at buying into the local community. It's a tricky one, an interesting crossroads, and I guess when you're putting on stuff you're always aware that you don't people who were there all the time to feel displaced or marginalised in any way. We're lucky in that the gang who come – I'd say it's high spirited as opposed to reckless sessioning. It's a pretty soft event; the people who come to it are really nice so far!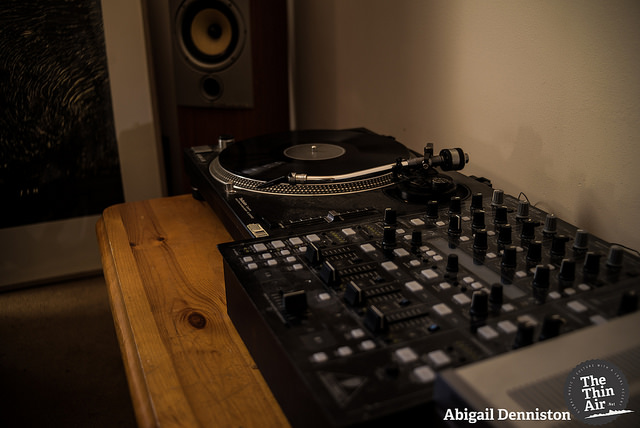 Subtle brainwashing
Most things would be a mix of quiet acoustic stuff or something that's a bit more electronic based. We'd everything from Chequerboard to Neil Flynn, an Irish guy who lives in Berlin, that would be the mix at it. The music policy at all the things we do is about trying to set an atmosphere and trying to create a journey in terms of feeling through the day. Hopefully you try to match how people are getting on in terms of their journey through the day to the music, or you try to brainwash them slightly.
What lies ahead
April is going to be really busy – on the 10th we have the first ever gig in the Fumbally Stables, the new bespoke venue – they've restored a 150-200 year old stables behind The Fumbally cafe into a beautiful venue and event space, we're doing LYTTET's EP launch in there. The night after at we're helping MKAI launch their single in The Grand Social, then on the 16th Ryan Vail and Ciaran Lavery [are performing], they've done this collaborative album Sealegs, it's electronica spun through folk music, that's in Smock Alley Theatre, and then Blurred Lines is on the 22nd. And in the midst of all that there's a new club night that we do called Not Pop Up in Odessa Club with Donal Dineen [on April 17].