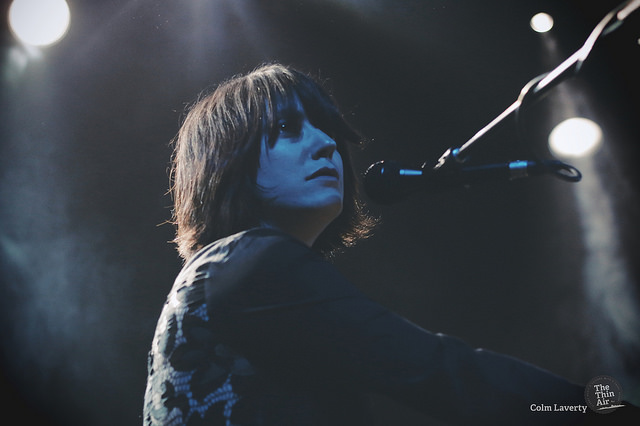 It was inevitable given the locale and the name of tonight's performer that the words of Georgie fucking Burgess – indelibly etched into the minds of every Irish person of a certain generation – would be proffered in the direction of the stage. "That was A1, Sharon" – not just hollow, borrowed words in this instance, but a snappy summation of a fine performance bathed in the warm glow of the Vicar Street stage.
Sharon Van Etten coos a "hello" to the chattering crowd, quietening them for a time as the five-piece band begins 'Afraid Of Nothing'. Dark shades and light appear through Van Etten's compositions, from a more opaque 'Taking Chances' with the singer eschewing electric guitar for omnichord, to the lilting and lovely 'Tarifa' early in the set. Everything is coated in rich vocal harmonies, often offset by the drone of the omnichord or the heavier band workouts.
"It's funny, I hear shushing but you guys are really quiet," she says appreciatively to the crowd. Contrariness wins out, though, as a voice loudly and proudly proclaims "No, we're not!" It's that kind of gig, where a bit of back and forth is encouraged, and the show is peppered with these little exchanges. "What does whistling mean in Dublin?" she asks in response to an increasingly boisterous crowd's cheerful tooting, having herself ostensibly done so in the direction of a shirtless man earlier in the day.
The band leaves Van Etten alone after the abrasive guitar freak-out that ends 'I Don't Want To Let You Down' ("Doug needs a break after that solo"), with the singer intimating that her newfound onstage solitude makes her uncomfortable. Some comedic dialect confusion ensues when a crowd assurance that "You're grand on your own!" is misconstrued as "awkward". It is the ensuing new track, though, powerful and assured, and an earlier largely unadorned 'Give Out' that despite their restraint, pack the most punch.
The story that precedes 'Ask', or "The 'finger in your face guy' song" as Van Etten's anecdotal lead-in would have it, is truncated by a clumsy heckle, but the version itself is a powerful wind-down to the encore, before 'Every Time The Sun Comes Up' brings the night chiming to an end. Van Etten's is a genial demeanour onstage, playfully conversing with the crowd between songs and generally just being delightful, but it's a different story when she's in full voice and those often nape-tingling harmonies are shared between the band. We can only echo the sentiment of Georgie fucking Burgess. Justin McDaid

Photos by Colm Laverty