Album Reviews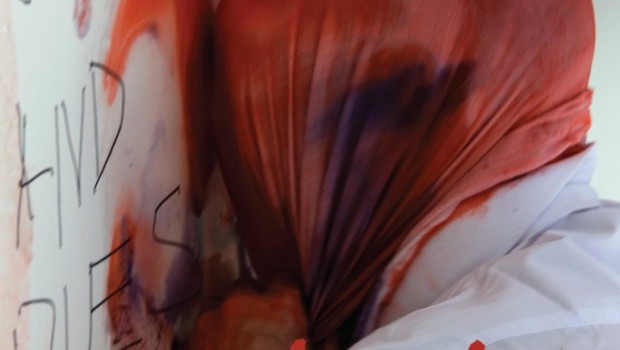 Published on April 9th, 2015 | by Mike McGrath-Bryan
0
Therapy? – Disquiet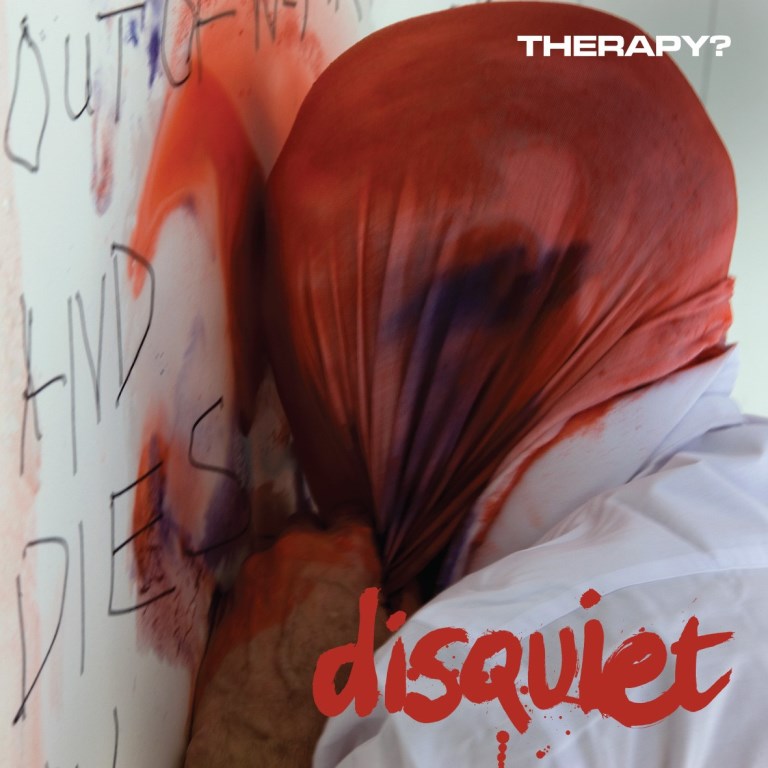 When talk first began of a sequel to 'Troublegum', the 1994 punk-metal opus that made legends of Co. Antrim trio Therapy?, your writer couldn't help but feel pangs of uncertainty. From a band that over the course of 25 years plowed a fiercely independent furrow, and did so while thinking about ten steps ahead of the musical sentiment of the time, a move for nostalgia would be surely a massive anti-climax after producing two career-defining albums in 'Crooked Timber' and 'A Brief Crack of Light'.
Is it? Well… the jury is still out after a fortnight's constant listening, which, for all the concerns about Therapy? remaining true to themselves rather than succumb to nostalgia, is the most "Therapy?" thing of all: a curveball thrown square at everyone's expectations. Like any other record worth its salt by the band, there's much to take in at first listen. The concept behind the record is a revisiting of the protagonist of 'Troublegum', checking back in on the album's angry, rural weirdo twenty years later, finding him in what surely would be his mid-to-late thirties. Dealing with the same demons that propelled him twenty years ago but carrying the baggage of the intermittent two decades, he's lost and listless, dealing with his own internal shit while managing his expectations and those of others. He looks around him and sees failure, cokeheads, and his own detachment.
And yet, in his sorrows, moments of joy – 'Still Hurts', while a tad close to 1999 barnburner 'Little Tongues First' for comfort, is a thoroughly satisfying rage against etiquette and the myth of time being a healer, addressing head-on the lifelong effects of childhood/adolescent trauma. Album standout 'Tides' is a monolithic achievement, also, a paean to self-realisation and a mighty swing into psychedelia and shoegaze territory, an as-yet unexplored corner of Therapy?'s vast bank of reference points that hints at yet more new and forward-thinking sounds emerging from (say it with me) the boys in black. Even more consciously-accessible tunes like 'Good News is No News' and 'Insecurity' succeed in making callbacks to mid-'90s Therapy? while driving home the protagonist's journey to some sort of happy medium, and of course are aided along by that armoured-plated riff magic the lads seem to pull out of the bag every time. Likewise, album closer 'Deathstimate' packs a hefty punch, marrying Sabbathesque groove with trip-hop tension to bring the record to a conclusion.
The downside of the 'Troublegum II' concept, however, is that Troublegum Man has inevitably grown weary in the years since he shouted at the world he'd never change. While he's cognisant of the need to close his eyes and see what he has inside, 'Fall Behind' finds him unable to articulate these desires for change, reducing him to a tragicomedy in places, as we slowly realise that perhaps he may be older, but not a whole bunch wiser. And while this simplicity was key to creating a lean, mean beast like 'Troublegum', here it hobbles the album's protagonist somewhat, even casting him as an average Joe mourning his wasted youth, at the cost of his teen self's budding intelligence and humour. This idea, whilst making sense, tempers very musically interesting moments like 'Fall Behind"s picked, clean jangles or 'Idiot Cousin"s titanic, droning chords.
An interesting midpoint emerges halfway in 'Helpless Still Lost', however – a painfully personal confession married to a huge, murderous, drawn-out refrain that overlays a marriage of 'Infernal Love"s clean tones and 'Never Apologise Never Explain"s groovier moments. 'Vulgar Display of Powder' continues in a 'Never Apologise' vein, with a riff that recalls 'Die Like a Mother Fucker', but never really gets off the ground, and 'Words Fail Me' and 'Torment Sorrow Misery Strife' are standard grab-bags of punk rock reliables (with some interesting parts) that would have been class ten or twelve years ago during the band's 'High Anxiety' period, but are a tad insubstantial following the last two records' non-stop existential heft.
The question that emerges is this: who is this for (bar the band, obviously)? Hardcore Therapy? fans are more than used to the band's goalposts shifting the whole time, and indeed, most of us love them for this very fact. Meanwhile, any casual fans that would have desired a sequel to Troublegum would have either stuck around and followed the band through their astounding creative trajectory, thus becoming part of the band's core fanbase, or fucked off a long time ago in search of the next shiny thing.
It's an awkward entry in the band's catalogue, is 'Disquiet', but if saps like me are here fretting over what's Therapy?, or a 'good' Therapy? album, and what isn't, then that's precisely the job done from the lads. Distinct ideas and concepts, as well as slivers of promise for future output, peer out from the muscular wall of riffs, and more casual rock fans get a muscular wall of riffs. The happy medium has been reached, it would seem.