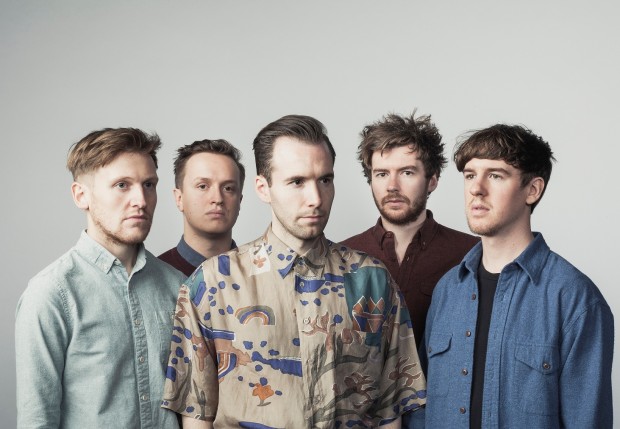 Just under two months from the release of fifth album, O Shudder, and barely into a UK/Ireland tour, Dutch Uncles frontman Duncan Wallis chats to Joe Madsen about performing live, recorded ventures both past and future, and changes in band membership.
So how are you guys feeling about the reception and feedback you're getting on the new album?
Interesting question.  I don't think we've thought too much about it, really.  We're very happy with the reviews.  We weren't expecting to get so many 4/5's and 8/10's because that's all we got straight across the board with our last album, so we didn't think it'd happen a second time.  But it happened, so we're happy with that.  I do wish we were touring more.  Because festival season starts earlier and earlier every year and because we've released the album at the end of February, we don't really have much time to tour in cities that we'll get to in the festivals.  I'd like us to do more proper gigs because I think that's the best way to gauge how well an album's done.
When you say you didn't expect to get as strong feedback in the reviews this time around, why did you feel that way going from the last album to this one?
Well, I think we all felt like we hadn't changed much of what we were doing from our last album, and we thought we might get criticised for that.  The reason why we we thought we hadn't changed is because we pretty much went from album, to touring, to working on the next, and there was no real new catalyst.  We pretty much went into making O Shudder the same way we went into making Out of Touch in the Wild.  Luckily, a lot of the reviews realised that we were establishing a sound rather than starting something fresh.  It seems our intentions were clear which is a good thing.


Going back to performing live, if you were to tour more as you wished, where would you see the band going if you had your pick?
Well, anywhere outside the UK really.  Anywhere outside Manchester, for that matter; we pretty much recorded the whole album here.  When you spend 14 months making an album pretty much in your flat in Manchester, you really want to get out and see the world.
I'd love to do anywhere in Europe.  Actually, I'd love for us to do a tour of Italy because every time we play Milan, it's always an amazing gig, and it's just a shame that we don't get to go more.  I know Genesis made their fortune in Italy on tour.  That's what we need.
You guys got a taste of touring Europe with Paramore last year.
Yeah, we've toured Europe a few times, but last year with Paramore was great.  It feels a bit like Disneyland with the sheer size of the fans and the stages.  Their fans are crazy, but in the best way possible.  It was really refreshing that we could actually play shows with Paramore because in the UK, that couldn't happen.  In the UK, not just Paramore fans, but all young music fans attach themselves to genre, and it's a shame because there are open minds among those fans, but when they go to see a Paramore show, they don't want their minds opened up to new and other things.  They want to see Paramore and bands associated with that sound.  If we came along, we'd get booed offstage in the UK.  But it worked out really well in Europe and the response was impressive.
How do you guys feel about being tied down to one genre?  Does Dutch Uncles break free of a label, or do you see yourselves filing into specific, categorized slots?
I'd say we do, in some ways, fall into that alternative kind of sound, but in others, we have our own sound which is successful in its own right.  We get lumped in with other bands like Wild Beasts and Everything Everything, and we can see the similarities between us and those bands, but at the same time, we can also see the big difference.  And the big difference is they're playing much bigger venues than we are because they are much bigger bands than we are.  For that reason, because we haven't been able to make that kind of jump yet, it's given us our own sound and our own place.  It's almost like because of our own failure to take things to the next level, we have our own sub-genre.  I feel sorry for anyone that gets compared to us, really.


Do you want to make that jump to bigger venues and bigger exposure?  Is the work going that way?  Or do you prefer the niche that you guys have?  
I think everyone wants it; we would never pretend that we didn't.  At the end of – I'm not gonna use the phrase 'at the end of the day', sorry.  Ultimately, we've been in this band together for eight years now.  In fact, the four of us have been playing together for ten years, and we've been Dutch Uncles for six.  When you've been playing together for that long, you want to make it your career, and being a niche band, it's increasingly harder to make it a career, especially when you don't get opportunities to gig very much.  Like, we were told that our last album was 'too British' to play on the continent which is kind of bullshit.  I think with our next album, like anything new we do, we want to make it more professional and take it to the next level.  But we also can't write objectively.  No matter what we do, we can only write music that interests us.  Like our last album is definitely trying to be a pop album, but it still sounds quirky as fuck.
And how has the departure of Dan Spedding been?
He left on his own terms, but we were still saddened to see that happen because when you get to this point where you've been playing together for so long, you start to think, 'Well, at least we won't start falling out with each other.'  And even though it wasn't a fallout, he still left, and it feels like a fallout, and it's kind of a shame that that happened.  But at the same time, we all mutually agreed that it was his time to go.  We do very technical stuff, and as a writer, that's not what he wanted to do, he wanted to do his own stuff, and that's fine.
But it's not been too difficult.  He was a guitarist, but a lot of what we're doing now is synth-based.  We've brought in a new keyboardist, and he's been doing great, filling out the sound.  It's been a very smooth transition, and we wish Dan all the best.


Do you think you already have material in mind for your next venture?
Yeah, we're talking about it.  I think we recognize that we've made a trio of albums that show a progression that's quite similar, and I think we know we've reached that final installment.  For our next album, I personally would like us to approach different ways of making choruses.  I'd also like us to approach different ways of exploring feelings and emotions, like frustration in communication.  I think we'll find new features to our sound on the next album.
The last trio of albums were produced with Memphis Industries.  Do you see yourselves working with a new label or producer to capture that new sort of sound you're talking about?
I definitely see us working with a new producer, for two reasons.  Firstly, I know it's something we all want to try out.  Secondly, our producer Brendan, who produced our last three albums, has said, 'That's it.'  He wants a break from us more than we want a break from him.
I think the next album will definitely be with Memphis.  As a label, they've always been very supportive.  They want to see their bands progress, they don't want to make us something we're not.  By the time you get to your fifth album, a major label isn't going to pick you up and make you into something different.  They either like you for who you are or they don't.  We're very happy to keep making albums with Memphis because they give us full reign over the creative output.  That can be frustrating at times, but it's still very refreshing, and you have to remind yourself you're luck to have it.
Last question: biggest influences when you were first starting out.
Let's see… King Crimson, Steve Reich, XTC, Field Music, and Talking Heads.  When we started playing together, we were listening to chilled out, house-party music, and it was the kind of sound we definitely wanted to emulate.
Dutch Uncles play Belfast's Limelight 2 on Friday, April 24 and Dublin's Workman's Club on Saturday, April 25.
Win tickets to the Belfast show here