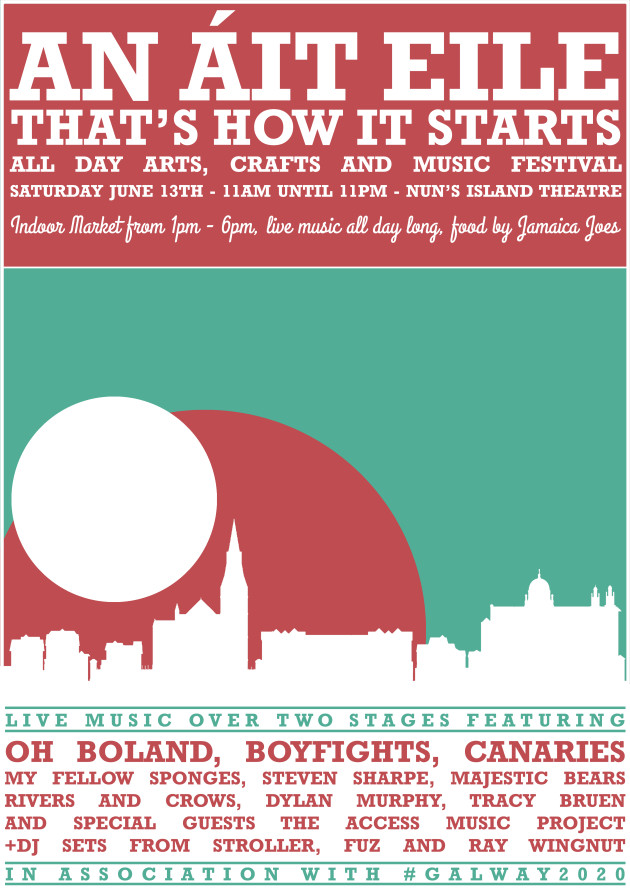 Saturday, June 13 hosts a showcase for Galway's local arts, crafts and music at the Nuns Island Theatre, organised by the grassroots not-for-profit organisation, An Áit Eile, who wish to foster the creative community of the west of Ireland.
Teaming up with see many of Galway's local organisations like Access Music Project, Citóg Records, Jamaica Joe's, there will also be a series of acoustic artists performing at the show,  including My Fellow Sponges, Rivers and Crows, Steven Sharpe, Dylan Murphy, Majestic Bears and Tracy Bruen, as well as an indoor marketplace from 1pm-6pm, featuring locally-produced arts, crafts and food. Performances will be accompanied by DJs Ray Wingnut, Stroller and Fuz.
Later on in the evening, there is a BYOB show in the theatre, featuring indie rock act Canaries, fellow indie rockers Boyfights and Thin Air favourites, garage rock quartet Oh Boland.
Admission during the day is free, with the BYOB gig costing €10. All profits from the event go towards the facilitation of a Galway platform and marketplace of the city's artists & musicians. The event runs from 11am until 11pm.