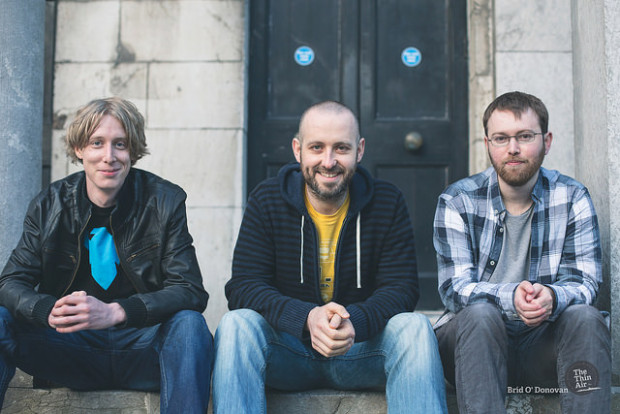 Turncoat Press is an independent Irish comics publisher based in Cork. They are Emmet O Brien, Chris O Halloran and Colin O Mahoney. On June 13 they are launching their second comic book 'Life Signs' in the Franciscan Well, Cork from 2pm until 8pm. Photos and interview by Brid O'Donovan.
Turncoat Press.
Colin: Turncoat Press is the three of us. Emmet, Chris and myself. We are a small press comics publisher. We're based in Cork and we are on to our second publication now. So Turncoat Press is still very young. Myself and Emmet write and Chris draws. We wanted to get a start in comics and we wanted to get our work out there but there was no one publishing in Cork. We ultimately decided to do it ourselves. Once we got started and put the word out there, the number of people joining in and collaborating was great. Our first book was an anthology with seven stories and we had 14 or 15 different creators on it. Almost all of those were Cork based and everyone was Irish based.
Emmet: It's funny, originally the idea was for us to write a few stories and for Chris to just draw all of them. Looking back on it, that was so naive!
Chris: We'd still be working on it.
Emmet: Basically when we put the word out there we found that there was a community in progress. It just needed something to centre it. I'm Awake, I'm Alive was our first publication and it was released last summer.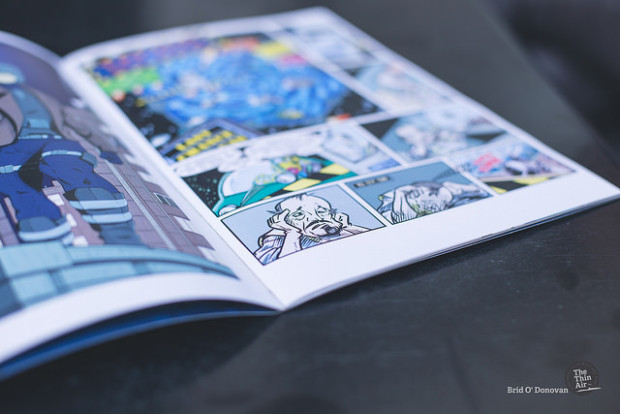 Creating the Scene.
Colin: We started making the book and putting it together but we didn't tell anyone about it. We just kept it between us and everyone involved. A few months in to that we started the Comic Creator Meet-up that we do in The Roundy every month. People started coming monthly and from that a scene kind of started. The launch of I'm Awake, I'm Alive would have been the first big event for non-creators and fans to come along and see what we were doing.
Emmet: There wasn't really a comic scene here that was unified. In Dublin there was a lot of stuff going on so everytime there was an event we had to go up. There's a great scene up there. We were at this expo called Dice which is on in September and it just galvanised us. We thought "We could do this. Surely there's enough people in Cork that are doing this and could do something similar."
Finding Creators and Creating the Anthology.
Colin: For I'm Awake, I'm Alive it was a lot of people we knew ourselves and others would put us in touch with other people. There was no community, no group or meeting we could go to or even a Facebook page. So it was about reaching out to people we knew and to local artists and writers that we were aware of, but didn't necessarily know personally. The response was all fantastic. Everyone was excited to get their work out there, to get a scene going in Cork. We reached out to people that we didn't expect to get a reply from at all and everyone was really happy to get involved.
Emmet: Also, the diversity of the book helped us as well. For example, I knew Alan Hurley was more of a fine artist but we knew that we could adapt him to the book. I knew Cethan as well who does stuff for the Penny Dreadful. I think the fact that the book was so different helped us find people initially.
Colin: There was something to suit everyone's style in it.
Chris: We didn't want to do a straight copy of a superhero comic that people might not be interested in or sick of. You can get Spiderman or Batman in Waterstones or Easons. We wanted to do something different which was it's own thing, you know. The people that came on board and were involved loved that idea too.
Emmet: As for the anthology section, it's an easier way to get started as well. A lot of people may have this huge epic idea but it's very hard to get that down on paper. Having a six or seven page story is a nice way to start.
Colin: It's easier to get an artist or writer committed to a four page story than it is to a twenty page story and especially if they haven't done the work before. You're trying to get a book out. Instead of waiting for one person to finish twenty pages, you're waiting for one person to finish four pages and while that's going on another person can be working on a different five or six page story in it. It's smaller chunks like that. There was a lot involved in wrangling that many stories in from the creators.
Chris: I think it took about nine months to produce I'm Awake, I'm Alive.
Emmet: A pregnancy basically. A difficult birth.
Where it all originated.
Colin: I would have read stuff like The Beano and The Dandy but there was a friend of mine, his older brother collected 2000 ADs so I got to read that through him. 2000 AD was a British magazine that wouldn't be kid friendly, particularly at that point in time. I got into the collected editions of American comics, British reprints that you'd get in newsagents where they would package four issues of X-Men or Avengers together. You can get your hands on those easy enough, for anything else you would need a specialist comic shop.
Emmet: There was a time when there wasn't access to regular American editions. Those packages were a godsend years ago. My older brother introduced me to comics. There used to be a comic shop on Winthrop street. It was a Kodak shop and in the back room there was a comic shop. It was called the Ummagumma Rose, Jim Comic ran it. I remember being brought in there and I instantly fell in love with comics. There was so much going on. I bought a silver surfer comic. No one knew it was in there. There was this weird word of mouth thing going on about it. Someone in school told me "There's a place you gotta go, it's amazing.!" It closed down and another shop opened up called Cult Comics a few years later. There's only ever been one comic shop opened at one time in Cork. It's kind of weird. At the moment we have Other Realms.
Chris: Considering comics are on the rise, like the Waterstones section is growing and growing but the comic section in Other Realms is shrinking. Vibes and Scribes has a huge section now as well. People's interests are growing as well. I read annuals and The Beano and The Dandy too. I remember being in town with my mum and seeing that there was a one off Batman graphic novel somewhere and I'd have to have it. I just picked up some every now and again. Generally just watching X-Men and Spiderman cartoons got me interested.
I copied the pictures in the comics when I was smaller. I never thought about being a comic artist until I was in college. Sporadically, every few months I'd read everything I had again. I just had a small pile and I'd draw stuff from it and come up with my own characters. I never pursued it until I was in college and I saw that you could be from Ireland and do this as a job. I thought it was a strictly American thing. I gave up Art after Junior Cert but I was always sketching. I studied Multimedia in CIT. Will Sliney had finished the course a few years before me and he came in one day. I thought "Oh, he's getting paid to do this, he did my exact course and he's living in Cork. I can do this."
Emmet: Before there was a scene here it was great that we had Will as someone who was so successful in the industry and was kind of a guide to doing it right.
Colin: He's still very supportive. He's made it. He's doing pages professionally for Marvel but he still spends a good deal of time supporting the local events.
Emmet: He comes to the meet-ups sometimes and he does a lot for us as well.
Colin: He did the cover for our first book I'm Awake, I'm Alive. Having a professional Spiderman artist coming down and helping us out in that way has been a big help.
How You Made it Happen.
Colin: The funding for I'm Awake, I'm Alive was our own money. We all chipped in. Our print run was quite small but it was a full colour 64 page book so it was quite expensive to do. Our new book Life Signs is half that size and it's a floppy comic. It's surprisingly affordable to do. There are printers who will do print runs of four, five, six hundred for a couple of grand. You can sell the comics for four or five euro and make your money back. There's not money to be made in it.
Emmet: I gotta stress that. You gotta do it for the love! (laughs)
Chris: It funds itself if you sell all your comics, if you're lucky, and then paying for a table at conventions. If you're lucky afterwards, you'll have a chunk leftover for the next book which is the model we are working on.
Colin: There's a printer in Cork now and you can get a black and white book printed from him for about, we'll say €2.50 or under a copy and that's at a run of about two or three hundred. Selling that for four euro makes it incredibly easy. Much more affordable than we'd ever have imagined it to be, to go and make your own comics.
Emmet: Obviously it's black and white so it's different but still, you can put out something.
Colin: It's very very do-able. If you're wondering how to do it, the internet has been fantastic like that. There's any number of tutorials online for all the aspects – for writing, lettering, colouring, illustration, all stuff you need to do in photoshop you'll find tutorials online to do that. Now especially, in Cork there's a great community where you can find other people who have done this before and get the advice you need.
Emmet: There's a local writer and artist called Alan Corbett and he gave us some assistance. he published a children's book called The Ghost of Shandon. He's such a solid guy. He knows what he is talking about. He's a great resource for knowledge of this stuff. He's been invaluable as a support to us as well. Having Facebook as an open resource is great as well. You can just throw out questions.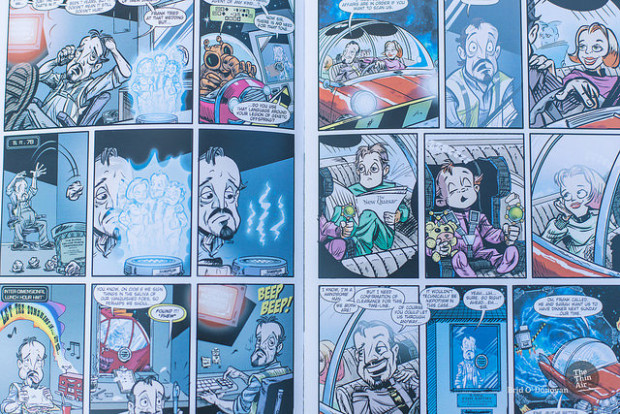 Feeling Supported.
Emmet: I think we are very supported from a community point of view. The Meet-Ups are great. People come back to us a lot. People like Joe Griffin did a lot of the behind the scenes stuff that was kind of awkward for this book. That's an example of someone who is in the community, giving his time and expertise as well.
Chris: Film, music, arts are the three things money gets spread out towards. Comics is a different medium to the three of those so there's nothing in place to financially support it.
Emmet: I do want to say though, that we have been really supported through venues. The Pavilion was great for our launch. The Franciscan Well are doing the launch for Life Signs and The Roundy gives us the space every month for our Comic Creator Meet-Ups.
Colin: As Turncoat Press, we never looked for funding. We thought that we would do this ourselves, we'll keep going and we will build money from the books to print the next book and hopefully keep building. The Cork Comic Creator Meet-Up – that group has had a lot of very good support. We have put out two comics through that and the idea with those comics is to get as many people in Cork published. We put out open submissions for local writers and artists. They are small black and white anthologies but the first one we did was in conjunction with Cork Community Art Link and we went through the Council and got a large hoarding down along the quay where they displayed pages of it. The second book we did was through the library, not in a financial way but in every other aspect. They were very good. They rolled it into the Cork World Book Festival. We had a launch night at the library. They did fund guest speakers to come down so in that way there's a lot of goodwill towards comics. People are happy to promote it. It could get better as time goes on. In Cork especially, the scene is decent and growing.
Emmet: There's another Cork Horror Comic that's coming out. It's separate to Turncoat Press but it's an example of something else that's going on in the scene, away from us. We want as many things going on as possible. That is what the Meet-Up is there for – to get more people published.
Chris: It's just to get in place what we wanted to be in place before we started.
Colin: Yeah, just like when we wanted to get published and there was nothing there so we decided to do it ourselves. We all wanted there to be a scene where we could meet people and to talk about comics so we just said we'll start this ourselves and it's been great.
Emmet: It's gone from strength to strength.
Colin: We are getting thirty to forty people every month, on the last Monday of every month in The Roundy.
Emmet: When we started there was five or six people that we knew. What I love is that there are people there that we don't know.
Colin: Slowly other people are getting projects of their own up and running, be they web comics or other ideas for print works. We are always saying to people that if you want to get started, a web comic is the best and easiest way to do it. I have a web comic with my girlfriend Aileen and you can even get a much older, but free version of Photoshop and Illustrator which we use. That brings your costs of software down to zero. Buying the domain name was twenty or thirty euro. After that you're cost isn't anything. You don't even need a tablet to draw. It's almost literally a zero cost to put a web comic out there. It's more difficult to get an audience but the potential audience for it is far greater than you'd ever reach in print. That's fantastic.
Emmet: Also, it's great to feel like you have somewhere to go with something. If you are one of those people that is drawing in your bedroom, it's nice to think that there is an outlet somewhere.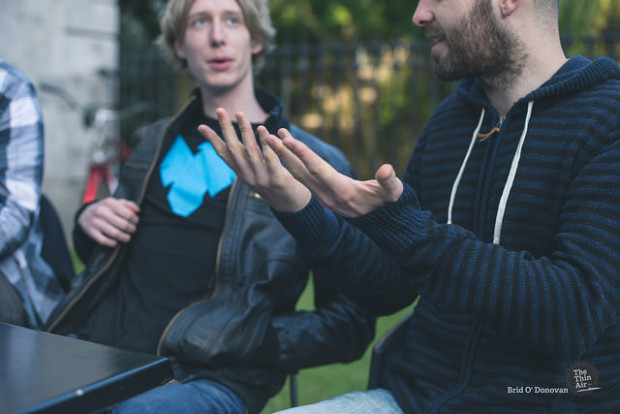 The Comic Industry in Ireland.
Emmet: Right now the industry is at it's strongest. You have to realise that we are at a certain level, we are small press. But there's so much going on in that scene. Recently Will Sliney set up an event, an expo at Mahon Point in Cork. The first of it's type in Cork and it got a lot of people from Dublin and other parts of the country. It was a huge success. Tables sold out, someone said that there was more traffic out there than compared with Christmas. It shows that there is a market there.
Colin: It did so well because it was a combination of people following Will and seeing what he is doing, whereas they may not be as interested in us. He is the Marvel artist. Then there is the shop who also put on the expo with Will and did a lot of the work, The Big Bang in Dundrum. They are very successful. They sell tons of comics and they host events regularly where they will have queues out the door of people waiting to get inside for signings with the artist and writers. They put on the event every year as well, Dice. They would get the biggest names in the world who are working in comics. A lot of people that can't go to those on a regular basis, they follow them to keep up with what is happening. The Cork one popped up and that was the first one outside of Dublin on a big scale. People flocked to it and it was easier for people down here to get to.
Emmet:  What I loved as well is that if you set up an event like a comic expo, you'll get a certain target audience. With Mahon there was a lot of casual Saturday afternoon shoppers and families. Kids will always love to see superheros and Star Wars characters walking around. It had an in-built audience but also the wider Mahon Point crowd as well that took to it.
Chris: Lots of curiosity. On two separate occasions I had two women come up to me where I was drawing, looking very worried and wondering what the hell was going on. They thought it was the zombie apocalypse or something.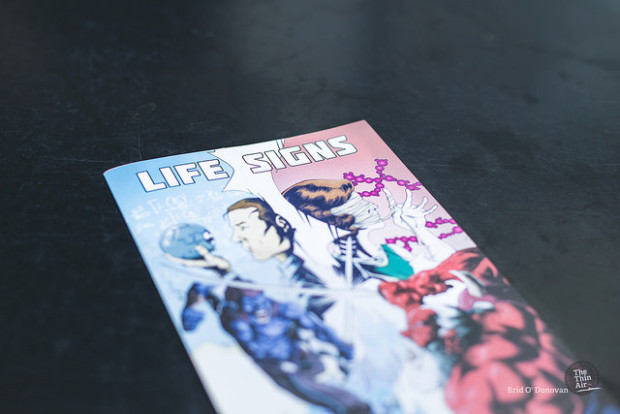 Life Signs
Emmet: I'm Awake, I'm Alive was so diverse and we were so proud of it. But we noticed that at conventions and stuff it was hard to explain what it was about because it was a bit of everything! What we like about Life Signs is that it is a focused theme. It's science-fiction and it's shorter so people may be interested but they won't want to invest in a book so a comic is more appealing. The focused nature of it was something that we really wanted.
Colin: It's nice to have the theme in this book. It's half the size of our previous book but as Emmet said, it's half the price. €4 is not a big ask. It's still diverse in that theme, there's a nicer range of stories in it. We've got three different writers in there and they are all quite different in their takes and the types of story that they are telling in it.
Emmet: We three are Turncoat and we were the three writers for the first book but this time we opened submissions for another writer to come in because Chris decided to just focus on the art side of it this time. We found Shane Ormond who worked on Insert Title. He's a great writer. It was great too to bring someone new into the Turncoat family. We also wanted a story that would definitely compliment the stories that we were bringing to it.
Chris: The launch is on in the Franciscan Well on June 13, it's a Saturday from about 2pm until 8pm. It's a day event so people can bring their kids who might be interested. There is a drink and draw afterwards. They are another group in Cork. They do meetings every two weeks in the Fran Well anyways so they decided to help us out and tie it into the day event. People can stick around afterwards to have a bit of a chat. All the artists from the book will be there selling their own wares and doing some sketches too.
Emmet: There'll be some local people like Fiona Boniwell and other writers and artists who will be selling their stuff. Gary McShane will be doing a live drawing there too.
Colin: We really tried to make a live event out of it so we have the drawing that Gary is doing and other artists will be there sketching. There is a good number of other local publishers that will be there too. Alan Corbett is going to be selling The Ghost of Shandon, Fiona Boniwell will be selling Death's New Lease on Life. We want people to come and bring their kids and there should be enough there that'll make a nice day out almost.
Chris: We want people to hang around and that's why we went with the venue. There's the bar obviously but there's pizza out the back too. It's important to say as well that the cover is by a professional comic artist called Nate Stockman and he's actually working on an Image comic series in the states called Reyn which is a really good comic in it's own right. His cover art is a combination of all the stories inside.
Emmet: It was so great so get him on board and to have something different outside of the scene here. He did a great job, we all love the cover. Obviously it's the Life Signs launch but we want to support other people as well.