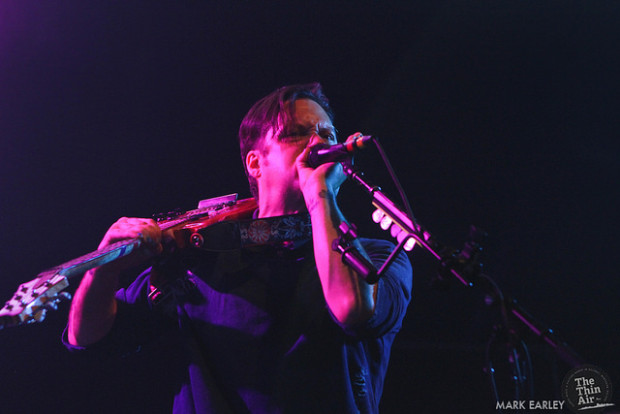 The grand, university setting of the Helix is not the most obvious choice for a band with a legacy built on working class indie rock but as with everything else in Modest Mouse's tumultuous career, they try their best to build something out of nothing.
Armed with a setlist of crowd-pleasers, the band work their way through a career worth of tracks. Opening with the slow building 'Of Course We Know', closer of their most recent album, Strangers To Ourselves, they set the pace for a set filled with their characteristically cynical but sad, fucked up but victorious output. Despite claims earlier this year that the new release lacked the imagination of their earlier work, the tracks translate well live – 'Lampshades On Fire' is a bombastic romp, 'Coyotes' fills the hall with a gentle sadness showing how dynamic an act Modest Mouse really are. When played out alongside cuts from throughout the band's entire career, Strangers To Ourselves seems like a natural progression. They've grown up since the frantic ballsiness of 'Tiny Cities of Made Of Ashes' and the inward looking angst of 'Dramamine', both of which are set highlights, and that lends itself to creating a setlist that manages to cater to all frames of mind.
Certain aspects of the show are frustrating, due in no way to the band themselves. Throughout, there's a major feedback issue with guitars screeching regularly above the band's wall of noise. Brock's vocals are low in the mix and, at times, it's hard to hear him – in particular when he's engaging in stage chat. On top of the disconnection between the audience and Brock caused by technological issues, the crowd themselves seem to care very little about the band on stage with constant audible chatter ringing through the hall. A lack of audience interest stunts the band at their most powerful – tracks such as 'Float On' and 'Dashboard' result in a half effort of a singalong, with only a few diehards driving throughout. Lesser known tracks, mainly cuts from the new album are largely ignored by a crowd who seem likely to burst out into a chorus of "play Freebird!" at any moment.
Perhaps it's this audience apathy that informs Brock's chatter. Wide-eyed and full of swagger, he mocks the venue's place in Dublin City University by spitting venom about the institution of third level education and with the drunken, disinterested college aged audience before the stage, it's hard to disagree with him. Elsewhere his antics – smoking on stage, strutting about, yelling into his guitar – paint Brock as the ultimate indie rebel. Unlike the clean faced, leather jacket wearing pop stars that the grace the cover pages of the NME, Brock's hard living, dark personality is a testament to a man who is the biggest underdog in major indie rock. He's unpredictable and absolutely mesmerising as a frontman.
Closing with the jubilistic and beautiful 'The World At Large', Modest Mouse end a set that could have been magical if not for logistical issues. They're one of the most interesting, human bands in the world and with a venue that had a better ability to deal with their constant meandering between trashy indie rock and grand indie pop, tonight could have been amazing. Instead, we're left with a taste of magic and a hope for a quick return to Ireland from the band. Kelly Doherty
Photos by Mark Earley.