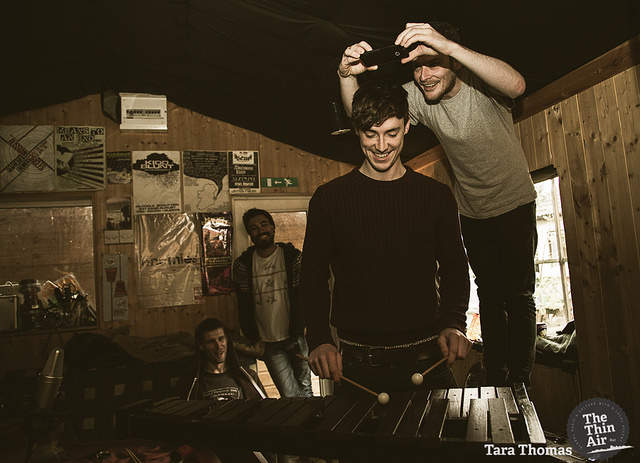 When we get to see a band on stage it's hard to reverse engineer the process and think about how and why the performers got there. On stage it's about performance and precision. Some swagger, some sway but what they all have in common is the process. The particulars may vary but they've all engaged in the craft. Whether solo or sextet, singer-songwriter or composer they've all started with a melody, the faintest whisps of an idea or, maybe, nothing at all.
It's a process that Enemies, playful math-rock maestros that they are, take very seriously. Over the space of a sunny Wicklow weekend the boys are putting the finishing touches on their latest track 'Play Fire'. The atmosphere is workaday, without being humdrum. It's lunchtime and nothing captures the rock and roll lifestyle like a Centra roll. But here it is, the work that goes into the music industry. Enemies have been playing together eight years this summer and in that time have released well-received albums like 2013's seminal Embark, Embrace and engaged in whopper tours home and abroad.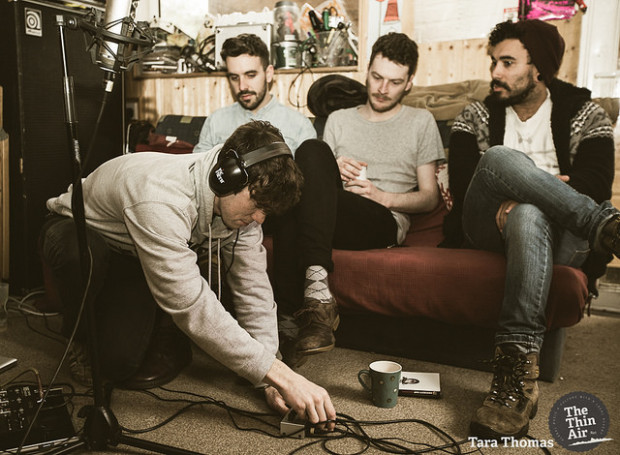 Now though they've taken time off to write and record. The process is methodical and thought out but not devoid of that creative spark so audible on their other work. Once again the boys have returned to The Hive studios in Kilcoole, manned by guitarist Eoin Whitfield. While he puts the finishing touches on his fretwork we're treated to a draft of the final track.
It starts with a hazy yet emotive innocence reminiscent of bands like American Football but with a contemporary kick on the licks. However there's also something of a cue from their contemporaries, and Dublin's latest break out act, All Tvvins. That's in what may be the tracks most striking feature; a distorted electro vocoder sound on the vocals. While the songs musicality may be distinctly Enemies-esque, (while still pushing their sound into the future) this will be surprising for most of their dedicated fans. However it's a conscious choice on the lad's part and one they seem to relish. 'I like that this will divide opinion' Lewis himself opines.  'It's something different and that's important,' adds Mark whose vocals are on show, 'we just need to get it right.'
And so begins a debate between the two members and their resident sound engineer James Eager. The track is still in production and being shaped, bent, shaved and manipulated. It's an interesting process, especially since Enemies is a band long in the shaping themselves. The recording of this track marks the beginning of their work on a new album, an exciting time for the band as well as their global fan network. 'It's good to know that process has started,' muses Lewis. He adds that though there may be a tour on the horizon, creating music from scratch provides the bands most immediate concern and objective.
On that note it's time to lay down the vocals and while that duty may fall largely to Mark and Eoin, the warm up is a family affair. It's a convivial atmosphere, there's laughing, there's serious discussion of enunciation and there's drummer Micheál playing the xylophone, because he can. Together these guys make some of Ireland's most engaging sounds and so it's good to see them engage well together. Eoghain Meakin
Like and follow Enemies here and here.