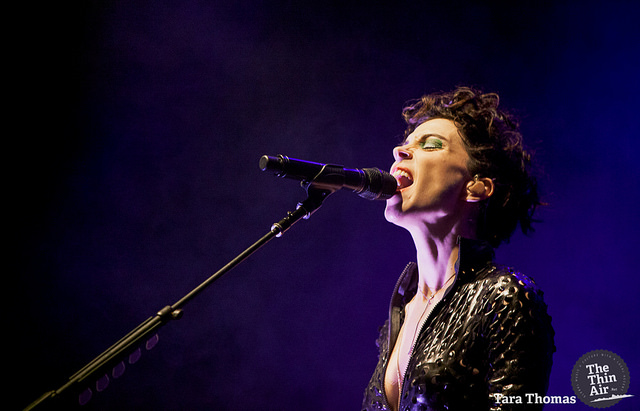 Tonight saw the Galway International Arts Festival Big Top host its first event of the season with the sheer spectacle of Texan powerhouse St. Vincent and support from the always-charming Little Green Cars.
The tent by the river has already filled suitably by the time Little Green Cars take to the stage and there's an immediate sense that the audience is more than willing to be drawn further in by the brutally honest and heartfelt tracks from the band's 2013 debut LP Absolute Zero and a healthy sprinkling of equally emotive new ones, one of which wouldn't sound out of place among the more tender moments of Kate Bush's repertoire. The new songs indicate a consistency and an increased confidence for the Dublin outfit while maintaining the brittle insecurity that defined the sound of the debut, the songs from which are still sung with the same passion and sincerity as ever. Crowd response increases throughout their set with moments like 'The Consequences of Not Sleeping' and 'The Kitchen Floor' threatening to leave us a bit too weak at the knees for this early hour of the evening. Closers 'My Love Took Me Down to the River (To Silence Me)' and 'The John Wayne' remind those of us that might have forgotten just how gifted in catchy yet poignant songwriting this band is. While the frailty and candid personality is still there in the music and between song banter, there is definitely a newfound excitement and confidence in Little Green Cars on display this evening that will prove fundamental in build up to their next release which, if this set is anything to go by, will be a treat.
Candid and frail are two words however that don't come anywhere close to describing the spectacle that is the performance of St. Vincent – aka Annie Clark – and her band. On the contrary, Clark has crafted a persona, a character so powerful and commanding that it is impossible for the entirety of the now full tent to not eat every scrap from the palm of her hand. The razor-sharp, enormous and dazzling set can be seen largely as a commentary on authenticity, on sincerity in art and with oneself and the way we spend our time, 'pretending to be exactly ourselves' as she says during one of the few between song spoken interludes. The crux is that we're all ultimately assuming a persona, be that an outward act, an online persona that allows one to feel vicious, opinionated or clever (whether that be for the right or wrong reasons), or a musical persona that allows for a greater sense of awe and grandiosity in performance. St. Vincent blasts out songs such as 'Birth in Reverse',' Digital Witness', 'Surgeon' and 'Cheerleader' which all have an undercurrent reminding us that we're all covered in fluff that defines how want to be seen by others. Clark's character and the choreographed mania of the performance seems to tell us that all of that is perfectly okay, that we can embrace those personas, own them and control them. She makes something wonderful and powerful out of that persona. Better that than have them control you and leave you scrambling for attention, with no regard for much else.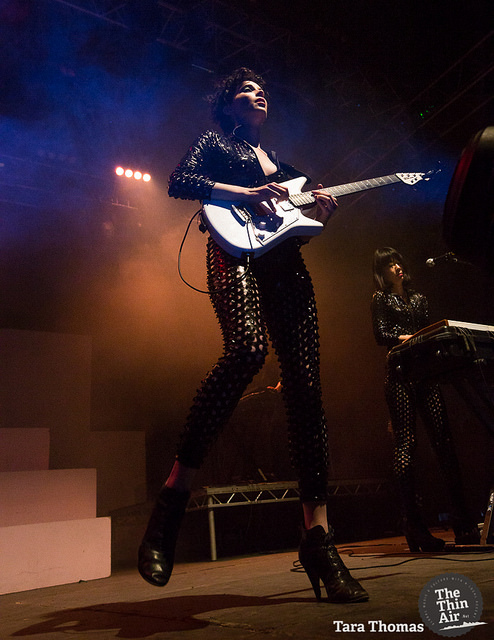 Agenda aside, this is fundamentally still a rock concert wrought with behemoth guitar lines by a person whose technique has proved time and again to be one of the most interesting in the world of music lately. Most of the effects and alterations to the guitar sounds ranging from scuzzy to scratchy occur off stage in order for the choreography of the set to be more fluid. However, it is slightly disappointing not to be able to see just how Clark creates the sounds she does using various pedals etc. Tracks like 'Marrow', 'Huey Newton' and 'Bring Me Your Loves' are monstrous and display the vicious prowess of St. Vincent and her backing musicians including guitarist and keyboardist Toko Yasuda. Unfortunately throughout the gig it felt as if Clark's vocal could have been turned up a bit and sometimes felt drowned out by the cacophony of sounds. Aside from that however the sound engineering is handled fantastically.
More delicate moments of the set come in the shape of one of the encore 'The Party' and the glorious 'I Prefer Your Love'. 'Prince Johnny' begins as a sensitive ballad but ends with a gritty jam style guitar solo.  In breaks between songs Clark orates rehearsed words referencing Seamus Heaney, Conor McGregor and James Joyce. While the crowd cheer at practically every individual movement and sound that she makes throughout the show it's possible to say that maybe the spoken elements were a little forced and a maybe tad unconvincing. The persona is only broken slightly during the gigantic finale of 'Your Lips are Red' during which Clark descends to interact with the crowd, high-fiving those at the front as they swarm toward her as if entranced. Donning an Irish flag flung onto her by an audience member Clark's absolute professionalism combined with a sheer love of what she is trying to do is palpable. The end of the last song sounds almost like a testament to a My Bloody Valentine track and serves as the perfect conclusion to a show that, while not perfect, was pure entertainment to the very end. The crowd, out of breath, squeeze every last drop of energy out of this performance, and shuffle out of the tent having been dropped from the palm of St. Vincent's hand. Eoin Murray
Photos by Tara Thomas