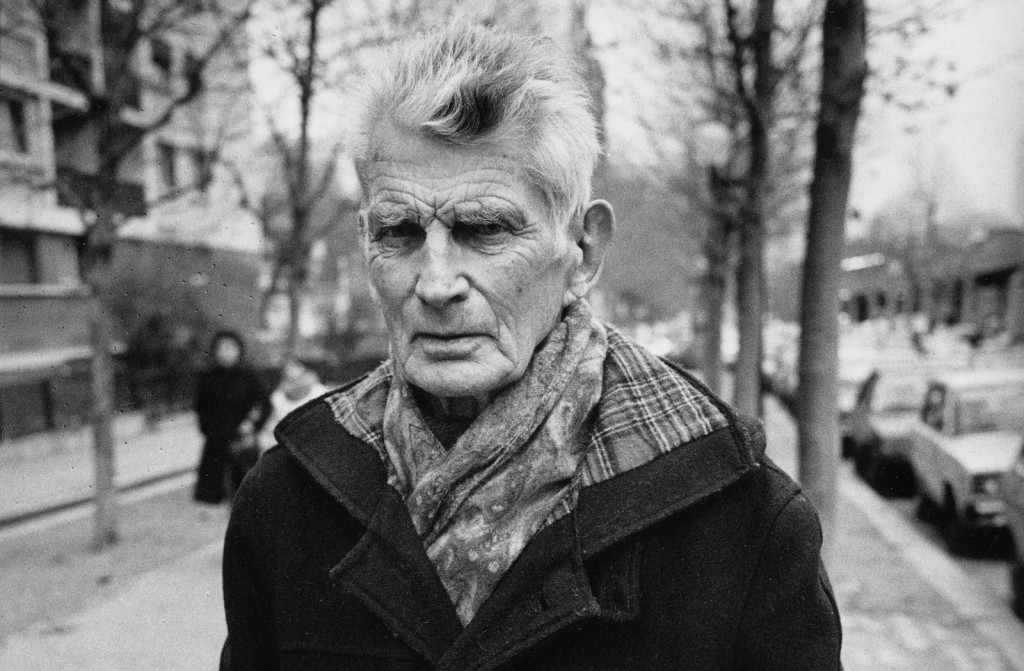 Though he died over forty years ago actor Jack MacGowran is still a regular on TV and at international film festivals, having graced such timeless classics such as The Quiet Man, Tom Jones, Doctor Zhivago, Cul-de-Sac and The Exorcist. As a theatre actor MacGowran is best known for his work with Samuel Beckett.
 In a revealing talk at Enniskillen's Southwest College, three people closely connected with MacGowran shed light on his career, his craft and his collaborative relationship with the Nobel Prize-winning writer Beckett.
Jack's daughter, actress Tara MacGowran was joined by Garech Browne, co-founder of Claddagh Records, who had recorded MacGowran reading Beckett in the mid-1960s. Charing the discussion and weighing in merrily was Kate O'Toole, actress and Chairwoman of the Galway Film Fleadh.
Inevitably, as all three were close to Beckett, the fascinating informal talk veered repeatedly from MacGowran to Beckett and back again.
Brief introductions over, the session began with a selection of film clips featuring MacGowran. It was an impressive roll call of films by some of the twentieth century's most celebrated directors, including John Ford, Roman Polanski and William Friedkin. "He played with the big guys," noted O'Toole of MacGowran.
Another video clip followed; a tribute from Academy Award-nominated actor Stephen Rea, who was unable to join the discussion due to filming commitments. Still, the popular Belfast actor had interrupted his schedule and travelled to Enniskillen to record a very personal and illuminating exposition on MacGowran.
"He was absolutely made for Beckett in a way that English actors couldn't be because they took it too seriously," said Rea. "Jack wasn't over serious but he was very profound. He was always an interesting character. It's not enough just to do it in an Irish accent but there was something about Jack's mind that penetrated Beckett. He was made for Beckett and Beckett felt that too."
Rea recalled how MacGowran broadened his horizons by heading not only to England but to Paris and the famous Lecoq School of mime. "What Jack did in a way was he took that great strain of Irish actors and he became, I believe, a great European actor. That's what you see in the work he did with Beckett and of course Polanski. You could see the influence of Lecoq in his acting."
The influence of the Lecoq School of mime on MacGowran was underlined when Tara MacGowran read a transcript of notes that her father had used in a lecture to students.
MacGowran's notes reveal the importance of voice, of carriage and practising the art of mime.  "A facial expression without the sincere emotion behind it is a grimacing but constant grimacing keeps the muscles in working order so that when you experience or call up the emotion, your body, face, will be able to express it," MacGowran had written.
What MacGowran's notes revealed above all – besides his dedication to his craft – was his humility. "The best approach is to realize that you should serve the theatre, the art etc. Not what you can get out of it but what you can put in to it."
Tara MacGowran was just eight when Jack died in 1973 but holds strong memories of her father. Beckett, who played such a large role in Jack MacGowran's life, was inevitably a presence in Tara's formative years.
"Beckett was literally always there and his work was always there", related MacGowran to the Southwest College audience. "When I was traveling around with him [Jack] and he was doing his one-man show from place to place he used to play Beckett games in the car and he'd make quotes out of this and quotes out of the other."
MacGowran's one-man show, Beginning to End was a verbal collage of Beckett's fiction, plays and poetry. It was devised by MacGowran with help from Beckett and first performed for the BBC in 1965. MacGowran went on to perform the show around the world.
One member of the audience, Joan Newman, saw MaGowran perform his one-man show in Belfast and shared her recollections: "I saw him fifty years ago at the Queens Festival and he was extraordinary. There were about sixteen people in the audience but it was like it was happening in a Presbyterian church. Everybody was very unamused. Nobody laughed except me. How could you not? It was just exquisite. I was absolutely spellbound."
That not everybody gets Beckett is nothing new, as Tara MacGowran explained: "Sam is venerated and rightly, but he sure as hell wasn't at the start. When Jack started doing Beckett he looked through the audience and there were people falling asleep, walking out and screaming. There's a story that somebody shouted on the way out, 'This is utter rubbish, pure shite.' Jack stopped and said 'It might be garbage to you but it took me a hell of a long time to learn it.'"
Garech Browne recorded MacGowran reading Beckett for Claddagh Records, the label he co-founded in 1959, which is, without a doubt, one of the most significant repositories of traditional Irish music and poetry in the country.
Recording MacGowran reading Beckett's works went against Claddagh's norms, as it only recorded poets reading their own work. However, on seeing MaGowran perform in Beckett's Endgame in London Browne was immediately convinced.
Beckett, Browne recalled, was involved in overseeing MacGowran's recording:  "When Sam directed the recording – I don't know if directed is the right word – and said, 'I think this line should be read like this,' you had to look up to see whether it was Jackie speaking or Sam speaking because they both spoke very, very alike."
Browne spun a couple of lovely Beckett anecdotes, including one about the writer – bottle of whiskey to hand –  running into mime legend Marcel Marceau in a dingy Berlin disco, which is more fun left to the imagination than to recount in full here.
There was another clip from the aforementioned video of Stephen Rea: "Beckett absolutely adored him," said Rea, recounting the occasion when Beckett took a painting by Jack Yeats off his Paris apartment wall and gifted it to the admiring MaGowran.
MacGowran was an important figure in Rea's early career. Shortly after Rea had moved to London he got a call from MacGowran, and during a chat over a cup of coffee, MacGowran offered Rea – without an audition –  the part of Tommy Owens in Seán O'Casey's play Shadow of a Gunman.
"I feel endlessly connected to Jack," continued Rea. "I just owe him so much. He pointed the way, you know, and he pointed the way for a lot of Irish actors. He changed character acting into something big, European, huge, where it wasn't just little men running around in a pub; it was big existential questions and Jack was man enough for that."
Perhaps O'Toole came closest to describing MacGowran's special talent and the bond that he and Beckett so clearly shared.  "I believe that he encapsulated not just the character but the whole of humanity and I think in that regard that's his similarity to Beckett, because what he did with acting, Beckett did with writing." Ian Patterson