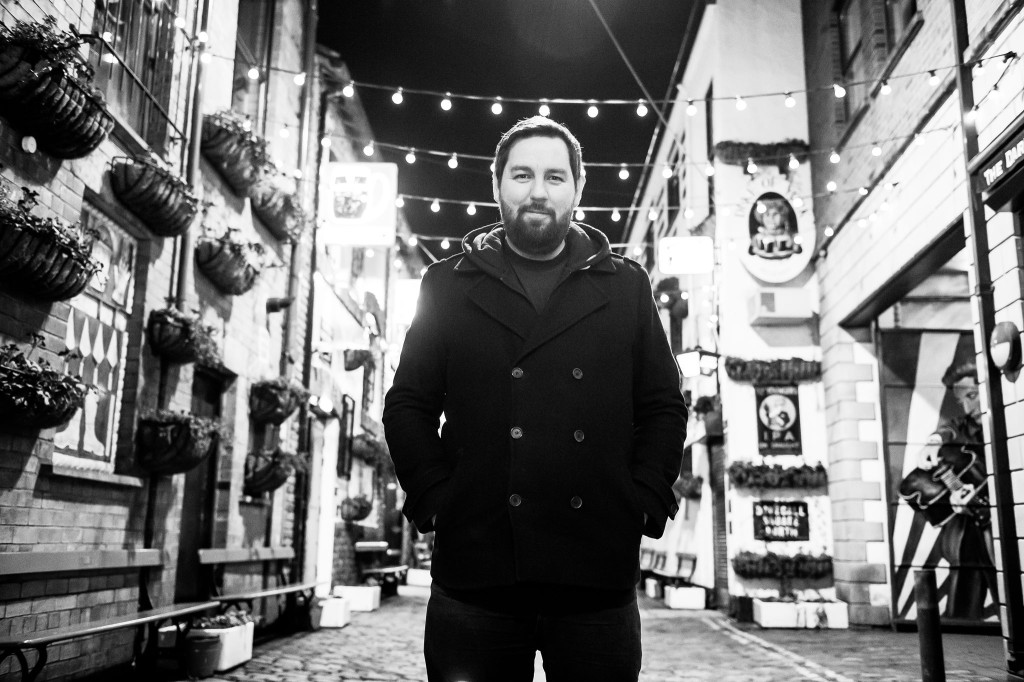 In the latest installment of Inbound, we chat to Belfast-based singer-songwriter Peter McVeigh, touching on the recording and release of his new album, PM, collaborating with an array of musicians on the release and the current state of the Irish music industry.
Hi Peter. First thing's first: for those not acquainted with your backstory, how did you first get into writing and making music?
I've always played music of some sort. I played flute at primary school, got kicked out of it for not doing my homework in high school and decided to teach myself piano, guitar and sing. Then rather than learn other people's songs, I just started writing my own. I started to write songs to remember the answers to exam questions, learnt the songs with the revision notes in them and then sang them back in the exams (in my head)… that's where it all started I suppose. I left school, worked in a Call Centre for about 3 years and decided I didn't want to do that. I left work, went back and studied music performance in Belfast Metropolitan College, studied music technology at Queens (Sonic Arts Research Centre) and then moved on to become a music teacher in Belfast Metropolitan College as well as a songwriter and songwriting consultant for various bands. Over the years my music has enabled me to travel to L.A, Nashville, The Netherlands, Germany, England and Belgium.
You've recently released your debut album, PM. How did you finding writing and recording the release? Was it a long gestation period or did it come about quickly?
Some of the songs were knocking about for a year or two. 'I Remember' has been around for over 10 years. I didn't want to depend on too many old songs that I liked. I thought PM needed to represent me and where I am now. So I selected some older songs that I still play in my set &  added around 6 new tracks. I loved the recording process. I decided to carry out a Kickstarter campaign to give myself a deadline and from then I sat down and pretty much worked on it constantly for 5 months and then released it. It was very tough, but really rewarding at the end.
Who's all involved on the album and where was it recorded?
There was a core group of musicians I work with:
Chris Geehan (@HyperDuckChris) & Dan Byrne-McCullough (@HyperDuckDan ), who are exceptionally talented musicians and engineers themselves. They own a computer game sound company called Hyperduck Soundworks (http://hyperduck.co.uk/) and have worked on massive titles such as Dust: An Elysian Tail (Xbox, PC etc). They're really well respected in their scene and have won some fantastic awards. They're also great guys to just musically shoot the shit with and that usually means we can create some cool music. Chris and I wrote 'Home' together. It actually started as a solo piano piece that Chris composed for Dust: An Elysian Tail. If you finish that game, you'll hear it as the end credits theme. He was sending it over for me as a fresh set of ears and I decided to throw a melody over it. He loved it and it pushed on as a song from there. Chris played Piano on the whole Album as well as some synth on 'When We Kiss'. Dan worked with me on 'Save Me', ' This Year' and they both worked with me on 'Song for Winter'. Dan is a great musical head and he also works with Ciaran Lavery composing his string arrangements.


Ciara O'Neill (@_ciaraoneill ) featured on and co-wrote 'Song for Winter'. It really went down well with people. I think because the sound was a bit unexpected and the video was very wintery at a time when it was freezing and snowing at home. She's a really strong artist. She knows her sound and she's a great lyricist. We're working on a few new tracks together actually. She's very easy to work with. 'Song for Winter' actually came out of a night writing session I organised with Ciara, Chris, Dan and Thomas Camblin in our studio in the city. It took 2 sessions to fully finish the song. One for the musical elements and then Ciara & I worked on the melodic and lyrical elements. It was a very organic track and was tracked in the studio pretty much in live takes.
Mike Malinin (@mikemalinin) was the drummer for the Goo Goo Dolls for over 20 years. I got chatting to him on twitter and when I was in Nashville we met up and had a chat about some ideas. When I came home we co-wrote a few songs. He also played kit on a few of the tracks on the Album. 'When we Kiss' & 'We can dream' are tracks you should check out if you're interested in hearing him. 'Iris' by the Goo Goo Dolls was always one of my fav songs, and I became a big Goo's fan in my teens so I found it really satisfying hearing the same kit (and snare in particular) from Iris on my Album with the same fantastic drummer hitting the skins!
Nick en Broeke/Thomas Nagel (@ThePrimeHQ) these guys co-wrote and produced 'When We Kiss'. Great guys we met via Simon Napier Bell & Bjorn de Water, who asked me to come in and create some top lines and lyrics for a track they were producing featuring Busta Rhymes. We've went on to collaborate on a few ideas and I'm pretty sure we'll continue to do so. These guys are super talented and were actually responsible for the entrance music featuring Sinead O'Connor at the Connor McGregor UFC fight. Lovely guys to work with and hopefully there's much more to come from us.
Thomas Camblin (@oldf_ng) played drums on a few of the tracks. He also sat in on a few writing sessions. Tom has some fantastic ideas both melodically and in terms of rhythm. I've been working with Tom for a while now and he's one of the best drummers around and a great guy to having in a writing session. I think he's part of the writing team because he feels really comfortable to give suggestions. He's also got a great long term vision for the song.
Frankie McClay up at Einstein studios is where we decided to record drums, and some electric guitars. Frankie is fantastic and his selection of gear and his ears are great. I'd always involve Frankie in my recordings as he's a great guy to have on your side. Philip Magee (@philipmagee ) mixed two tracks on the album: 'Stronger' & 'This Year'. He's recorded The Script's albums and Kodaline albums etc. and is a pleasure to work with. I'm sure we'll be doing more together in the future also. Pete Maher (@PETE_MASTERING) mastered the album. He is based in London and has work for and with everyone.
Finally, Mark Evitts (@markevitts) and I composed string arrangements for the album. Mark came over while he was on tour in Sweden. Mark is a session musician based in Nashville in the US, and has worked on string arrangements for Artists such as Train. He's also appeared on the Nashville TV show. He came over and stayed with my wife and I and scored and recorded some of the tracks for the Album. He took a composition session in Belfast Met for our students which was really nice of him! He's a really top player and top guy! I also have a great cellist called Zarah Fleming who is fantastic and has played with pretty much everyone on the scene.
Most of the album was tracked in my own studio, which was based in the Oh Yeah Centre. I've always been into recording and engineering and I actually teach that in Belfast Met. I mixed most of the album myself. It's a great challenge and a great way to learn and keep a cohesive sound.
Looking back to your Lights EP, how did you do things differently on PM, in terms of everything from composition to release campaign?
The Lights EP was just me telling everyone what to play. It was naively me telling someone who could play lead guitar or piano better than me what to play. The Lights EP was also a tad over produced to me. As someone that loves production that's saying something. It was hit massively hard with overdubs for guitars and also compressed to death. It sounded great on radio but PM is just so much more authentic, even with the bigger tracks a lot of the takes are live overdubs. 'Stronger' is the perfect example. A lot of that song is basically a series of live run throughs overdubbed with each other. I wanted to capture something. I had a massively overproduced demo that I'd made in my home studio. I got Thomas Camblin to drop some drums down on it up in Einstein studios, and then went back to my own studio and tracked the rest of it. Mark Evitts then took a run over it and we dropped them all in without trying to quantise everything.
There was so much recorded for the album that didn't make it on. We tracked so many instruments for each of the songs and kinda constructed different versions of each of them. 'Home' on the album is a piano, cello ballad with a 5/4 and 4/4 switching bar progression, but I've a 4 to the floor rocked up version with drums on my computer at home. It was trying to find the most authentic version of each of the songs. The internet has been a game-changer with dropbox. Working with Mike McGreal and James Barrett over in England for 'We Can Dream' was the perfect example of that. I sent them a rough idea of the song with my melody and Mike and I knocked some ideas back and forth before those guys put some guitars and bass down. Mike McGreal actually mixed 'We Can Dream' also, he's a really great up-and-coming engineer/ producer on the other side of the water.
You've really embraced a DIY ethic when it comes to releasing and sharing your music, blogs, podcasts etc. on your website. What compelled you to take such a hands on role?
I realised there was no point in waiting on people coming to get me. I've been "almost signed" a multitude of times! I've been working in big studios over in LA and in London with managers etc and it never panned out. I worked with managers who had massive artists on their books, but I was never near the top of their list and I feel due to them telling me to hold off I wasted a lot of my early years not actively being a musician. Now I'm so on top of it. I plan my career, I organise my own tours, I set up my co-writes and recording sessions and I love it! I love sharing music and I think it's contagious. I meet musicians from all around the world at gigs and festivals I've played so I share those guys through my podcast as well as other great music I love. The PM Music Talk podcast is just one of the ways I want to share music. I've a few other projects planned and already in motion over the next year as well as expanding my record label, 8PMRecords, into an artist development platform.
You've also embraced Bitcoin when it comes to people downloading your album, saying you think it's a wonderful idea. What draws you to it so much?
I find Bitcoin massively interesting. I love the fact that it's not regulated by governments or banks. I think crypto-currencies are the future and I believe that the arts is a place where it could really flourish. It's probably the socialist in me.
You're going to be releasing a series of compilation albums via your label of local artists. How did this idea come about and can you tell us more about who might feature?
The compilation album idea has been floating about for years. To be honest I've been in and around the Belfast music scene in different bands for over 10 years and it's always been something I've talked about with other bands. I've seen some organisations put them out, but they've been more a promotional/funding tick box for those organisations rather than a real passion and something that deserves to be pushed. The first series will be digital download and streaming and we'll see from there. I've invested in a CD manufacturing machine from a bankrupt record label in the US and hopefully discs will be something I can get out and about. It's just looking at the demand really first of all. I'm chatting to random outlets also to see if there's an interest in taking the album. It's all work in progress. Excluding my own PM album the compilation albums will be the first to be released on my label. Then I'll move that on to working with some local songwriters and work as a bit of a producer with them. Working in education has really given me a drive to help musicians, there's so much talent out there and it's not being natured and harvested. Any money made from the ventures will be invested back into future projects.
What's your thoughts on how bands, promoters and music media network and communicate in Northern Ireland at the minute? Can things be improved?
It's funny, I think there's a bit of a bitchfest that happens here some of which is justified and some of which is just people wanting to blame anything else but their lack of drive. Do I think organisations do enough here to help? No, I don't. Then again you can't help everyone. Also, having had conversations with a lot of musicians most of the ones who complain are the people that never contact any of these organisations to ask for help.
I think there used to be a "sound" that all the organisations were looking for. Promoters and music media seemed to be going all out indie music, but that seems to have turned itself around a bit. I feel the Nashville influence and pop seem to be coming forward in a big way and taking centre stage in NI. I feel private organisations such as Pan Arts have a big say in our local scene more so than some of the other organisations setup and funded. The Belfast Nashville Songwriters festival guys are heavily investing in our local songwriting community in a way that I don't think people understand. They're giving us the tools to socialise, network and up our games by working with grammy award winning songwriters and performers. I have to say I do feel like it's moving forward though. I like that there are numerous groups and colleges for music. As well as working together we should all be competing. It'll breed success.
Having travelled around quite a bit we have an unreal amount of talent and we have our own sound. Promoters are decent to be honest MCD gave me the opportunity to play in the Ulster Hall with Richie Sambora from Bon Jovi. That was a cool experience and a tick off the bucket list. Media Network… I've always had an issue with the media network. I don't like the fact that if I send my music into a radio show they won't play it, but if I hire a PR person the radio station know for 500+ pounds, all of a sudden the track that wasn't good enough is playlisted. I know this isn't exclusive to NI. I know a friend who is paid 10k to get UK radio play… fair play for having that faith in yourself and that amount of money, but it really does drive me more to doing my own thing. I don't want to pay people to play my music. I want to find people who are interested in it. In order to do this I want to create my own one stop music media shop, offering multiple reasons to visit my site.
The real strength is the musicians and artists themselves… we all help each other out. We work on each others projects, we lend each other gear and I think it's super healthy. I have quite a substantial group of musician friends and acquaintances and I think people know I'm out to support, nurture and help all musicians, not just younger ones.
Touching on the album again briefly, are there overriding themes or ideas that make up the majority of what you're singing about?
When working on the album I just tried to be as honest as possible. The songs are a mix of autobiographical tracks and narrative. I think cowriting really opens up a lot more than just your point of view and it can put you in another characters shoes. I tried to give the album a nice blend of songs. Some a bit more rock orientated, some more folk and some just ballads. I was very aware of delivering a diverse album but making sure there's a coherent sound rather than a constant theme. The great thing that I'm finding about the album is everyone likes a different song.
In terms of influence, did any artists or albums make a particularly important imprint on how you approaching writing and recording?
I think Travis, Goo Goo Dolls, Paul Simon, Joni Mitchel and Matchbox 20 have really influenced me. Simon and Mitchel more in the verse style of writing and Travis/Goo's and Matchbox more in the pop/rock chorus style. I'm a sucker for a big belting chorus, but at the same time the narrative has to be constant throughout lyric. I'm constantly influenced by bands and artists I love. OneRepublic and James Taylor's new album is great also.
Finally, congratulations on the news of your new baby son. Do you intend to take some time our or can we expect the same driven, busy work ethic to continue unabated as before?
Thank you very much! It's amazing! I don't really have a choice now do I? I've got a child to provide for. Ah, but in all honesty I just love what I do. I've always found that I don't really have a choice over all this stuff, the less time I seem to have the more productive I am. So with that theory I should be doing a lot. Thankfully a pregnancy is 9 months long, so I've had a lot of time to put some things in motion. It's all about the planning and to this point I've been very lucky to be able to make a living from music. I've a plan for some pop up events over the year in Belfast with some great artists and obviously to continue promoting and touring the currentaAlbum. I've already started writing album 2 and 3. We'll see where and when we get there. There's just so much I want to do.