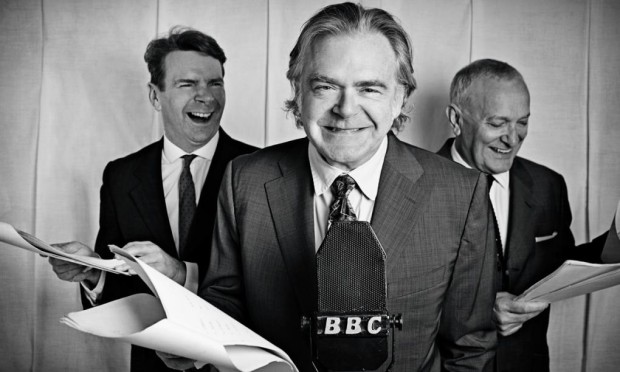 It seems odd to have Hancock's Half Hour at the Happy Days Enniskillen International Beckett Festival, a thirteen-day smorgasbord of all things Samuel Beckett-related. Even a cricket match – a sport Beckett adored – between The Theatrical Cavaliers Cricket Club and the long-wandering Gaities Cricket Club seemed a more logical inclusion in the festival program.
Still, comedy has always been a significant feature of the Happy Days festival, with today's finest stand-up comedians bringing levity to the program. This comedy element reminds us that much of Beckett's writing is laced with wicked humour, a fact that is often overlooked. So, on reflection, why not Tony Hancock in Enniskillen?
The Missing Hancocks recreates the classic Hancock's Half Hour, whose 103 episodes ran on BBC radio between 1954 and 1959. Twenty episodes are missing from the BBC archives and went unheard for over fifty years until they were rerecorded for the BBC in 2014.
There is something suitably period about this evening's venue, the Unionist Hall – renamed with Beckettian flare, and some diplomacy – Le Salle De L'Union in the festival program.
A painting of the Queen seems to date from the coronation and there's a feeling of an old school assembly hall that has never been renovated. Vintage microphones adorn the stage. The rhythms of Billy Haley and the Comets' 'Shake Rattle and Roll' over the speakers adds to the time-warp sensation.
The BBC pips sound, the familiar theme tune strikes up and for the next hour Kevin McNally (Tony Hancock), Simon Greenall (Sid James), Susy Kane (Andrée Melly), Adrian Lukis (Bill Kerr) and Robin Sebastian (Kenneth Williams) – under the guidance of Director/Producer Neil Pearson – give sparkling performances of two episodes from 1955 to an appreciative audience.
The Winter Holiday
Hancock's boss (Williams) is happy with him:  "You're easily the best lift attendant we've ever had", but is perplexed as to why he hasn't taken his annual holiday. Hancock is reluctant to leave Mable – his lift – unattended but reluctantly agrees to take his fortnight's holiday. Bill tags along with Hancock and Andrée to Brighton. It's November.
Inevitably it all goes pear-shaped from the first meal on the train. "Soup! You could put this in the water jug and nobody would notice," laments Hancock.
Worse is to follow when their train tickets go missing, coinciding with the unexpected arrival of Sid. Rather conveniently, Sid has just the right number tickets to sell and then proceeds to skin Hancock of his fifty quid holiday money in a card game of chance.
Hancock looks on the bright side, having kept back thirty shillings, but the ticket inspector discovers their tickets are out of date – by half a dozen years – and fines them thirty shillings.
Broke, they're forced to rough it under Brighton pier. The sea is just visible through the fog. The sun bursts through to raise the group's spirits but retires seconds later. Doggedly determined to have a proper Brighton holiday Hancock rolls up his trouser legs and paddles into the sea, whereupon he is struck by cramp.
A lifeguard (Williams) arrives. On hearing that Hancock is drowning he replies: "Oh, drowning eh? Not a very nice day for it, is it?"  The lifeguard can't help as it's not his part of the beach and he's only in charge of the kids' paddling pool. And anyway, he can't swim. Despite the lack of qualifications and the technical handicap he wades out, under duress, and soon finds himself joining Hancock in need of help.
The disastrous holiday well and truly over, the group head forlornly back on the train, with Hancock nursing a bad cough. Right on cue Sid turns up, offering to sell Hancock a cough mixture that will cure "coughs, colds, boils, falling hair, squeaky boots…"
With no money, Sid offers to let Hancock win the cough mixture against his gold watch. Hancock resists.
Back at work, Hancock's boss ticks him off for arriving late on his first morning back. "Sorry sir, I lost my watch," explains Hancock.
The good news, the boss says, is that Hancock has been promoted and is being moved to head office for winter. To Brighton.
New Year Resolutions
The New Year brings a long list of well-intended resoultions from Hancock, including "to be kind to children and dumb animals" and to give up all his vices for "as long as I live." What could go wrong?
Kerr wagers that Hancock will break every one of his resolutions within twenty four hours. A fiver for each broken promise. Hancock agrees enthusiastically and is immediately billed a fiver for gambling. Feeling cheated, Hancock clocks Kerr on the jaw, which, having just renounced all forms of violence, costs him another fiver.
Incensed, Hancock aims a string of expletives at his friend, raising his debt to fifteen quid in the process. Aggrieved, Hancock refuses to pay, which having pledged to honour all outstanding debts, costs him yet again. Twenty pounds conceded in a couple of minutes suggest it's going to be a long twenty four hours for the irascible Hancock.
On the bus on the way to visit Sid, a crying schoolgirl short of her fare wrangles four pence out of Hancock. When the bus conductor (Williams) comes fare-collecting Hancock finds himself short and is forced to seek Kerr's assistance. In the process, Hancock has broken both his "neither a borrower nor a lender be" resolution. Hot under the collar, Hancock gets himself and Kerr slung off the bus.
The boys arrive at Sid's house to find him listening to the football results on the radio. Sid has a little business proposition, which involves the hapless duo running Sid's nightclub, as the owner, Edwardian Fred, has gone AWOL. Hancock smells trouble, but Sid convinces him that the club, which is underneath a greengrocer's in Shepherd's Bush is legit as it's a monastery during the day and the waiters are the monks.
Later, unbeknown to Hancock and Kerr, Sid tells Charlie (Williams) to get hold of twenty four monks' habits for the club's waiters. The best Charlie can come up with is a load of Cub Scouts uniforms. Sid tells Hancock he's helping out a Scout jamboree. The waiters seem a little old to be Scouts but Hancock buys Sid's explanation that they had a long route march and got lost for two years around Dartmoor.
The Scouts' 'parents' sitting at the tables draw Hancock's attention, as there seem to be  a lot more 'fathers' than 'mothers.'  "Look at that Scout over there, he's kissing his Mum," says Hancock. "He's upset his father; he's breaking a bottle over his head."
Hancock only becomes aware of the den of vice he's been left in charge of when a sole police officer (Williams) conducts a raid. Hancock is faced with a dilemma. If he admits to being the manager of the club he'll get a hefty fine for selling alcohol after hours, making illegal alcohol and selling booze without a licence. If he tells a lie in denying it, he'll have broken another resolution.
In an aside to Kerr, Hancock admits he's going to owe him a lot more money. Clearing his throat, Hancock announces that he has absolutely nothing to do with the club, then launches into an absurdly convoluted story for the policeman's benefit that involves him being kidnapped from a tea-room by half-naked Nubian slaves, who then whisked him off by helicopter…and so on.
His breathlessly delivered fiction earns great applause and cheers from the audience, who in turn earn a reproachful stare from Williams, jealous of the scale of the laughter Hancock has generated. More laughter.
As it turns out, the policeman is searching for a man who earlier in the day had defrauded the bus company by evading a bus fare. It's only January the third and Hancock's broken resolutions have cost him £105.
Fast forward some time. "Tony, Tony, it's March the eighth. When are you going to get up?" asks Hancock's girlfriend, Andrée.
"Andrée, with the luck I've had it's cheaper to stay in bed," retorts Hancock. "You may set the alarm clock for next Hogmanay.  In the meantime, I bid you a good night."
Hancock's humour has stood the greatest test of all – time. Many of the references – the football pools, saucy seaside postcards, the social etiquette of Britain nearly sixty years ago etc. – will likely only resonate with an older audience.
Nevertheless, the sharp dialog, the witty sparring, the punning and in-jokes, plus the comic asides to the audience still charm and delight all these years later.
This outstanding team could revisit the entire 103 episodes of Hancock's Half Hour and tour them successfully forever and a day. As long as there are still people alive who remember the pools. Ian Patterson