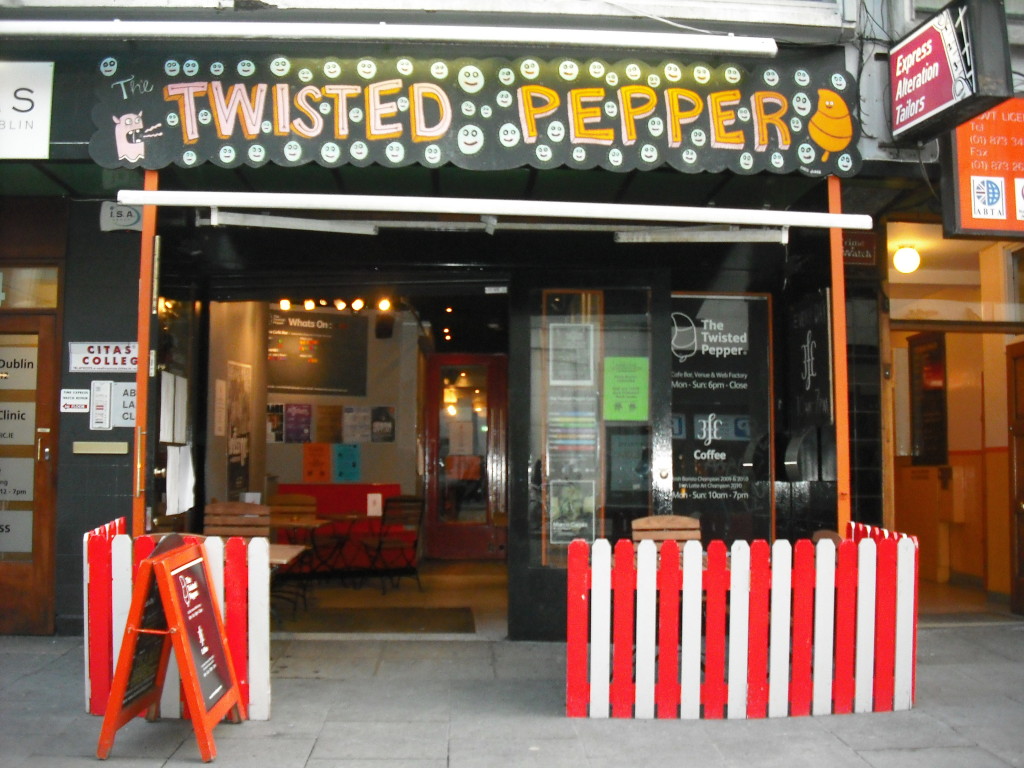 With rumours circulating far and wide yesterday afternoon, Dublin venue The Twisted Pepper have confirmed that it is set to close after seven years – but not without moving on in a guise.
Posting in the Facebook event page for its Closing Weekender (this weekend coming, August 14-16), they wrote:
"It was the best of times, it was the worst of times… we're sad, but happily reminiscent to say that this weekend will be the last ever weekend of The Twisted Pepper as a music venue. We are blown away by the messages of support we have received over the last 24 hours. It's heartening to know that some of that hard work over the years had a positive effect on people's lives. We expect to leave quietly, out the back door, no big fuss. Much like how we opened.
We've had an amazing 7 years of gigs, clubs, exhibitions, talks, comedy, workshops, screenings & Banter, all made possible by an incredible bunch of local & international folk who share the same passion as ourselves for showcasing their trade, but also by the many thousands of people who came through our doors week in week out to have fun.
We feel we've achieved what we set out to do with The Twisted Pepper, and as always for us, once we get the itch to move on & develop something new, we gotta move on. We opened in 2008, probably the worst economic time to open any venue in Dublin. We're closing in 2015, probably as good a time as any to remain open. Economic circumstances never effected why we opened, nor why we are closing. When you believe you're doing something different and you've got the fire in your belly – you go for it. When you've done all you have set out to do, and you start to feel your repeating yourself and the passion goes, it's over.
We'll be refurbishing the space with a new bar & food focus, mixed with another 5-10 random ideas that will inevitably 'make no sense' . We will not be a restaurant, we have no idea where that rumour came from. Music will play a part too but it won't be like it was before. We want to make things smaller, more intimate, more local, more creative… more fun. We want do things differently, but also in many ways return to the roots of where we started many moons ago in Wax. We'll keep some fans, lose some fans, and hopefully gain some new ones. Maybe we'll even regain some old ones.
On that note, we'd love for you to come join us for the last weekend. We've pieced together a few nights squeezing in as many local crews & collectives who've help make the venue what it is since day one. We want to extend a huge thank you to everyone who made the Pepper what is was. The staff, the security, the promoters, the coffee nerds, the artists, the book readers, the record collectors, the musicians, the labels, the talkers & everyone who walked the walk, danced the dance, and played their part. To each and everyone of you, we are deeply indebted.
We'll be posting up plenty of photos, videos and moments over the next while. If you have any special moments you'd like to share with us, email them to pepper@bodytonicmusic.com, and we'll feature some of them in the venue on the screens this week, for our final shows in the venue. In many ways the philosophy behind our final weekend of lineups, is a nod to our new direction. It will be the best of times, and the worst of times 🙂
Big love & thank you all so very much
The TP family xx
(**its business as usual for Vice Coffee Inc. & Boxcutter Barber. We aim to reopen as something new in October)."
Go here for full details about the Closing Weekender.