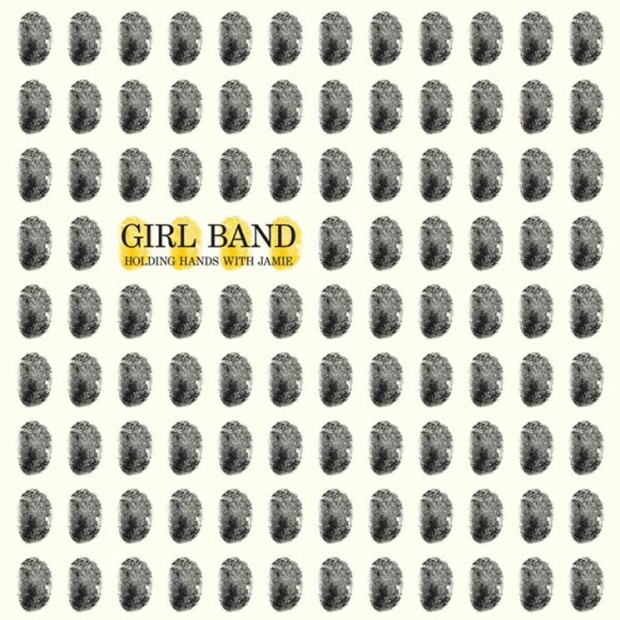 Imagine any indie song from a young Irish rock band today; a conventional, radio friendly track that has something for everybody. Now deconstruct its parts and bend them into elastic. Allow them to stretch and make each movement as tensile as possible to the point of snapping. That's what Dublin's Girl Band offer with their debut, Holding Hands with Jamie.
This may be their debut album but they've had several limited run releases which sold faster than they could be printed. Having played together for a number of years, their spontaneous and primal sets have been well established in the Irish scene thus far, as have their videos. Having already appeared at festivals like SXSW, toured the United States and already booked a lengthy Europe and USA tour for October, November and December it seems there's no sign of them slowing down.
Solidifying their sound in some hybrid form post-punk and noise, Holding Hands With Jamie is a largely self-produced testament to the work ethic of the four-piece. Having put Bowlane Studios to its best purpose and pulling off such an intrinsically different release over the course of three or four days is even more impressive.
In a recent interview with NME, vocalist Dara Kiely stated that a lot of the album is quite personal, influenced by a psychotic episode brought on by a "messy break-up". The anxiety and abrasiveness of the music in tracks like 'Um Bongo' and 'Witch Doctor' are definitely equivocal. Other tracks pulsate, lulling the listener into a false sense of rhythm only for it to be disrupted by an intervening manic pattern. Both 'Paul' and 'Pears For Lunch' carry this trend and the accompanying videos directed by Bob Gallagher are fantastic takes on the cynicism of relationships and self development.
The sheer cacophony to be found in some tracks is truly terrifying if it is a reflection of Kiely's mind but there are moments however where things don't seem at all as serious. I had to skip back through 'Fucking Butter' to make sure I was hearing the words "Nutella, Nutella, Nutellla, Nuteelllaaa" correctly. I was. There's also a lot to be said for the more melodic tracks such as 'Texting an Alien'; performing those tracks live will no doubt leave room for improvisation and plenty of elasticity.
This release is certainly different to past forays such as France 98 but what remains is that with Girl Band you get, beauty and the beast. Sometimes it's difficult to distinguish between them but the ingenuity in their form has to be commended. I haven't heard a band like these guys before and I'd hazard that it'll be a far sight sooner before I'm as impressed by a debut. Mark Roche
Girl Band play a Thin Air show at Belfast's Bar Sub on Friday, September 25. Go here for the show's Facebook event page.