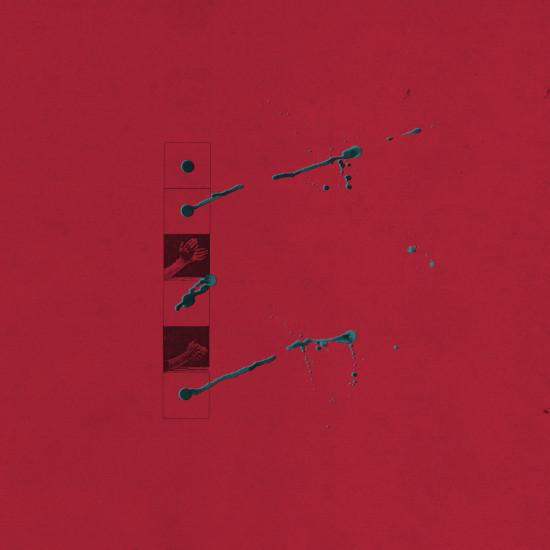 Although the current line up of Girls Names have been playing live for well over two years now, aside from a cover of Brian Eno's 'Third Uncle', new album Arms Around A Vision (and recent single 'Zero Triptych' – a track that would have made a perfect centrepiece to the album had it not been perversely left off) marks the debut of Gib Cassidy behind the drums in place of founder member, Sea Pinks' Neil Brogan, as well as guitarist Philip Quinn's full integration into the band, having only appeared on synth duty for two tracks on 2013's The New Life, so it's been an intriguing wait to find out exactly what the new Girls Names will sound like on record.
The New Life, though undoubtedly excellent, was an album that wore its influences on its sleeve, an album that wasn't particularly original but was jammed full of enough great hooks to make up for it. Arms Around A Vision however sees them widen their scope significantly.  This time out there's less doom and gloom, less space between instruments, less reverb. Instead everything is right up front, from the louder guitars to Cathal Cully's vocals, now front and centre. Cully's deliberately deadpan vocal style has previously always suited being slightly buried in the mix and soaked in reverb, floating ethereally amongst the instrumentation ("Bury me in a wall of sound", as he pleaded on debut album Dead To Me), so this change is slightly jarring on first listen but it doesn't take too much getting used to, and when he goes baritone on tracks like 'Desire Oscillations' it's eerily reminiscent of Nick Cave.
Likewise, the discordant guitars that open 'Reticence' recall Cave's old band The Birthday Party, the icy synths that hover over many of the tracks are redolent of 154 era Wire, and the short electronic interludes '(Obsession)' and '(Convalescence)' bring to mind side 2 of David Bowie's Low. But that's not to say the album sounds derivative – instead it's the sound of a range of influences forged together to make something uniquely their own this time. When looking back to the band's origins as a jangly guitar and drum duo, it's been exciting to hear them sound bigger, more widescreen and more confident with each release, and the fuller sound here carries on that trend – If The New Life was the sound of Girls Names realising their potential, Arms Around A Vision is the band pushing that potential further. There's still an abundance of hooks throughout, from the repetitive opening riff to 'A Hunger Artist', a song which tackles the hand-to-mouth life of being a musician in 2015 ("I'm a hunger artist/Come feel my bones"), to Cully repeatedly intoning "You should see the colours" over Claire Miskimmin's addictive bassline in 'Chrome Rose' (proof that she hasn't used up all her best in her excellent Cruising side project).
Despite some of the press in advance of both the album and 'Zero Triptych' suggesting a complete reinvention ("Burn the past. Reset the clocks."), it turns out to be slightly over the top as the new material isn't such a huge departure in sound from The New Life overall, particularly when compared to the sonic leap to that album from the misery-surf of Dead To Me and earlier work, but as the album cover might indicate – blood red, rather than the cold grey of its predecessor – Arms Around A Vision is the sound of Girls Names colouring in the gaps of their once skeletal outline, transforming their monochrome sound into full technicolour. Cathal McBride