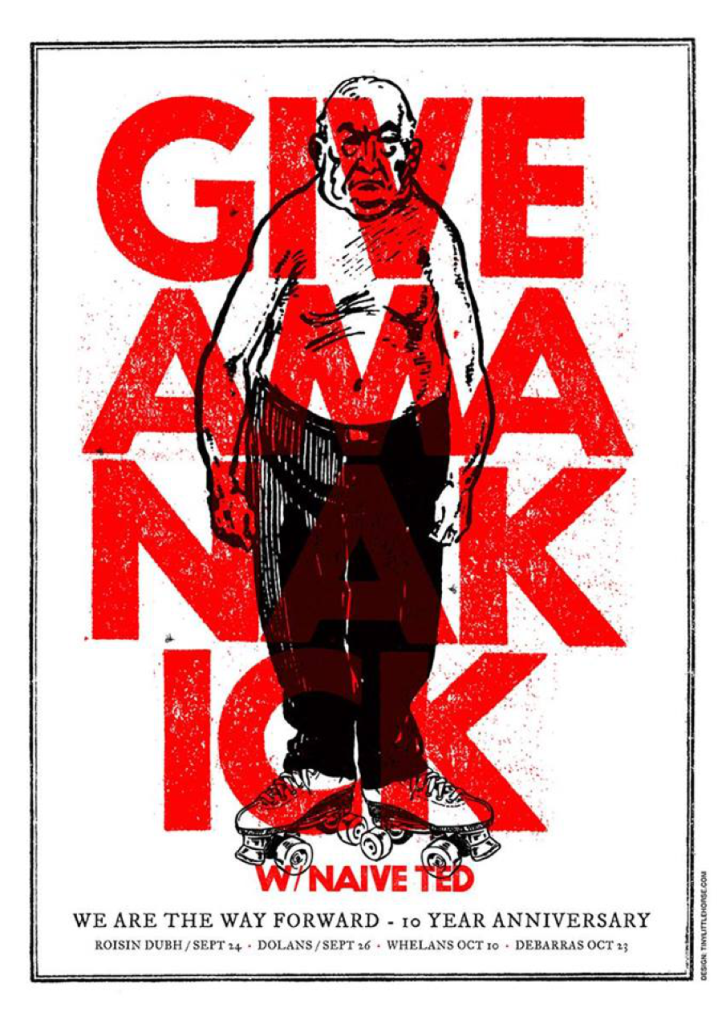 'Hello, we're called Giveamanakick and we're from Limerick.' Steve Ryan's hushed tones from under a peak hat, no eye contact, only to his comrade with the sticks. It has a vibe of menace. It feels to me like he wants to grab everyone, punch them in the gut and then fuck them out the window of the pub. This was serious.
This band had such brutal force. When they played brains were shredded, lungs were sore and adrenal glands jacked. When Ryan donned a fighter-pilot mask, all of a sudden it was like Hannibal Lector and The Texas Chainsaw Massacre combined. As he stepped from the stage with the mask strapped to his face, he confronted the gowls. The guitar was like a bloodied mallet and he was screaming 'Who wants some?!!'
Since Giveamanakick had released their first album, Is It Ok To Be Loud, Jesus? a few years prior, I had made the stark realisation that the greatest band in the world were indeed from Limerick. Not only that, but crucially their record label was also from there.


Out On A Limb Records (OOAL) also put out bands from Cork and Kerry; Waiting Room, Rest and Ten Past Seven. These albums were landmark in metal and instrumental rock. When Giveamanakick's second album; We Are The Way Forward came out, it was full whack punk beast. The beast was lean. It had shape and form, muscle and jaws and sharp searing teeth. It was incredible.
As testament to the 10 year anniversary of that second album, Out On A Limb are now re-releasing it on 12". Giveamanakick are also doing a tour with Naive Ted.
Shit. The. Bed. This tour has me extremely hyped. It reinforces my point about the best music being from Limerick. Both Giveamanakick and Naive Ted are based there. Limerick, or 'Pigtown', has a flavour. A sometimes bleak but honest beauty. There is a blunt edge to the music and art. It would be extremely difficult to be pretentious there.
In 2015, Naive Ted is blazing musical trails with the release of 'The Inevitable Heel Turn' LP and another EP, Bloom One – Rap Cats, dropped this week. Ted's live also feature theatrics, intensity and brilliant musicianship. The opportunity to see the 'Kick and the Ted share a stage cannot be underestimated. It is an audacious and perfect tribute to 'We Are The Way Forward'.
Unfortunately, I have not aged as gracefully as the album. The kind of wild behaviour that was witnessed at those intense shows ten years ago might lead to Giveamanan Oxygen Tent. But nothing will ever beat the powerful exchange between a blitzed music fan and his or her favourite band of all time.
I recall a few months back when I was ranting and raving about just how amazing a Naive Ted show was. I remember burning the ear of my friend telling him how I am part of this. I carry this music and this experience with me every day. Whether the artist likes it or not, this music has become part of me too. I guess what I was really talking about was our way of discovering ourselves constantly through art. Some art becomes essential to your existence.
It's the same with Giveamanakick. This record and this band changed my life. After We Are The Way Forward, there was never any going back. Ray Wingnut
Giveamanakick Irish Tour Dates
Roisín Dubh, Galway: Sept 24.
Dolan's, Limerick: Sept 26
Whelan's, Dublin Oct 10th
De Barra's, Cork Oct 23