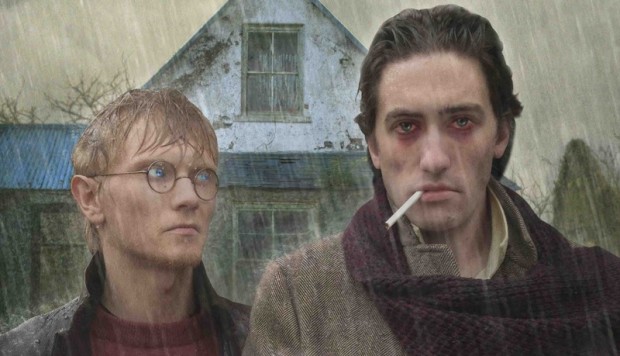 Only a fool or a visionary would stage a live version of the finest portfolio of filmed quotes known to man. What fucker said that? This fucker. Just there. I was at the Strand Arts Centre last weekend for Kandu Theatre Company's notionally foolhardy attempt to wrestle Withnail and I into submission for the stage. Free cake and a wine was promised as a sweetener. But for most in the sold out audience, it was the "bring your own" aspect that had us suitably primped in anticipation for the antics ahead.
First things first – Bruce Robinson's script is a thing of wonder. Dripping with mordant wit and revelling in the poetry of the banal, the gloriously narcissistic whining that underpins it is elevated to the status of near-profundity. It's all the more sweet because as any seasoned Withnailian (is that a term? It isn't now) knows, it was largely based on the writer/director's own experience as a jobbing young actor.
Fortunately Kandu have form in such "they're doing WHAT??" theatre, having successfully pulled of The 39 Steps and The Breakfast Club before. But this is surely the holy grail of staged vanity projects. Given extra piquancy by the amusing meta-bollocks of actors playing actors in a theatrical adaptation of a film written and directed by a former actor.
Sturdy local thesps Xander Duffy and Adam Turns are the Rosencrantz and Guildenstern pairing, eking out an absurdist subsistence at the fag-end of the 60s.
Like a Cancer Research-clothed Donald Wolfitt and an emaciated Dickensian urchin, Duffy and Turns gave good thesp with impressive approximations of two penniless, self-absorbed jobbing actors. Rumours that they didn't have much in the way of character preparation were massively cynical as I know them to be gentlemen with a generosity of spirit. And always good for borrowing a fiver off.
The actor playing Uncle Monty steals the show – and it's not necessarily a victimless crime. The actor's name escapes me – but his performance, alas, malingers. This homotropic Monty takes the ripe, fruity performance of the blessed Richard Griffiths in the film as a starting point and then leaps, (or should that be minces?) off into that arena of the well overdone. The actor chews up so much scenery you'd expect him to be passing drapes a week later. No mug is left unmilked in his pursuit of a cheap laugh. And the sozzled delighted audience is only too happy to oblige. In a role that never really called for subtlety in the first place, it's entirely down to how forgiving you are of these concessions to parochial music hall nostalgia whether or not you enjoy this Monty McFettridge.
It seems the audience isn't just forgiving but fulsome in their willingness to be milked in this way – excuse the entendre.
So when Uncle Monty warms up the parts that haven't already been embalmed with a "good old days" rendition of the Oom-pah-pah song from Oliver, there is much throaty hollering along.
When he sings 'Mad About the Boy' – in lustful image to Marwood ("I") – people are struggling to draw breath, so hard are they laughing. And who am I to gripe? In the midst of this quaintly old fashioned bacchanalia, there's a very faithful and competently delivered stage version of a much loved cult film. The original instinct to scream "WHY?", quickly reforms into "AH!" as Duffy and Turns exchange THAT dialogue with verve and not a little love. It seems they're having a time of it, and it wold be churlish not to join them. Especially when you're on to your second bottle of Malbec and the "Chin Chin" drinking game is in full sway.
The bare set of leather settee, hat stand and wood chip panels effectively serves as manky living room, cake shop, to Penrith cottage and even rain-sodden motorway. The sheer austerity of the surroundings inevitably draws the focus to the leads, and they seldom disappoint, especially if you're playing Withnail Bingo and ticking off your favourite quotes. The laughs – thick and fast as they are – are mainly derived from that sense of glee one gets when hearing recognised dialogue seamlessly delivered.
And how could I forget about the links announcer – an increasingly sozzled compere (another enjoyable music hall conceit) who reels off a ream of alcohol-related quotes from famous drunks. "An alcoholic is anybody you don't like who drinks more than you." Anybody? Google it when you've finished reading.
Withnail's famous Hamlet speech – at the very end, is delivered by Xander Duffy with all the required pathos and poignancy the scene requires. It loses some of its power only in the context of some of the wink-wink theatrical bolt-ons that have gone before. But it's a minor gripe in what's otherwise another successful adaptation from Kandu, and a rip-roaring dipsomaniac dream of an evening. What fucker said that? Every fucker in the Strand Arts Centre I'd say… Joe Nawaz