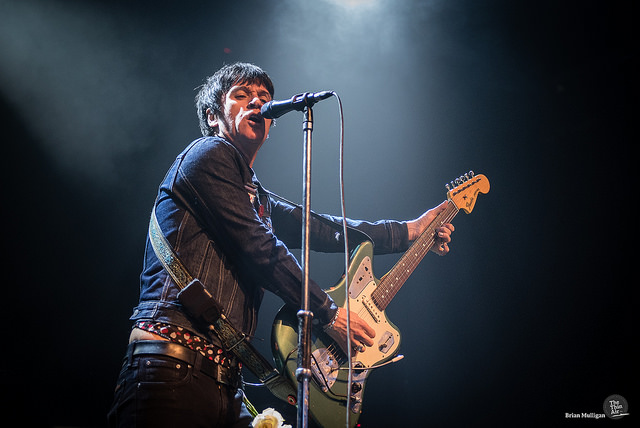 Johnny Marr is a man in a rush right now. This past March's sophomoric effort Playland arrived a little more than a year after his solo debut The Messenger and he's already trying out new material live. "This is a new song, but don't be afraid," he says with a smile before launching into 'Spiral Cites' to the approval of the crowd. It seems architect of some of the indie pop's best loved songs seems to be working at a pace we haven't seen since the mid 80's when classic songs were falling out of Rickenbacker back in his bedroom in Manchester. Some might interpret it as his a musical version of a midlife crisis, but what would do a disservice to the quality of the new work. Even if it doesn't reach the staggering heights of his iconic first band, it shows a man who is now firmly confident standing centre stage at long last.
He has taken his time getting there of course. Since the Smiths called it a day in 1987, Marr has formed Electronic with Bernard Sumner, briefly joined Modest Mouse and tried his hand as a Jarman with the Cribs, among his many, many other endeavours. Having built such a varied resume over the past three decades, it seems fitting that Marr's current work refuses to stand still and gleefully picks magpie-like from all of his previous guises, picking up and playing with whatever takes his fancy.
Marr and his band strut out onto stage, smartly attired, just before nine and waste no time in getting the crowd on side. The set opens with a full throttle version of 'Playland' before an early outing for 'Panic' helps the venue find their voice and soon enough everyone is merrily singing about hanging the DJ, just like old times.
Any notion that this evening would be merely an exercise in nostalgia is kicked into touch by the time Marr launches into recent single 'Easy Money' – its nagging riff and earworm chorus help to maintain the palpable energy running through the crowd and it is enough to let any sceptics know that those in attendance are here for more than just a run through of the old hits.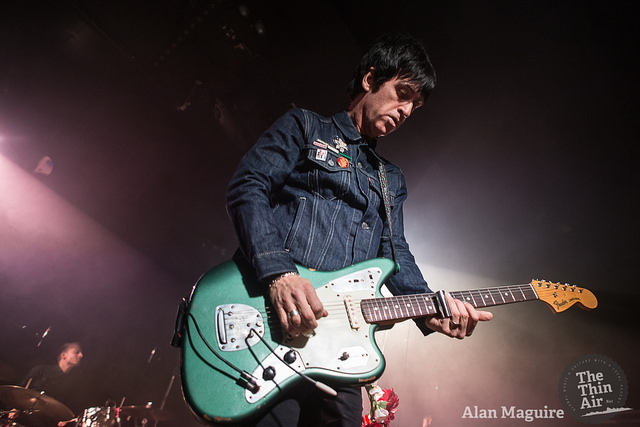 Marr's understated singing voice couldn't be more different to Morrissey's mournful wail or Isaac Brook's stuttering, staccato bursts, but it works well on the own material and he wisely chooses songs from the Smith's back catalogue that fall well within his register. The rapid opening chords of 'Bigmouth Strikes Again' gets the jumping with the shock of recognition while a cover of Electronic's 'Getting Away with It' ("a disco song from Manchester"') gets some feet moving.
The set list is well judged, skipping along without any real lulls, punctuated with Marr's always affable stage banter. He knows just when to crack out a Smiths' classic while still being shrewd enough to keep them scarce enough that the novelty never wanes.
An extended 'There is a Light That Never Goes Out' inevitably turns into a mass singalong, but its predictability doesn't make it any less moving or emotive and as Marr extends it for an extra chorus or two, it feels as though the crowd would happily sing the refrain back to him all night.
Another standout moment comes on the closer 'How Soon is Now? when Marr is left to express himself with the instrument that he built his name on in the first place and delivers a wonderfully off kilter guitar solo. The set ends with Marr crooning that he is human and needs to be loved. It's pretty clear from the reception he receives when leaving the stage that he certainly still has a place in this crowd's heart. Robert Higgins
Olympia Theatre, Dublin by Brian Mulligan
Limelight, Belfast by Alan Maguire