Columns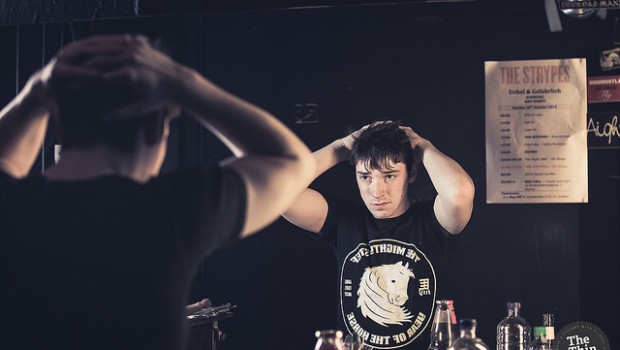 Published on November 8th, 2015 | by Tara Thomas
0
Roving Eye: The Strypes in Hamburg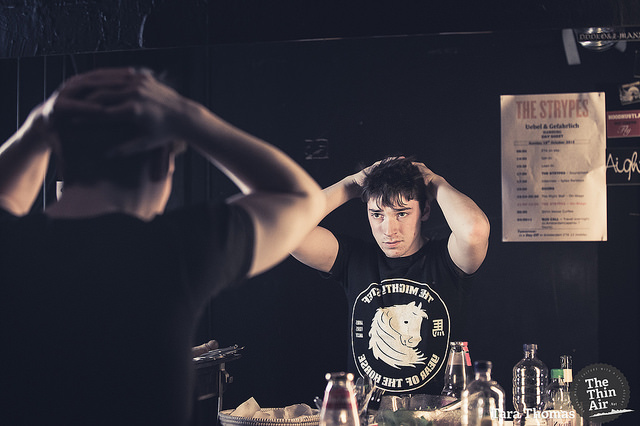 In the latest installment of her regular feature Roving Eye – in which she travels across far and wide shooting some of the best Irish acts on tour – Tara Thomas captures a heady Hamburg date on The Strypes' latest European tour.
Hamburg, the second largest city in Germany is steeped in music legend from Brahms to the Beatles. It's maritime history has resulted in vibrant multicultural neighbourhoods and palpable social tolerance. Making my way from the airport to a hotel in the infamous St Pauli quarter it's easy to understand how this northern German metropolis is also gaining a reputation as an entertainment cynosure to rival that of London or New York. The biggest sound in music was launched here. As I step off the train in central train station I'm greeted with a John Lennon billboard proclaiming "I was born in Liverpool; I became an adult in Hamburg". It got me thinking: could the same be said of the band I was about to meet? I have followed the meteoric rise of these four young Cavan childhood friends. I've photographed them on a variety of stages from stadium to intimate pubs, so joining The Strypes on their European tour was my opportunity to see how they have matured musically and personally.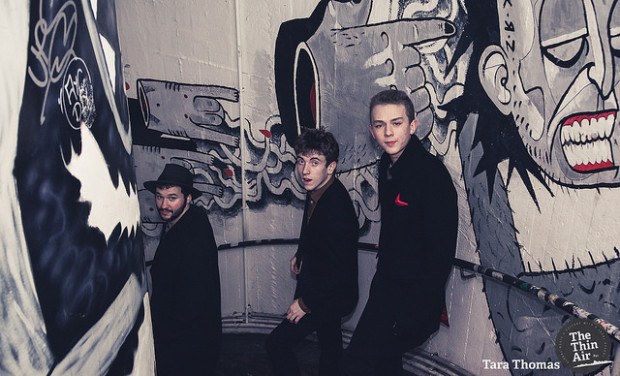 In a terrible excuse for an Irish bar with a sour faced bartender, I catch up with Josh McClorey of The Strypes, Daniel Fitzpatrick and William Whyte of The Mighty Stef, who are providing support on this tour. They are snatching some chill out time before tonight's show, watching the rugby and hoping for a historic victory over Argentina. Eighty odd minutes and a few steins later we walk out into a miserable rainy day which reflects our humour. No one is up for much mischief so we make our way, across the road, to the venue. I've been to gigs in some unusual places but this backdrop certainly stands out. A unique club, the Uebel & Gefährlich, is located on the fourth floor of a world war two flak tower. The bunker is a colossal slab of grey concrete which overshadows the streets below. German authorities tried to demolish it on multiple occasions after the war, but never succeeded. After many reincarnations it is now home to a music school, music shops and a night club. With a playbill ranging from techno to jazz to singer-songwriter performances and concrete walls over three metres thick I couldn't think of a more suitable use. The tour bus is parked up outside, so we stop by to see if the rest of the band members are onboard. I braced myself for carnage but can honestly report, for a bus that is shared by eight musicians and numerous crew, it was surprisingly clean and fresh smelling albeit abandoned. Josh is eager to get a workout so heads off the gym while Dan, Will and I wander around the building trying to locate the club entrance. It's eerie with austere white walls and industrial fittings, the whole fortification groans, so it's a relief to find the club and some other souls. The interior is in unabridged contrast, it's distressed plush velvet drapes and crystal chandeliers compete with colourful murals, artwork and posters promoting past performers.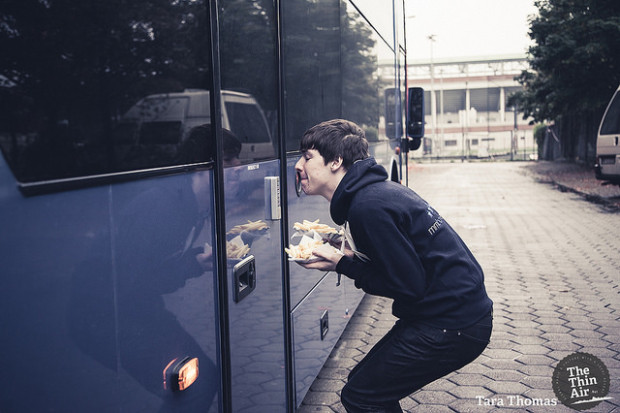 Everyone is still rattling around, load in is nearly completed. I'm settling my gear in the green room when Ross and Pete saunter in, possessing a self assuredness that is refreshing to see. Running through the schedule, soundcheck, interview with local magazines, the lads grab the few unassigned minutes to get some food. Someone calls out for chips. Ross confides that he finds it challenging to eat healthily on tour. Crew catering can be very hit and miss and despite best efforts fast food is food everyone will eat. We spot an Asian noodle house and a kebab shop, Ross opts for some Asian. Pete is the first to admit he is a very fussy eater and as he orders Ross whispers conspiratorially "he won't eat that". I glance at Pete, he is shoving chopsticks into his unruly hair. Passing the kebab shop on the way back the lads pop in to pick up chips for everyone, which Ross delivers back to the tour bus awkwardly using his nose to key in the lock code. Back in the green room Stef arrives asking if anyone has been on the roof terrace yet? I never like to photograph people eating so I take the chance to explore some more. Venturing up onto the roof I find someone has hung clothes out to dry across various pieces of garden furniture. Y-fronts to the wind, not the sights I was expecting to see. On my return Stef confirms he is the culprit and never having enough clean clothes is a hazard of life on the road.  
When the lads finish their meal Evan tells me about their upcoming tour of Japan, it's much more extensive this time around, they'll be meeting "Japanese culchies". He is in earnest as we share thoughts on the music industry. He was impressed by Anderson's clever promotional video, the idea that making money from music has come full circle, back to selling vinyl and touring. Later I spot him reading Richard Balls' "The Stiff Records Story" and wonder if he is looking for inspiration to shake up the industry.

As The Strypes take to the stage for their sound check I notice one member is absent, Josh hasn't returned from the gym yet. This doesn't faze the others, and as they run through volume and tonal quality I understand why. Each of them is more than proficient on the various instruments, at one moment Pete is thrashing the drums, the next he is on the harmonica. Josh arrives in time to complete the sound check and it's swiftly concluded. Next on their agenda is an interview with Spike Porteous of Contact Music. It's informal, Josh perched on the armrest of a couch while the others huddle around a table. Responses to Spike's questions are volunteered by Pete, Evan and Josh. Ross is reticent allowing the others to roll out answers to questions I've no doubt they've been asked multiple times. The most animated I see them is when asked randomly what their favourite words are. After the interview concludes Ross catches the tail end of The Mighty Stef sound check from stage side. During this time Evan's father and band "chaperone" set's up the merchandise stand. All now over the age of eighteen the need for a chaperone has passed but I cannot doubt Niall's steady presence is positive. Over the day I observe his unobtrusive guidance, from rounding the lads up for an interview, back line tech support to ironing shirts if needs dictate.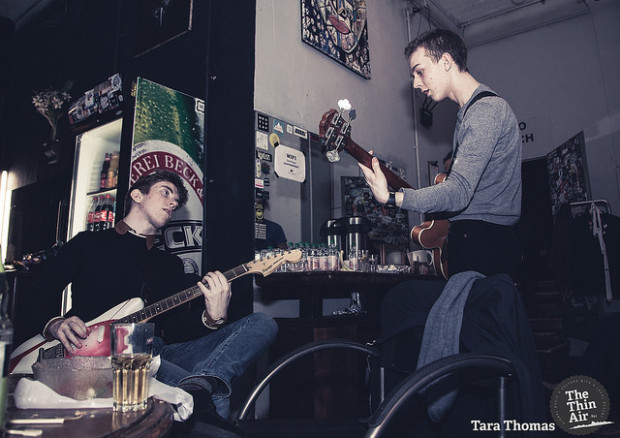 Once all the business of the day is taken care of there's a sense of merrymaking; Ross is egging Pete on to do pull ups on the metal spiral staircase; Dan and Josh are thrashing out a possible future collaboration;  Gary has loaded some not very politically correct but infinitely hilarious YouTube clips which have everyone gathered around doubled over with laughter. Not a good position to be in when Pete produces another chop stick. When Ross unceremoniously throws Gary up into his arms Pete prods him repeatedly and unmercifully in the bottom. Josh shows me his images from the tour so far, an unlikely collection ranging from a One Direction "kipa" taken in a Jewish museum to a modern art piece that reminds me of Paul Daniels. While they all continue letting off some steam I nip out front of house to observe the entering patrons. It's diverse, The Strypes have broad appeal from old school mods to teenage rockers and everything in between.
Backstage William is tapping out some beats on the table loosening his wrists as The Mighty Stef prepare to take to the stage. This is one of the best support band complements I've come across for a long time, not simply musically but characters with similar levity levels. The Mighty Stef perform with vim and vigour to a crowd to which they are largely unknown. Song by song they win over new fans and by the end of their set there are people queuing up at the merchandise area to meet the lads.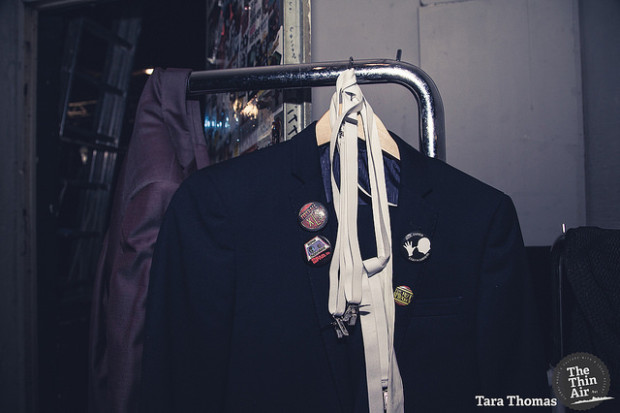 Meanwhile in the green room all showered and getting show ready I rejoin The Strypes. Evan's dapper outfit is hanging on the door freshly pressed and Josh is in crisis deciding whether to wear his hat or not. Having left his copy of Nick Hornby's High Fidelity on the tour bus Pete is lazing on a sofa leafing through The Stiff Records Story. He confesses he cannot imagine doing anything else with his life but making music and touring. This isn't his teenage fantasy, this is his reality, a reality he has created through hard work and determination. I ask if they have any pre-show rituals or get nervous. Ross says no, but as they assemble I perceive some anxiety. He glares at himself in the dressing room mirror. The intensity is uncomfortable, then it's gone, he slips on his sunglasses and is front man ready. Some last few words of encouragement from tour manager Richie, a quick thumbs up from Ross and then out on stage to face their boisterous audience.
The first few frenetic chords of '84' blast out driving the crowd feral. The setlist is a balance of familiar old tracks and new tunes. Despite the album Little Victories being only three months old the crowd sing back verbatim. The lads feed on this energy working the audience like seasoned professionals. They all have incredible stage presence and it's difficult to choose who to focus on. Nothing feels rehearsed or forced, they told me earlier some of their gesticulations are habitual now.  Evan, his hands gloved in black leather, bloodied in Berlin the previous night, drums like a demon. His brothel creepers bashing the foot drums with no mercy. Ross prowls the stage with his heavyweight voice and enviable cockiness contained only by Pete and Josh either side who cavort and gyrate their way through the set. It never loses momentum. Even during slower tempo tracks such as 'A Good Night's Sleep and a Cab Fare Home' the intensity is immense. It's not just a display of youthful vitality but a first rate performance. The audience laps it up, as do I.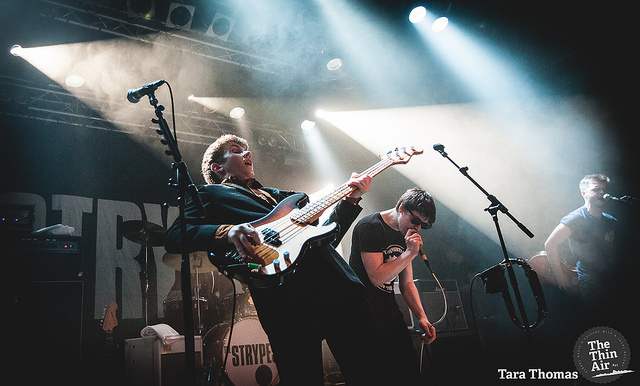 After a much demanded encore the band takes a quick breather backstage. At this point with most bands someone draws the short straw to man the merchandise stand. It's not a lack of wanting to meet and greet or disinterest, more sheer exhaustion. So I'm very surprised that everyone heads out to meet the fans, it's impressive. The queue for their attention is enormous. Ross's back is used to steady Josh's hand as he signs ticket stubs, posters and album for fan after fan after fan. They pose for numerous photos and despite how shattered they are they have a smile for anyone who wants one. Every devotee satisfied we all retire to the green room. There's a discussion to decide what they'll do with their last few hours in Hamburg. Stef is all for hitting the Reeperbahn while others suggest chilling in the tour bus catching up on their Father Ted or Alan Partridge box sets. I leave them to make their decision, either way they are bound for Amsterdam at 4am and I'm on a red eye home. Tara Thomas