A freezing cold night in Belfast city centre, surrounded by grimacing late night shoppers (outside) and beaming beered-up revellers (inside) – what else could it be but retro rockers Maverick's triumphant post-European tour/pre-Xmas gig in Voodoo?
The perpetually cheerful lads gathered up a couple of support acts to help them celebrate the silly season, starting off with newbies So Long Until the Seance, who assemble onstage and proceed to rock out, delighting the growing crowd. Vocalist Mike Van D, formerly of horror punks Little Miss Stakes, quite simply belongs on a stage, as evidenced by the ease with which he cracks jokes with the audience, indulges in a bit of goofy banter with the rest of the band and unleashes a strong and less comedic vocal style than his previous incarnation.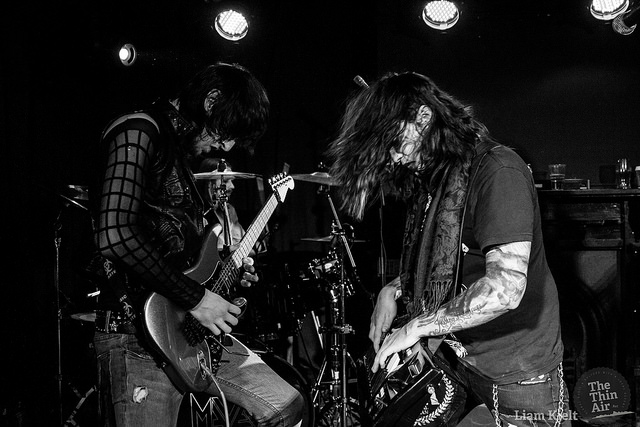 The band itself have an audible link to LMS, but the emphasis is more metal than punk – the 'Misfits x HIM' influence is still there, but very much propped up by a metallic streak a mile wide. Tracks such as lead single 'Dead Boys', 'Dead Pretty' and a cover of LMS' 'Samara' are aired in suitably shambolic 'crash bang wallop' fashion, while a stomping cover of Twisted Sister's 'Burn in Hell' prompts the first crowd singalong of the night. A brash, hammy and enjoyably bonkers start to the evening.
Up next NI's premier symphonic metal band Selene descend from the heavens to deliver their album launching set. Said album, The Forgotten, is mesmerising and beautiful – and, as it happens, so is their set. Opening with latest track 'Dorian', frontwoman Shonagh Lyons immediately demonstrates her exceptional vocal talents as she soars through her range, hitting the high notes effortlessly. The crowd duly respond with loud applause, not to mention dropped jaws.
Frustratingly there's a problem, one that happens at times in this venue. Having seen Selene perform before, we can confidently state that live, the band's music is atmospheric and muscular, racing along like a prized, silvery racehorse. Tonight, however, the sound emanating from John Connor's guitar is all but inaudible, drowned out by  the cymbals and snare drum. Whole guitar solos are lost – a great shame – and even Lyons' powerful vocals are affected at times by the wincingly loud drums.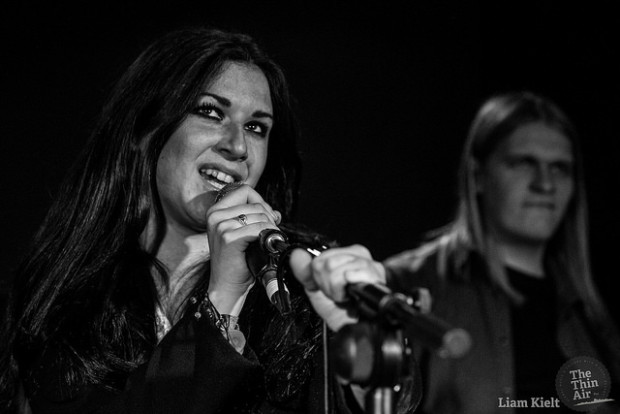 Sound issues aside, the band put on a bombastic performance, perfectly combining all the elements of this most challenging of genres. They treat the crowd to tracks such as single 'Never-ending Silence', 'Paradise Over' and spine-tingling ballad 'Sweetest Dreams', as well as a glorious 'Fade Away', sounding for all the world like a metalled-up Disney soundtrack, before finishing off with the nine minute long tale 'Piano Black', which is quite simply symphonic metal perfection: epic, galloping and lush. Gorgeous.
After giving the crowd time to catch their breath, Maverick's tré Eighties intro rings out over the speakers, before they make a Proper Rock Star entrance onto the stage and kick their set off with recent single 'Paint By Numbers', followed briskly by 'Snakeskin Sinner', both from latest album Quid Pro Quo.
As their set has started a tad late, vocalist David Balfour keeps the chit chat to a minimum, preferring to lend his voice purely to the job of singing his heart out. Thus the crowd hears a full strength Balfour belt out tracks both old and new, such as 'Electric', 'Shackled' and your scribe's favourite 'Got It Bad'. They also surprise the audience with a cover of recent tourmates The Poodles' 'Caroline', as well as a brand new number 'I Want It', which amply shows that their love of ballsy Eighties rock shows no sign of waning.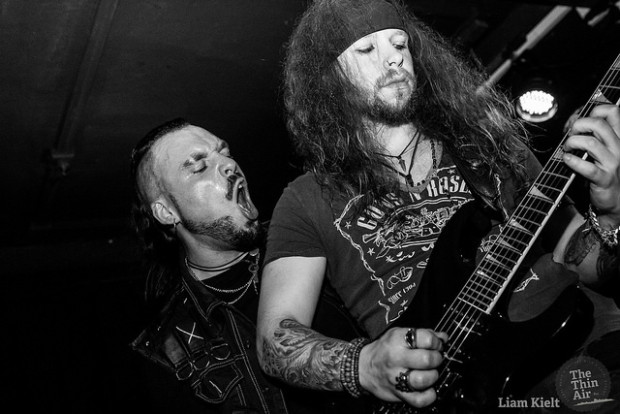 Musically the band are as tight as the proverbial drum tonight: clearly very well rehearsed, they put on an effervescent powerhouse performance, despite some lingering sound issues (rather muffled drums and lead guitarist Ryan Balfour's solos are sometimes on the quiet side).
By midnight the (school night) crowd has thinned slightly, but those remaining are no less enthusiastic, singing along with fists (and beers) aloft and roaring with approval when drummer Mike Ross fires out a breathless drum solo.
Final few songs 'Top Heavy' (always a crowd favourite), 'Rock n Roll Lady', their self-titled track and 'In Our Blood' finish their set in suitably mind-blowing fashion. Glam, hard rocking and immensely enjoyable, Maverick have, as ever, put on a proper rock show tonight, full of audience participation/interaction and unadulterated joy. Here's hoping that this particular Xmas shindig becomes an annual tradition. Melanie Brehaut