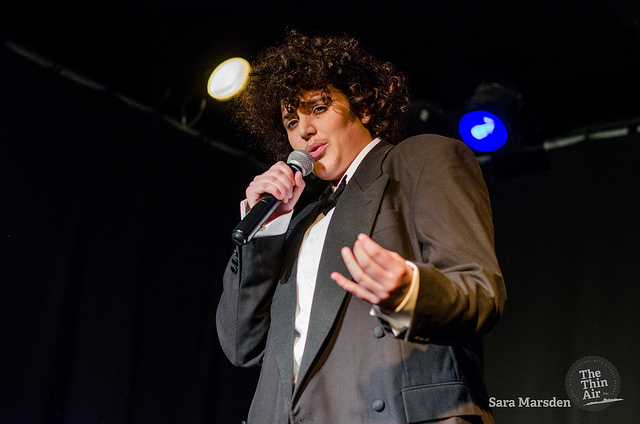 Couples and lovers gather in their masses outside the Black Box tonight for a very special Tease-O-Rama, Valentine's Edition.  I myself sit n front of the stage and I can't help but feel happy; everyone is buzzing with excitement. As the lights dim we are serenaded by lothario Tom Bones, Soup du Jour's male friend – it is not, I repeat, not, Soup du Jour in a wig and suit.
Our first act is introduced, Bugsy Devine (below). Bugsy bounces on to stage, a dream in red polka dots and Minnie Mouse ears. She is so expressive and every pose she strikes is a perfect Disney postcard. Sadly pouting she holds out a sign that says "Where's Mickey?". Without her mouse beau she decides to continue her reveal for us instead, with each piece of clothing revealing more polka dot clothing (or should I say less?) 'til nothing is left but some Mickey Mouse shaped pasties, such an adorable routine.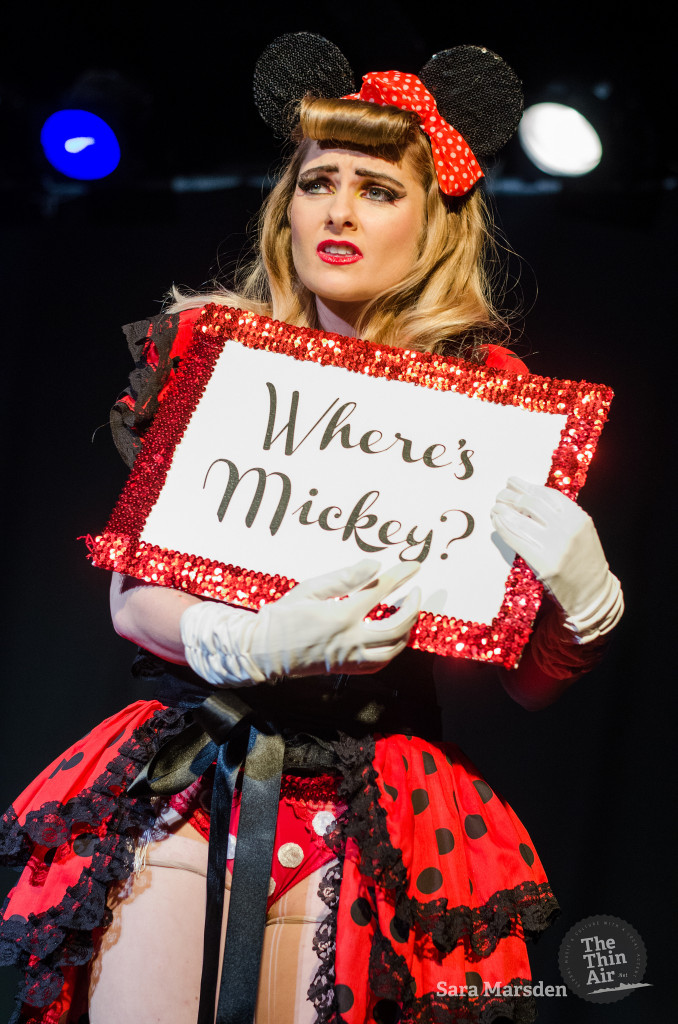 Next on stage is Bonnie Blue (below), performing a classic burlesque routine to a different kind of classic, 'Take another Piece of my Heart'. Sultry glances and beckoning hands hypnotize the audience. My absolute favourite part of the routine involved the removal of both gloves as Bonnie bit down on the fingers and slowly dragged her hands out of them – very seductive. Pulling off the lower half of her costume Bonnie uses the material and twirls it around her before ditching her corset. Finishing off the first half of the night is Miss Dolly Mischief with her balloon pop routine; she flits among the audience before grabbing a bottle of champagne from one of the tables and downing some as she steps up to the stage. Drawing a sharp feather from her cleavage and setting to work popping the balloons guarding her modesty, with every pop she jumps a little and strikes an adorable, shocked face. With no more balloons to pop Miss Dolly divulges herself of her gloves, corset and stockings before kneeling at the front of the stage and dousing herself in champagne. A very elegant end to the first half.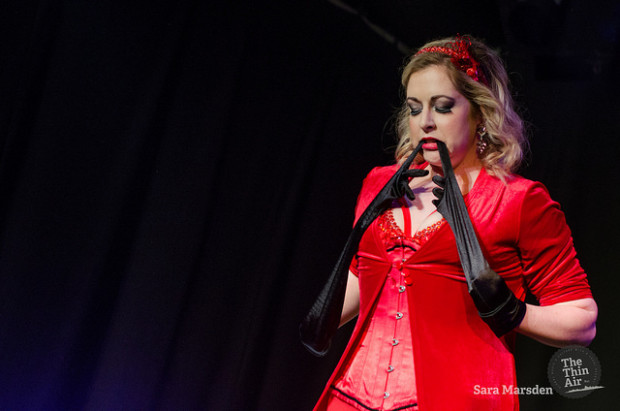 For the second portion of the evening we're introduced to J'aime Rachelle, performing to 'Rebel Rebel' with a perfect Bowie lightning bolt down her face. She keeps amazing eye contact with the audience as she struts around the stage, almost as if she was performing for you alone but at the same time she is aloof and almost with an attitude of "I don't care if this impresses you". True rebel, rebel, style. Au-Fay is up next, arriving on stage in a cat onesie performing to 'Diamonds Are a Girl's Best Friend'. Taking baguettes from a microwave she looks amazed when she bites down on one and finds a string of diamonds. She has such brilliant facial expressions, stripping off her onesie reveals red and black underwear which she flings off before finding her final string of diamonds in the remaining baguette, after all the song does say "little pets get big baguettes". Taffy Bojangles soon follows, standing in in front of the stage, desperately trying to open a jar of sauce, before handing it out to an audience member who opens it for her. She heads up to her cooking station on stage and begins to prepare a meal but she just can't bring herself to chop the courgette. Stroking it, holding it to her face, licking it. The audience are in stitches. 'Mambo Italiano' kicks in and Taffy begins to shake it, flinging off her apron and clothes to reveal Italian flag underwear. Once she is down to her tassels, she grabs the sauce jar and pours it overhead, covering herself in a cascade of rose petals and red glitter.
After Tom Bones and his love doctor have read out some declarations of love from the audience it is time for that last portion of the show. Tasha Quinn takes to the stage as Daphne Blake (Scooby Doo), performing to 'Material Girl', a perfect match of music and character. She begins at a table, flicking her hair over her shoulder, putting on make-up and sneaking cheeky glances at the audience. Looking at all her beautiful clothes she shows them to the audience as she goes. As she strips off she mouths and gasps in time with the music and when she has all but suspenders and underwear on she covers her chest with a chalkboard heart that says "Fred Velma", the audience giggles and Tasha drops the heart before pouring a box of Scooby snacks over her head, releasing pink confetti all over.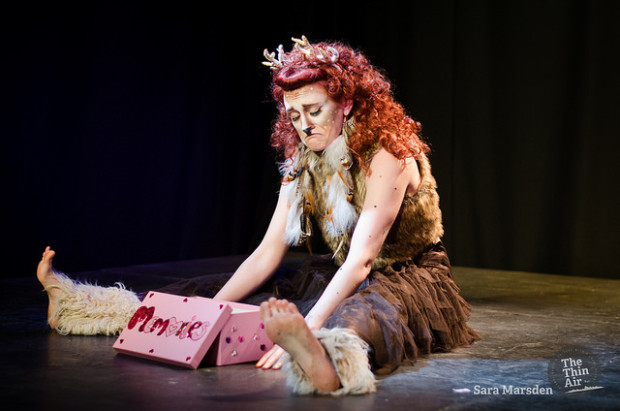 Valkyrie Von Storm  (above) follows, a Forest Creature, in an absolutely amazing costume and make-up. Performing to 'I Just Don't Know What to Do with Myself' by The White Stripes, she stalks on stage with a pink glittery box labelled "Memories". Looking like the saddest critter there ever was, she sits and begins to open the box, showing the audience each envelope inside. "Love", the audience immediately "Awwws" as Valkyrie holds back heaves of sorrow. "So", "Much", "Love"! She curls into a sobbing ball but when the music hits that crescendo she throws the envelopes into the air with a thrust. Shocked by the erotic take-over that just occurred she begins to cover herself up again as the music calms down. Sitting back down to her box she pulls out envelopes that say "You're too","BEASTLY", and with that memory she is seriously ticked off. At the next crescendo in the music her legs fling open and she begins to remove her remaining clothes with gusto revealing fluffy pasties and a little bunny tail. The use of the music and creation of this character made this act one of my favourites of the whole night. Shir Madness brought the show to a closing with a flawless hula hoop routine to flapper-esque music. Shir has the ability to make hula hooping look absolutely effortless; Hula hoop around one leg while the other is in the air? No worries. Lie on my tummy, hula hoop around one leg; roll over on to my back without missing a beat? No bother. Her finale sees her swinging 27 hoops around her. Unbelievable!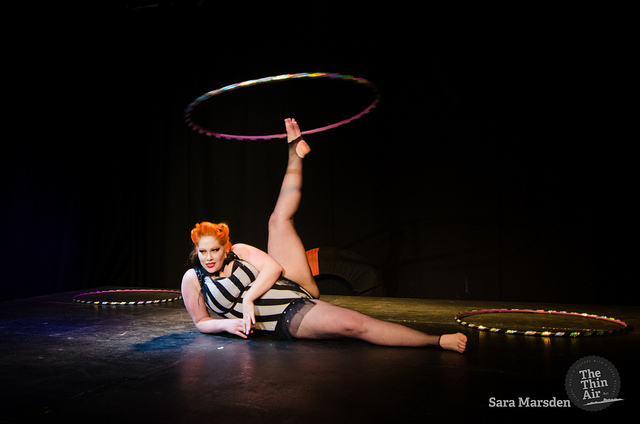 All in all, the Valentine's Tease-o-Rama at the Black Box makes for an incredibly enjoyable night with loads of wonderful, talented performers and acts I had never seen before. It was wonderful spending a Valentines night with one of my true loves… Tease-O-Rama.
Words and photos by Sara Marsden