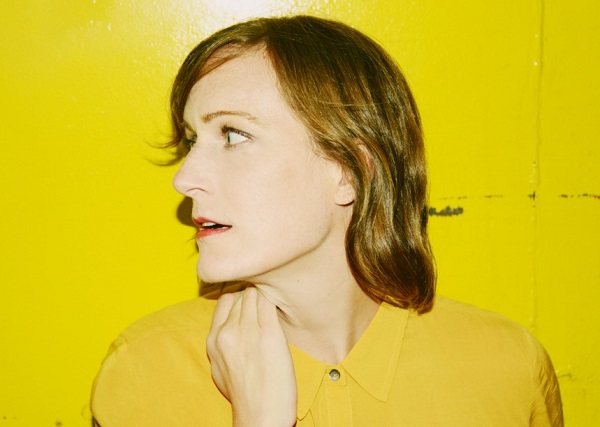 There aren't many labels in popular music that come with as many unspoken assumptions as 'singer-songwriter' does. As cultural archetypes go, it's uniquely malleable and somewhat slippery – images are conjured both of introverted Moleskine-clutching creatives & street-busking dilettantes,  haunting cafés as they wrestle with personal demons. It's a label that could be reasonably applied to artists across a broad spectrum of creativity/popularity/influence while still retaining its diagnostic value – Nick Drake and Ben Howard are both 'singer-songwriters' in some sense or another. There also tends to be a smuggled expectation among listeners that the songwriting of a 'singer-songwriter' will have some inherent poetic worth, given the highly intimate nature of its communication – the universal dressed up as the personal.
In the case of Oregon native Laura Gibson, she's likely to join a growing band of exemplary namesake singer-songwriters. Empire Builder, her fourth album, takes its name from the train that joins Chicago and the Pacific Northwest – a train she recently took as the first leg on a journey to New York City to begin her studies in Creative Writing, leaving much behind in the process. In March of last year, she was caught up in a bizarre gas explosion that claimed the lives of two of her neighbours. She was left physically unharmed but creatively decimated – the resultant fire destroyed all of her notebooks & instruments.  While enjoyment of her music is by no means contingent on a knowledge of these events, they do provide an intriguing layer of context; a motif of rejuvenation is discernible throughout.
This collection of songs (which she understandably considers to be her finest yet) finds an artist creatively emboldened by recent personal trauma. There's a sense of growth & revival – made to glow by knowing lyrical winks (on 'Louis' she japes about "Hid(ing) behind a turn of phrase") & sparse, autumnal arrangements reminiscent of Sufjan Stevens. The campfire-embers-folk sound of her previous efforts here sounds more mature and a little more developed. Opening track 'The Cause' blends syncopated, semi-tribal drums with oscillating vocals & a bristling electric guitar line. The lyrics are mysterious ("you belong to the Cause, you belong to us") and made me think of the filmic Scientology analogue of the same name from Paul Thomas Anderson's The Master, though that's a tenuous link at best.
Gibson's voice is soothing and mellifluous; often faltering as a subtle means to increase a particular song's emotional voltage. At times the vocals are so wispy it's as though they're on the verge of disappearing completely, yet there's an unmistakable vigour to her performances that works well with some of the more brooding tracks – note the driving percussion & smouldering guitar on 'Not Harmless'. Many of the album's emotional concerns are crystallised in the hushed elegance of title track (and thematic focal point) 'Empire Builder'. Against a backdrop of baroque-pop folk (recalling the quieter moments of Arcade Fire's Funeral) Gibson draws you in with a subdued yet striking performance – one that falls on the sophisticated side of wistful. Her vocals here are subtly paired with a muted male accompaniment, deftly mimicking the cryptic dichotomies of the lyrics: "We are not alone and we are more alone than we've ever been / Hurry up and lose me, hurry up and find me again". However, it's this consistent thematic thread that makes the jaunty bounce of later track 'Two Kids' seem a little out of place. The lively, almost saccharine instrumentation seems at odds with the comparatively complex mood of the rest of the album. That's not to rail against it necessarily – it's a nice, deceptively innocent little number about the tension between present circumstance and future concern ("If we're gonna die young, we're gonna die with a love song in our mouths"), but the arrangements are a little jarring in context.
It's hard not to get swept up in the peculiar charm of Gibson's compositional style & her take on 'singer-songwriting'. While the lyrics frequently touch on alienation, or loss ("You wonder why my love songs are always the grieving kind"), there's a palpable warmth to the instrumentation & an undeniable magnetism to Gibson's singing. Catharsis doesn't often sound this good. Eoin Lynskey