Galleries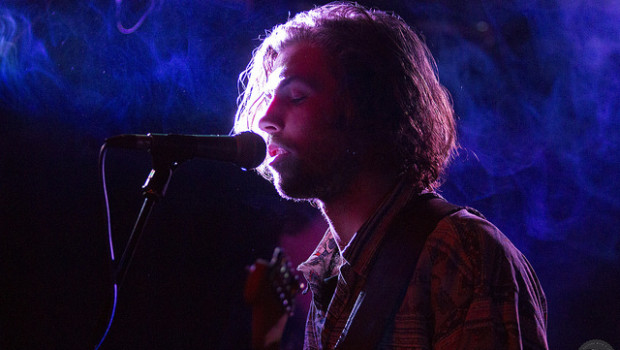 Published on April 18th, 2016 | by Conor Callanan
0
Reverberation Psych Fest 2016 (Day Two) @ The Grand Social, Dublin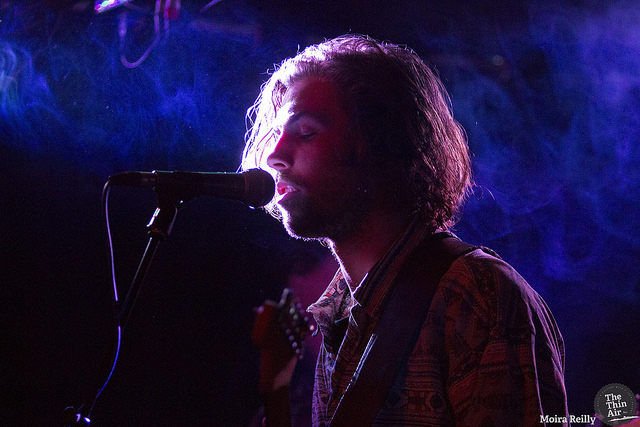 With my ears having gone through the mill during night one of Reverberation, it was only right to see if they could last for the duration of round two! First up to the mound was Derry duo Fabric, who really falls into the post-punk side of things as opposed to psych rock. Ruairi Coyle (Percussion/Drums & Backing Vocals) and Lorcan Hamilton (Bass & Lead Vocals) manage to put on quite the performance, which considering the low turnout for their slot, they can only be applauded for. There are hints of Joy Division, Young Marble Giants and Gang of Four dotted throughout, with Jungle being an early highlight. Hamilton's bass really takes hold during the opening of Smooth as Silk, a track that is a clear indicator of the duo's vision, and one which also allows Coyle the opportunity to thrash away to his heart's content.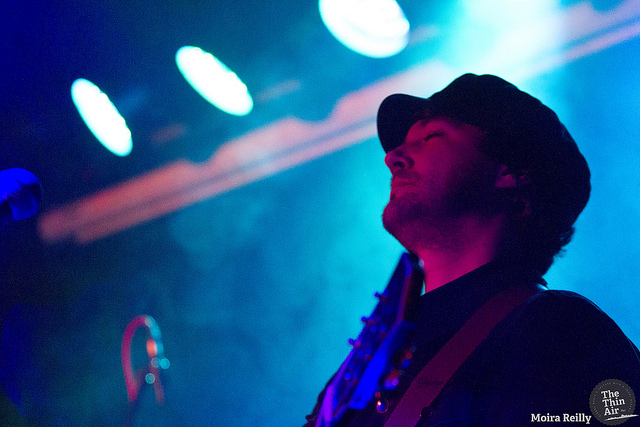 Since forming Sun Mahshene back in 2014, Dubliner Nathan Henderson has been busy, as his troupe have put out three EP's and just recently recruited a sixth member. However for this gig Henderson is only joined by David Murray (Drums), Martin Fagan (Bass) and Ian McGinn (Guitar/Noise!), with Graham Matthews (Guitar) and Shane Roche (Keys/Synths) both missing out for a variety of reasons. Opening with When the Bomb Drops, a near 10 minute jam that grabs ones attention from the off, its clear that not only do these lads have the odd psych record in their collections, but also tip their hat to the likes of Black Rebel Motorcycle Club, The Jesus & Mary Chain and The Verve. There is a mellower side to their performance during the slow Love Jam, aside from the wailing guitars that ebb and flow throughout, while 'I Love You' contains the delicious indie pop sensibilities that are usually assigned to bands of the C86 rea or Flying Nun/Dunedin sound.
The third band of the evening is Dublin five piece Beach, who are made up of Dave Barrett (Lead vocals/guitar), Alex Conway (Lead guitar/backing vocals), Adrian Garvey (Drums), Bernard Kavanagh (Bass) and Simon Flynn (Keys). Like most of the bands taking part in this year's Reverberation festival, Beach is a new name on the radar. Their sound is such a departure from all the band's that preceded them, it is very refreshing indeed. Not in anyway taking away from the other acts, but for a band to not really indulge in elements of drone, metal or garage rock'n'roll, yet still fit into the festival's line up so well, it's a credit to themselves as well as the promoter. Yes there are traces of psych within their sound, but it's one that also encapsulates electronic elements, in the broader sense of the word. Barrett's vocals just soar during the rather ethereal Arabia and trance inducing Moon Smoke, while their final number Fast Tune builds and builds to a rather fantastic climax.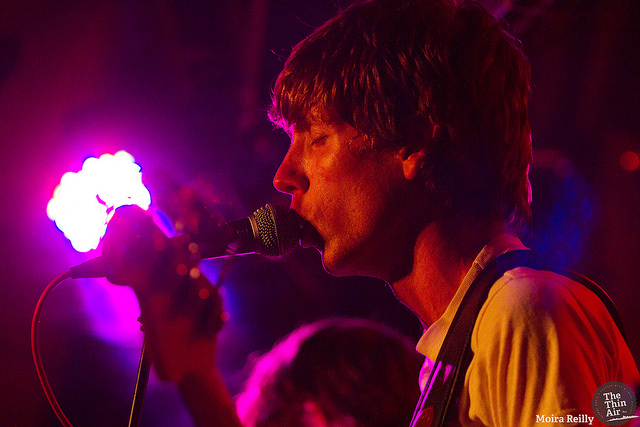 It is then back to the crash, bang, wallop world of frenetic garage rock'n'roll courtesy of UK foursome The Black Tambourines. Hailing from Cornwall, the band: Sam Stacpoole (Vocals/Guitar), Josh Spencer-Fletcher (Guitar/Vocals), Jake Willbourne (Vocals, Bass) and Jim Sibley (Drums) are a high-octane ball of energy from start to finish. Early on during their set there are a few monitor issues that takes the initial pace out of the situation, but once its all sorted the crowd are urged forward by frontman Stacpoole, a request that is graciously accepted by the numbers that are clearly here to see them. There is more than a whiff of The Hives, The Von Bondies and their ilk in the group's sound and overall stage presence. Second number I Wanna Stay Away from their sophomore album Freedom, is a tune that is incredibly catchy and oozes with the essence of pure and utter garage/surf rock throughout, while there is a real slacker vibe to the buzz-saw sounding Bad Days from their Chica EP. Over half the set contains new songs, with Hurricane being as close to sounding in any way psych-esque as they dare to tread. Yes their sound is not overly original, but for full on entertainment value alone these lads do not disappoint.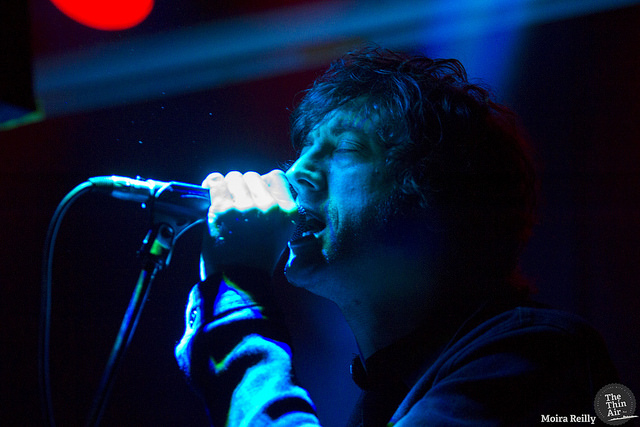 Last but not least is Nottingham based headliners The Cult of Dom Keller, who include Ryan Delgaudio (Vocals/Guitars/Keys), Neil Marsden (Vocals/Keys), Al Burns (Drums/Percussion) and Jason Holt (Bass/Synthesizer/BkVocals) amongst their ranks. These guys have been on the scene since 2007, have put out two full length records, toured continuously, including performances at the infamous Austin (Levitation) and Eindhoven based psych festivals. Clad in all black they begin their heavy stoner rock infused take on psych with two new songs; Astrum Argentium and Broken Arm of God. Both tracks are slow movers yet are drenched in so much reverb it's impossible not to feel the vibrations bounce up and down your legs! Their 2015 Fuzz Club single Behind All Evil Is A Black Hole highlights the band's experimental – courtesy of synths and samples – take on the psychedelic sound, and one can't help but nod ones head in unison with the line "You are not my God" . At times the feedback being exuded from the stage reaches ear piercing levels, as the band reach such a level of noise that even stepping to the back of the room doesn't help! They finish their nine song set with a double whammy of songs from their self-titled debut record; Eyes and Worlds, both of which end in a crescendo of noise. Once they all down tools all those in attendance are left in no doubt they have witnessed a band in their prime, who know how take their audience on a psychotropic adventure. Conor Callanan
Photos by Moira Reilly