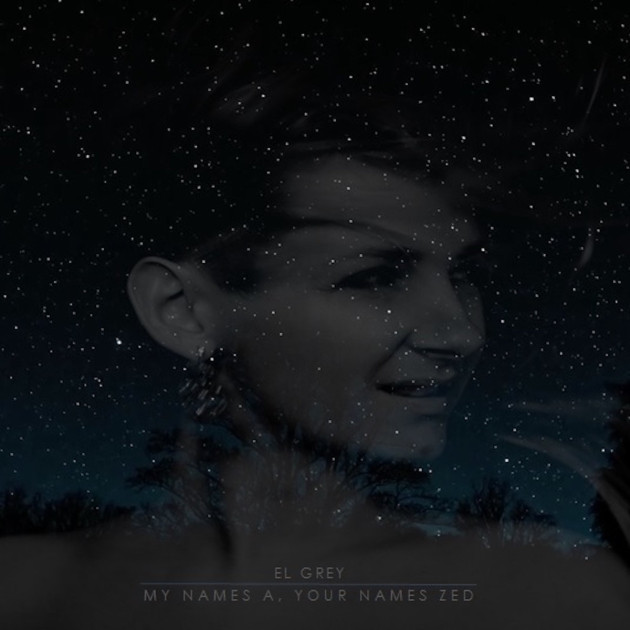 Well this is pretty mind blowing – Bray-based singer-songwriter project El Grey has released an 18-minute stream-of-consciousness odyssey.
Despite being known to be one for creating atmospheric pop soundscapes, cinematic in scope, her ambition had never reached heights of magnitude until 'My Names A, Your Names Zed' – available to purchase on Bandcamp.
The recording was completed with no pre-production or strict composition in place beforehand, and was recorded live in one take. Much like El Grey's process in writing – alternatively: channelling – the song, it's one to sit back and let happen to you, as it accomplishes that feat of tapping into something deeper entirely. It's refreshing to see an artist truly write like an artist, rather than painstakingly sacrifice their intuition over tried and trusted formulae, but there's no substitute for that intangible sense of instinct and vitality, and of being completely consumed by the moment. Normally, you have to pay a fair bit more for a one-time experience like this.
The video came with some words from El Grey, aka el-F# which offer her personal insight into the song and its process:
I've always been a thinker. And after this recording 'happened', I couldn't stop thinking for many days.. I still have more and more thoughts coming my way.. About life, about music, about finding your style, about finding your place on Earth.. It's a bit of a read but, if you're interested to know a little more, feel free to read on… xox
This track is very different from what you normally hear…. except it feels like home to me. it's my 18-min musical cosmos. It's just the vocals (incl. live looping), piano & male chanting by Al Kelly and various sound effects Chris Topher.. – all recorded live, one take only. ..
I was lost for words when I first heard it back. Then I couldn't stop listening. I couldn't believe what I was hearing. .. Then I cried.
It isn't a song. ..It's a piece of music. ..It's a piece of me. For the first time I am recorded there live, just as I am, as a human and as a musician/vocalist, very naked, vulnerable, showing how I wander in music naturally, how I levitate, how I become music… another sonic dimension of myself…
The piece is far from perfect but this is what I love about it. It was in no way pre-produced… It follows no conservative rules, no formats, no usual expectations of the masses.. It lets go of everything. It's about following your heart. That's why I think it's so precious to me. It's natural. It's about freedom. You start somewhere and then you let yourself immerse in the sound, you're taken somewhere… You don't know where you will end up. That's why it's so real. It's about the flow. … I feel this is the first recording I truly lose myself into. I also think the recording actually enables the listener to walk with me.. through the soundscape. For the first time.
That's how I have been all my life. How I am before I even start to think what format I/my music should be. It's just the first time it's been recorded in its natural, organic form-less form.
It's who I am musically…
******I would recommend listening to the track with headphones on. So I sing straight into your ears. So the air isn't between you and me. So we are as close as possible. In the middle of the night. Eyes closed. Just like a soundbath… In that way, I truly believe we can walk together.. You'll be in my world of sound.
Hope you enjoy it. Hope it takes you somewhere….
Thank you all for listening.
Love & light,
el grey aka
el-F#