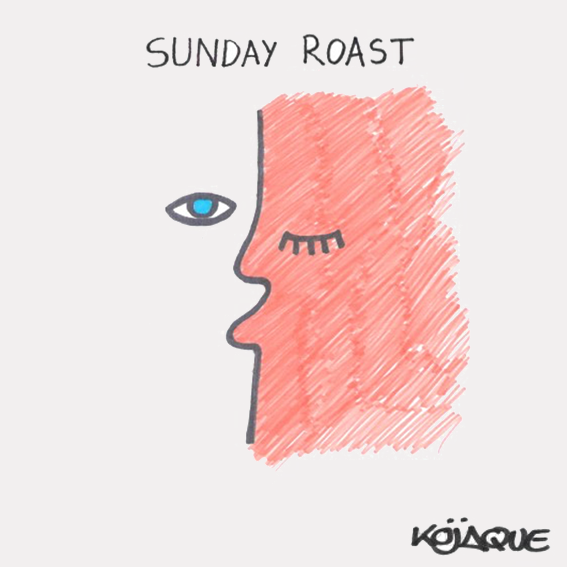 This Sunday saw the release of Dublin hip-hop producer and MC Kojaque's Sunday Roast Mixtape, a collection of seven tracks that add to the aspiring artist's already striking repertoire. Kojaque – real name Kevin Smith – garnered a considerable intrigue in May of last year with the tense beauty that was 'Midnight Flower' along with its equally stark video which showed Smith lip-syncing with the track, head submerged underwater for its entirety. 'Midnight Flower' was a dark, uneasy introduction that maintained a delicate poignancy despite itself. Sunday Roast continues down much the same path, giving further cause to perhaps see Kojaque as Dublin's answer to Earl Sweatshirt.
Sharing production duties with artists like MNDSGN, Jinsang, Matt Finnegan, Omegah Red and Repeat Pattern, the musical backdrops to Kojaque's misanthropic and introspective verses are reminiscent of J Dilla, Pete Rock and Nujabes. Tracks range from the hoarse, slouching 'FiFtyfiFty' to the delicate and soulful 'Being Earnest', which features vocals from Little Green Cars Faye O'Rourke. There is a maturity in this release that once again showcases Kojaque as one of the most exciting acts in Irish Hip-Hop.
[soundcloud url="https://api.soundcloud.com/playlists/212181024″ params="auto_play=false&hide_related=false&show_comments=true&show_user=true&show_reposts=false&visual=true" width="100%" height="450″ iframe="true" /]
Sunday Roast is available as a free download now via Softboy Records.
Find Kojaque on Facebook and Twitter