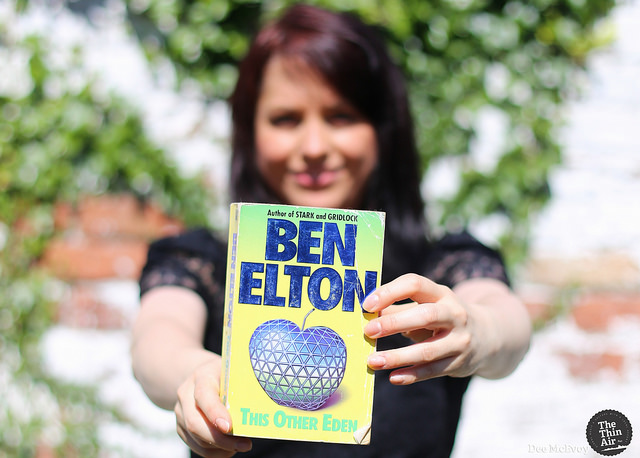 In this installment of Bookmark, we spend some time with upcoming sci-fi writer R.B Kelly as she selects the books that made a huge impression on her writing. Her debut novel Edge of Heaven is available through Liberties press this month. Photos by Dee McEvoy.
This Other Eden – Ben Elton
This was the first adult science fiction book I ever read, and it's what got me writing science fiction in the first place. Elton was writing about the near future as he saw it in the early nineties, and I love the way he creates a frighteningly plausible scenario without hysteria or hyperbole, by using humour to soften the blow and draw his readers along with him. I wrote the first draft of Edge of Heaven shortly after I read This Other Eden, and it was a major influence.
Moving Pictures – Terry Pratchett
It's almost impossible for me to choose just one Pratchett book, but if I absolutely have to narrow it down, it's this one. Pratchett was my favourite author and his death last year was a great loss to the literary world. I love how deceptively clever his novels are: he had the ability to absolutely skewer modern society by mapping it onto some aspect of the Discworld and thereby laying it bare in all its absurdity. Though I'm by no means a comic writer, there are moments in Edge of Heaven where the tone takes a turn for the sardonic, and that's directly influenced by a healthy diet of Pratchett novels since my most impressionable years.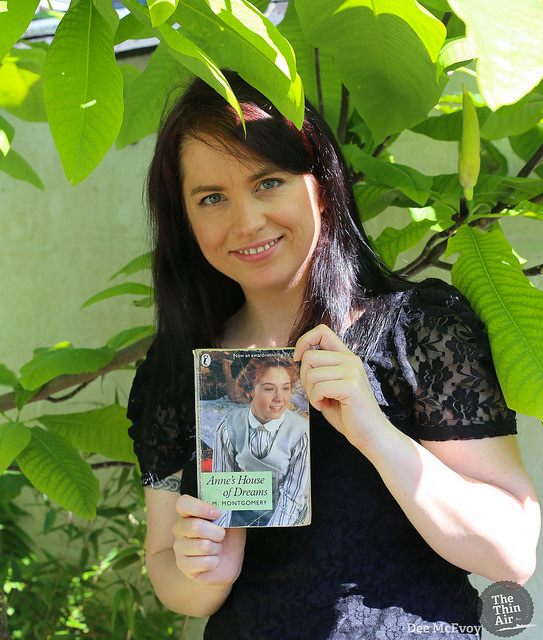 Anne's House of Dreams – L.M. Montgomery
I devoured the Anne of Green Gables series as a little girl, and this one was my favourite. My inner gushing romantic always delights in watching her marry Gilbert Blythe and settle into married life and motherhood, and the character is so endearing and so beautifully written that childhood me felt as though I knew Anne Shirley as a close friend. How does one go from blossom­kissed Avonlea summers to the dystopian streets of a sunless, bi­level city? I have no idea.
Batman R.I.P. – Grant Morrison
I'm a born­-again Batman fan, flush with the zeal of the recently converted. I started reading about three years ago, and nobody told me not to start with Grant Morrison, so I didn't know any better. Part of me is really glad that this was one of the first titles I picked up, even though I basically required an hour of internet research to get through each page, because the richness of the mythology in this series is practically unequalled. The only problem is, it's ruined me for the less intense stuff.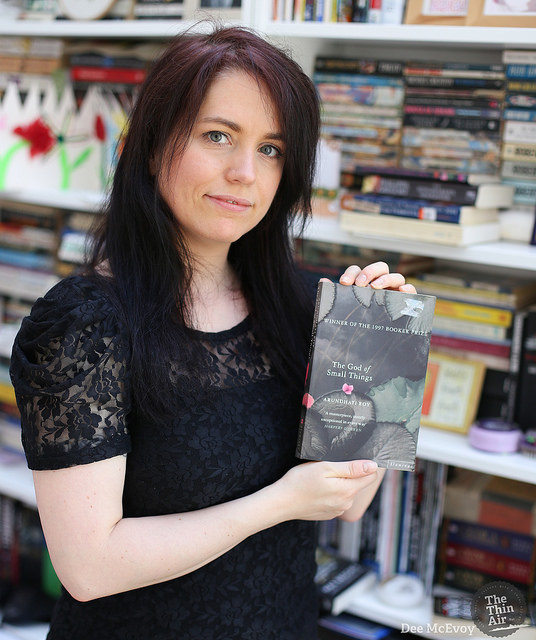 The God Of Small Things – Arundhati Roy
I have never felt less okay after finishing a novel ­as this one stayed with me for weeks. It's incredibly powerful and as emotionally devastating as any book I've ever read. To this day, I've never been able to pick it up for a re­read, but it remains firmly fixed in my memory as an outstanding piece of fiction. And I'm desperate to visit Kerala after reading Roy's lush descriptive prose.
Dirk Gently's Holistic Detective Agency – Douglas Adams
I was never the biggest Hitchhiker's Guide to the Galaxy fan: Dirk Gently is by far and away my favourite Adams creation. I love the way the books conform entirely to their own internal logic: the solution to the mysteries are utterly, 100% absurd, but they make perfect sense in the context of the story­world and that's a beautiful thing. There were only two novels in the series. Adams was working on a third, The Salmon of Doubt, but died before it was finished.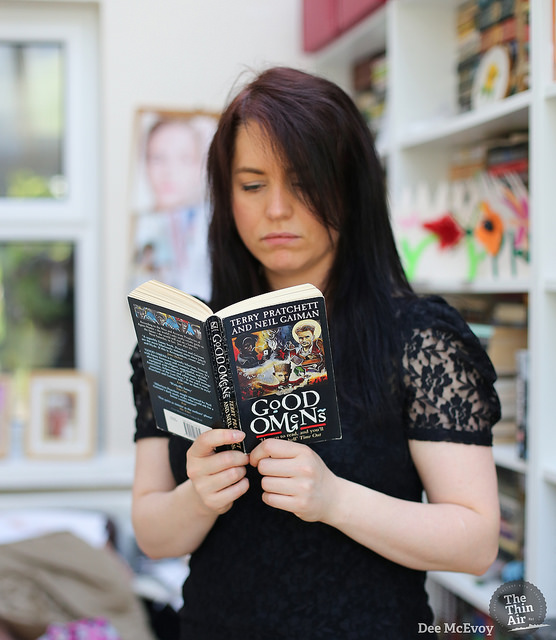 Good Omens – Terry Pratchett & Neil Gaiman
A dream collaboration by two of the finest speculative fiction authors of recent years. I have no idea how many times I've read this novel. I used to be able to quote large sections of it, and it's a source of sadness that I can't do this anymore.
The Left Hand Of Darkness – Ursula K Le Guin
I'm a little bit ashamed to admit that I've only recently come to read Le Guin, and I have no idea why it took me this long. Like the very best science fiction, The Left Hand of Darkness takes a very simple question ­­ what would society look like if gender didn't exist? ­­ and spins it into a fully realised world full of compelling characters and a narrative that kept me reading long after I should have had the light out.
World War Z – Max Brooks
As the central theme of  my book Edge of Heaven might suggest, I'm fascinated by the sheer destructive potential of disease in our current society, which is possibly why I'm such an avid consumer of zombie fiction. The reportage format of World War Z probably shouldn't work as well as it does, given that the action is being reported from a point at which we know everything has been resolved and the people telling the stories have clearly come through intact, but the build­-up of tension and the level of detail with which Brooks has recorded the chronology of the zombie apocalypse make for absolutely compelling reading. I actually really enjoyed the film adaptation, too, as long as I don't think of it as an adaptation of this book ­­ there's just no way to do this novel justice on the screen.
Mark Antony – Eleanor Goltz Huzar
This is a complete geek­out, but I love this book. Mark Antony was the subject of my PhD and I feel like he's had a hard time in popular culture: he was once the most powerful man in the western world, but he's remembered as a love­sick party­boy with a drinking problem. Despite his fame, there are very few biographies of him and this one is now out of print: I was very, very excited to get a copy, and it's one of my most prized possessions.
Click here to buy a copy of Edge of Heaven.