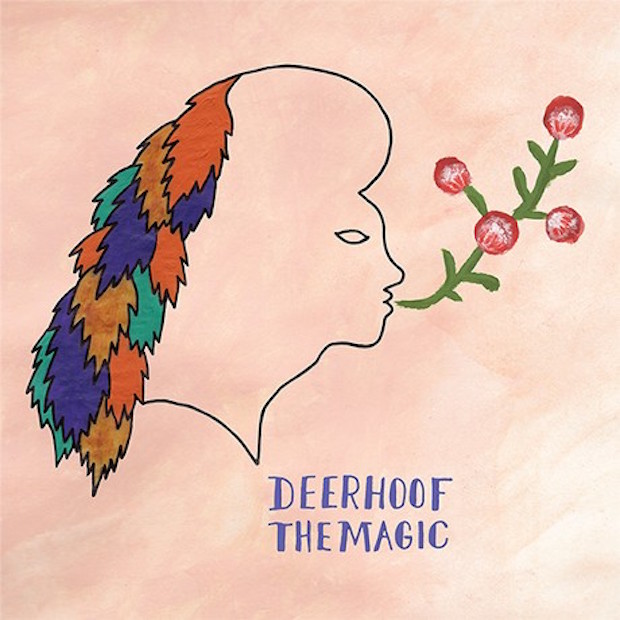 Spots of the Deerhoof discography can be as mad as a box of psychoactive toads, there's no doubt about it – though it's hard to imagine anyone experiencing anything but a journey of enlightenment through the San Francisco quartet's two decades of aural experimentation.
Recorded over seven days (their previous outing, La Isla Bonita, was recorded in ten – swift action clearly suits them) The Magic is in many ways one of their more accessible records, a bounty of joyous freakbeat and wrecking ball riffs; discordant delights and mellifluous genre-hopping that seems even more spiritually aligned with The Ramones than La Isla Bonita was.
Three of the album's tracks were written for HBO's Vinyl TV series, a bombastic, hugely enjoyable recounting of one record exec's descent into drug-fuelled misanthropy. They were ultimately rejected by the show, but ended up on this record that harnesses seventies glam and punk and eighties metal, heaping power chord pummelling and cock rock riffing on top of Deerhoof's usual blend of the unusual.
A song will start one way, court one genre, and then careen into somewhere else entirely, from fuzzed-out rockabilly ('The Devil and his Anarchic Surrealist Retinue') to dark electro-fuelled indie ('Little Hollywood'), metal-indebted fret bothering ('Kafe Mania!') and ambient weirdness ('Patrasche Come Back'). The Ink Spots' 1941 song 'I Don't Want to Set the World on Fire' finds new form as a muzak curio via drum machine and woozy, crooned vocals. Imagine, then, if Kevin Parker dabbled in a retro synth reworking of the Blockbusters theme tune…look no further than 'Acceptance Speech'.
Deerhoof – as always – remain singular in their sonic zigzagging. The only truly predictable thing about this band is the assurance that anything might happen in a hot minute – the deft blitz of Greg Saunier's drum breaks rattling the construct; Satomi Matsuzaki's flights of fancy, both lyrical and melodic, her low end bass lines running like fluid between the gaps in the percussive patterns; the dual guitars of John Dieterich and Ed Rodríguez eliciting chimes and squeals, erupting in grimed-up barre chords and splintering in erratic freak-outs.
The teenage punk bluster of 'That Ain't No Life To Me' ("You don't have to like me/ You just have to want me") sits contentedly in contrast with a song like 'Criminals of the Dream', where Matsuzaki's sweet vocal cracks open the sonic space after the intro before the power chords chug it along to a more thoughtful musing ("It's not right if everyone fights to dream at night"). Whether it's the thematically diverse lyricism or instrumental virtuosity – Saunier tethering the playful melee of his colleagues with the syncopated hip-hop beat of 'Debut', or his crackling funk/soul drumming chops on 'Model Behaviour' – The Magic consistently pulls the rug from under the listener in the most captivating manner.
Amidst the irresistible breakbeat, jazzy bass runs, and electric loops of 'Life Is Suffering', "Note my screams of joy/ Higher and higher and higher" is as absurdist and gleefully contradictory as The Magic itself. Once again, sixteen albums in, Deerhoof have exceeded all expectations – if this is the sound of suffering, then bring the pain. Justin McDaid