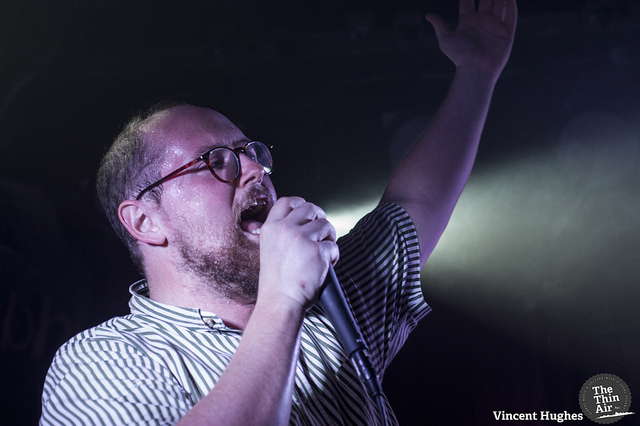 The other night as I was walking through Galway on the way to see Dan Deacon and Meltybrains? as part of this year's International Arts Festival I passed a busker playing acoustic folk tunes to a fairly sizeable crowd. He sounded pretty alright, one of the many street performers that liven up the town's streets at this time of year, putting smiles (or just triggering quick glances) on the faces of passers by, tourist or local. Awkwardly enough though, he was failing to get any more than a restrained, flappy clap-along during his attempt at crowd participation. Audience interaction is a clumsy beast to deal with at the best of times and more often than not it takes a charismatic performer and a loyal crowd to get even that timed clap, or that shout-repeat section to work properly. The show I was about to see in the Roisín Dubh, however, took everything I ever thought I had known about audience participation and blasted it out of the water; turning what could have been a decent Wednesday night of music into a rapturous celebration of what music actually does to people and how much fun it is to get over all your awkwardness and simply give into it.
First up was Meltybrains? (below) who are no strangers to this stage and certainly no strangers to crowd interaction. The unfortunate thing tonight though is that the early support slot means that for the most part there are only around twenty-five people in the room, despite the fact that on one more than one occasion in the past year or two they have completely filled the room with glorious result, conga lines and the deliriously playful 'The Vine' being lingering memories. Small crowd aside though, the band power through a set featuring plenty of new material, sounding noticeably heavier and abrasive next to their more ambient, trippy leanings. These new tracks alone were enough to make coming down early more than worth it. It does pick up toward the end all the same with some pillar scaling and some flailing exchanged between audience and band members. Even when playing to less than half-filled room, Meltybrains? bring an energy that's a perfect precursor to what's about to happen next.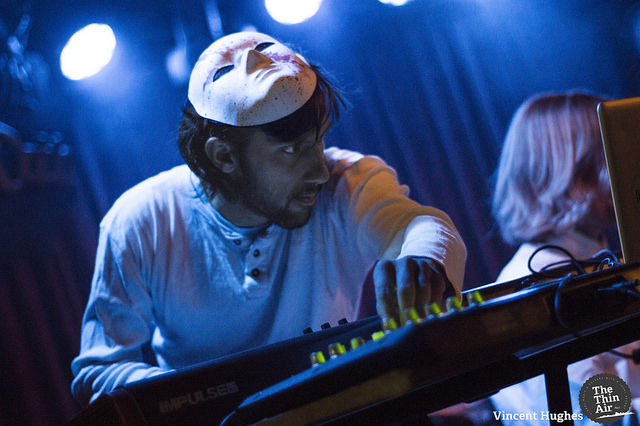 Dan Deacon climbs onto the stage and immediately triggers a level of intimacy between himself and the now much fuller room, encouraging everyone to look at the ceiling, pick a point and channel all our anxieties into it, only to bring it down, face the person beside us and blow them a kiss. In the wrong hands this sort of carry on could be a catastrophically uncomfortable way to start a show, but Deacon's infectious charisma and affable demeanour mean that almost everyone is instantly obeying every word he says. Launching straight from that into the dazzling 'Learning to Relax' the lights flash rhythmically to the shatteringly loud electronics and the vocals are full of power despite constant use of a vocoder. Next up during 'Change Your Life' the crowd is made disperse, with only two people being asked to remain in the middle, the onus on them being to drag individuals in one by one until the whole room is dancing. Again, this has so much potential to be a perfect showcase for Irish inability to express joy or enthusiasm about things if people are watching, but there there's no permission given for discomfort tonight. You were going to have the best time imaginable, whether you wanted to or not. Even a slightly disastrous technical issue mid-song doesn't do anything to dampen the mood at this point.
But look, we need to talk about the tunnel. This trick has been part of Dan Deacon's medley of live crowd games for a couple of years now but will, by definition, be unique every time. Getting the crowd to form a human tunnel of arms going out the back door of the venue, around the back, through the alley, along the front and back in again. I'd not seen a crowd of people laughing and cheering at a gig the same way before, everyone running through the tunnel about three times, having a daft, childish time, made all the more gas by the confused look on the guards' faces when they drove past. As the people poured gradually back into the room the music built and built to a climactic peak. It was awesome.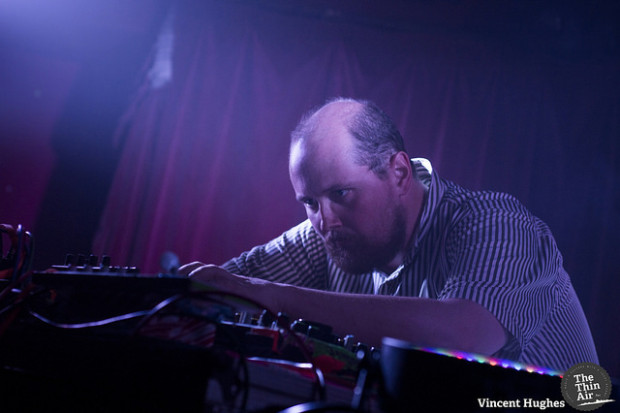 The rest of the gig continued in much the same way. Newer tracks from 2015's Gliss Riffer, notably 'When I Was Done Dying' and 'Feel the Lightening', and old favourites like 'The Crystal Cat' light the room up and the energy doesn't dissipate for a second. There's not much more to be said about how much fun a person can have at a show. The Thin Air photographer Vinnie got to play with an oscillator on the stage… a self-confessed shy friend orchestrated half of an interpretive dance off between two sides of the room… I ballroom danced with another friend… I smiled for about an hour. And so did everyone else. Seeing Dan Deacon perform, being a part of that performance, all to that colourful, explosive soundtrack feels just like being eleven years old and witnessing what happens when you mix Mentos and Diet Coke.
Oh and he finished with 'Under the Sea' from The Little Mermaid. Because he can do whatever the hell he likes. Eoin Murray