The Thin Air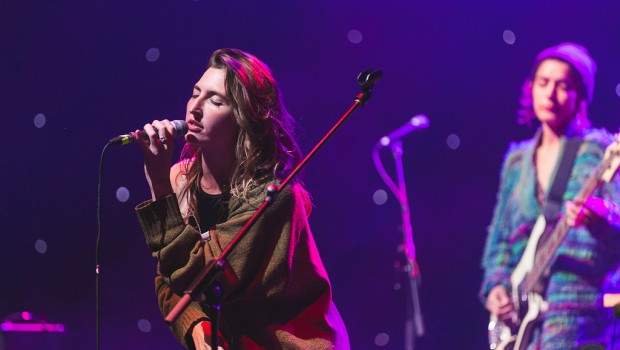 Published on August 25th, 2016 | by Caolan Coleman
0
Warpaint w/ Hilary Woods @ National Concert Hall, Dublin
There are dozens of details, both obvious and seemingly insignificant, that help to define a gig experience. The size and attitude of the audience, the choice of setlist and, of course, the individual performances of band members can elevate a run of the mill tour stop to something truly memorable. The importance of venue, though, can't be understated. There's a giddy thrill to be gained from catching a band in a sweaty bar, warm in the knowledge they'll soon be arena headliners. Alternatively, poor sound or unhelpful staff can drain away any enthusiasm you might have had on the night, despite the best efforts of the performers on stage. So while there's no doubting that Dublin's National Concert Hall is a fine musical establishment, how well Warpaint's fusion of intense post punk and dreamy psychedelia would go down in a setting more used to hosting orchestras was a real doubt.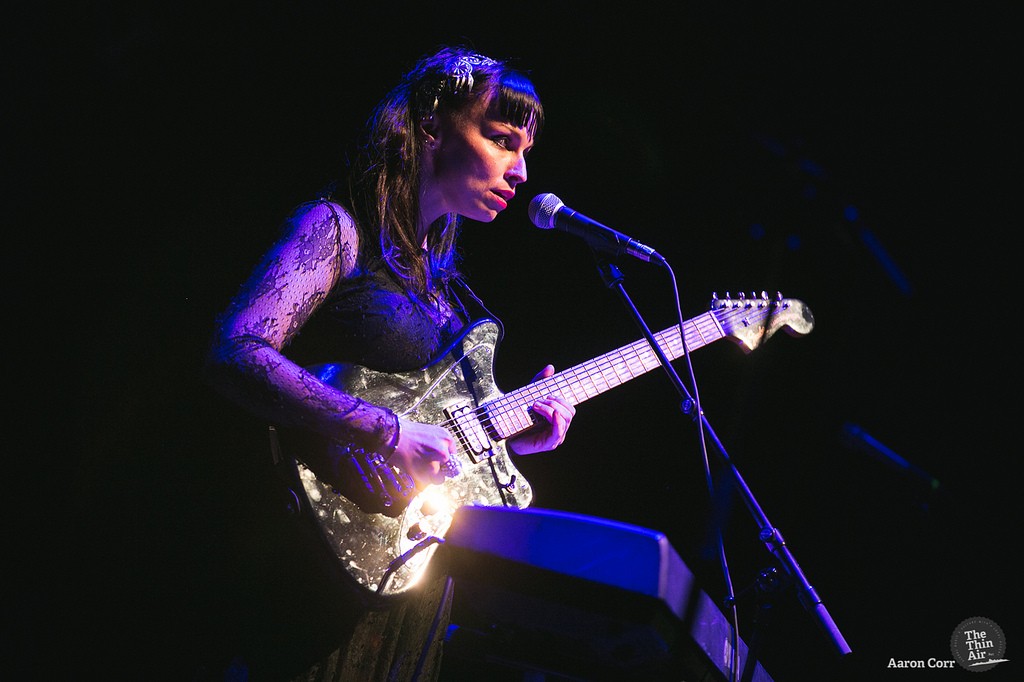 Putting the venue to good use early on was Dublin music and visual artist Hilary Woods. The former JJ72 bassist made her debut at the Dublin Fringe Festival in 2014, winning critical acclaim for her atmospheric performance of tracks from her debut EP Night. Her set at the National Concert Hall, where she was playing songs from follow up release Heartbox, saw her only accompanied only by a screen projecting her own self-recorded video accompaniments. Wood backed her own ethereal vocals by switching between piano and guitar, which, combined with the abstract, almost home-video like video, formed a surreal, almost Lynchian atmosphere.  How well this sort of performance act would have been received in a more traditional rock venue was unsure, but Woods (above) drew appropriately reverential reaction from the audience that were trickling into their seats, despite the strange and even challenging nature of her music (ripples of applause broke out sporadically throughout the set, with fans unsure of when one song ended and the next began).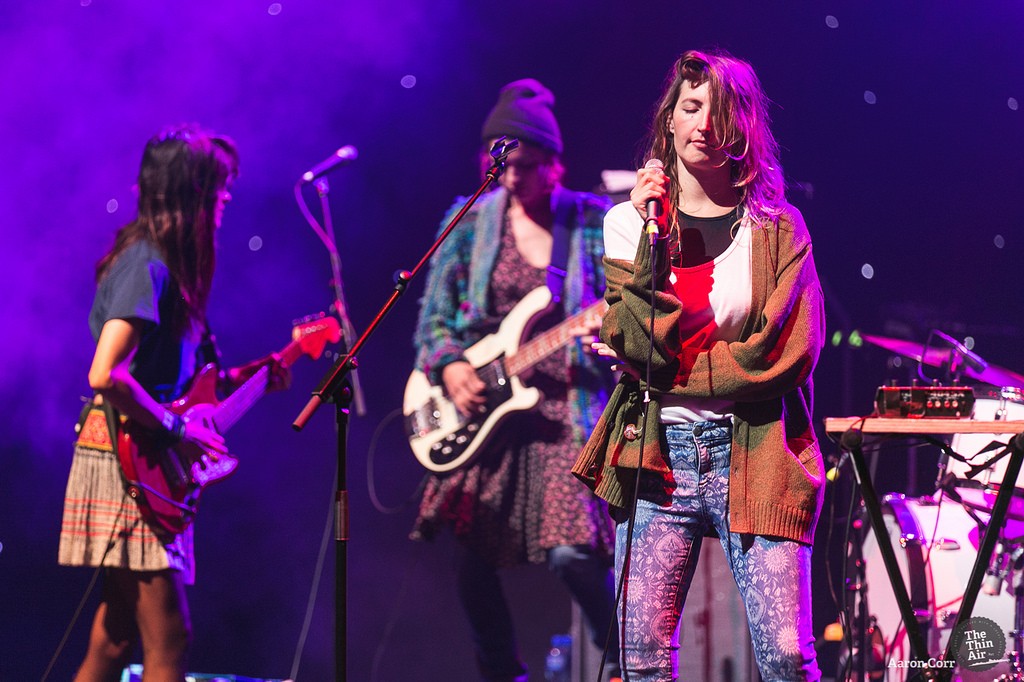 With the ringing guitar intro 'Elephant' bouncing the NCO's superb acoustics, Warpaint provided the capacity crowd with an instant reminder of their trademark intricate interplay and full blooded thunder. Guitarists Emily Kokal and Theresa Wayman traded wirey guitar lines as Jenny Lee Lindberg deftly underscored Stella Mozgawa's powerhouse drumming. Sounding even better was fan favourite 'Undertow', with Kokal setting down her guitar to roam the stage, microphone in hand, to further her case as one of the most dynamic frontwomen in indie. Something in the atmosphere was slightly off, though: the music was brooding, deeply infectious, almost feral, but the mood created on stage wasn't translating it's way down to the stalls. This wasn't lost on Kokal, either: "All it takes is one person to stand up. I mean, you can keep sitting down if you want, but we've never played to people sitting before…" With that, one by one, the entire crowd rose to their feet, to the bemusement of the ushers on each side. Suddenly, we had a rock and roll show on our hands.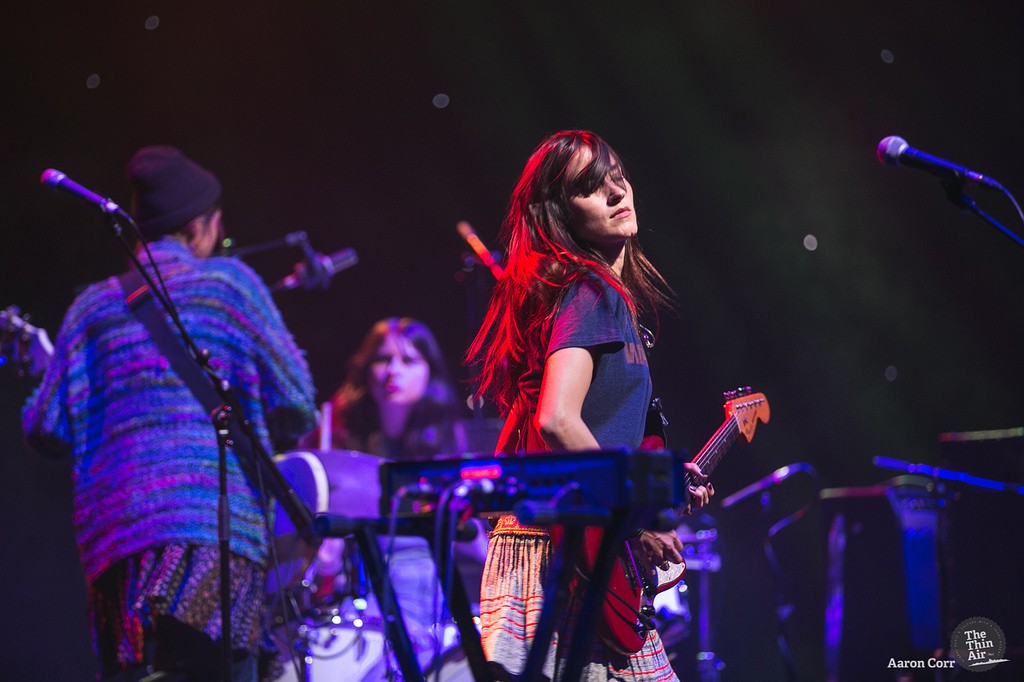 At ease now, Warpaint set about is showing just why they're one of the most respected and fearlessly engaging bands on the planet. With Kokal and Wayman trading lead vocals throughout, their set retained a remarkably high quality, with the slower, more meditative jams from their self-titled album commanding as much attention as the driving punk of The Fool and EP Exquisite Corpse. On standout slow jam 'Love Is To Die', as Kokal and Wayman's shards of guitar coloured Lindberg's throbbing bass, with the whole band suddenly shifting towards the song's frantic finish, the level of timing and understanding between the four seemed to border on the telepathic. They were having fun, too, regardless of how ominous their music may have sounded: Kokal danced freely throughout, with Wayman running down to hug and high five members of the front row, and the whole band sharing a laugh as their a cappella harmonies on the outro 'Disco// very'  received yet more riotous applause. When Emily reciprocated a drunken proclamation of love from the balcony, she seemed to really mean it.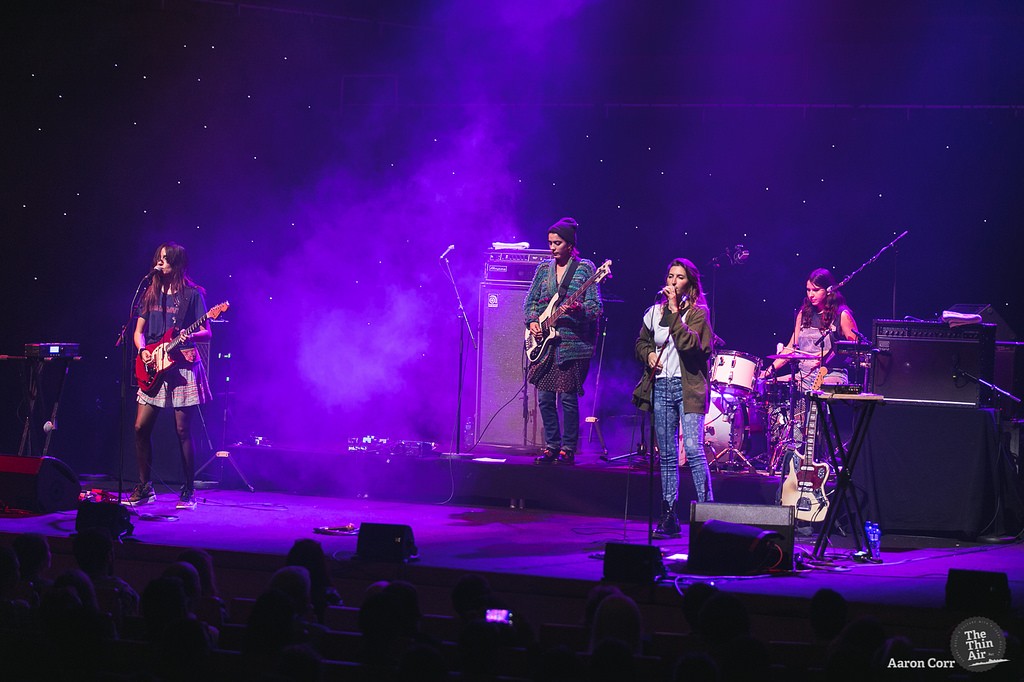 This made the perfect environment for 'New Song', the bouncing first single off new album Heads Up. It's by far their poppiest release to date, and it's slightly rougher, funkier live rendition ended up being one of the most memorable moments of the night, sounding every inch like a potential crossover smash.  Kokal stepped out by herself to deliver a haunting encore of 'Baby', filling the room with her guitar and delicate, longing vocals,  before being joined for the rest of the band for the smash and grab of early classic 'Burgundy.' Warpaint, in the end, made the NCO their own, but if Heads Up sells like it ought to, it could be a long time before they're playing venues of this size again. Caolan Coleman
Photos by Aaron Corr