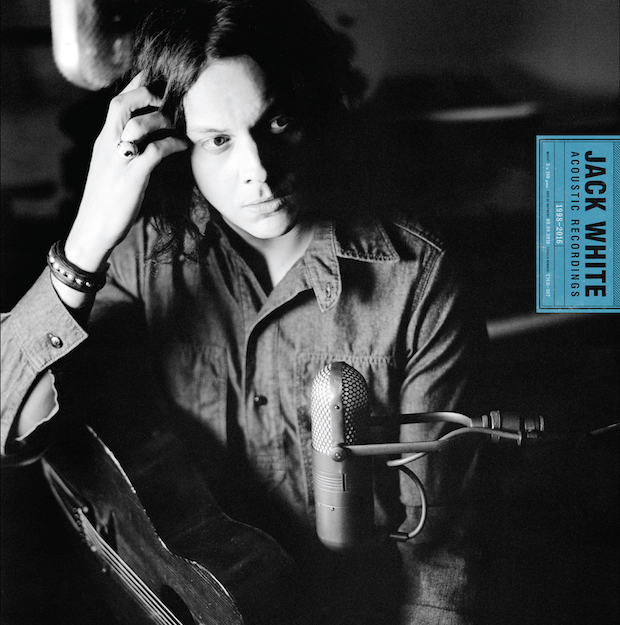 Jack White is by many people's reckoning one of the most iconic guitarists of his generation. Standing at a burly six foot plus with his ghostly pale complexion and colour coordinated outfits he has always cut a formidable onstage presence. Photos of him wrestling his red and white Airline guitar will sit alongside the likes of Hendrix and Phil Lynott. It's invigorating to witness his mastery of the stage. As one half of The White Stripes he not only managed to compensate for a lack of instruments by producing a colossal amount of noise; he was visually mesmerising, throwing himself around like a man possessed and constantly jolting between a microphone sitting centre­ stage and one positioned directly in front of Meg White ­ which allowed for some magical interaction between the pair.
That being said, Jack White could never be described as having a one­-track mind and his career has been defined by evolution and a constant desire to reinvent himself. He never wanted to be "a slave to one idea". He's capable of blood and bluster but every album has been allowed to breathe with forays into the realm of acoustic tenderness. From the cover of Bob Dylan's 'One More Cup of Coffee' on The White Stripes self­titled debut, to 'A Boy's Best Friend' on De Stijl, 'The Same Boy You've Always Known' on White Blood Cells, to the career­ defining Elephant ­ on which Meg sang the sultry 'In the Cold Cold Night'. The trend continued into the more experimental final two albums from The White Stripes and even further into his latest solo work.
That brings us to this collection of acoustic songs that span his entire career. The album cover gives an indication of what's in store, all of the novelty and props stripped away, just a black and white photo of a plainly clothed Jack White gazing into the distance, with an acoustic guitar on his lap and a retro microphone resting in front. The album features the sunshine pop of 'Love is the Truth' and the folksy 'Never Far Away'. The former featured in a Coca Cola advert… ­ a dubiously businesslike move for a musician who exalts old legendary bluesmen like Son House and Robert Johnson who lived hand to mouth travelling around with nothing but their guitars strapped to their back and some stories to sing.
But that's the thing about Jack White, he has always been a shrewd businessman, right down to the aesthetic continuity of his bands (which runs right through to the roadies). He doesn't hide the fact that he places great value on novelty, demonstrated no more so than through his Third Man Records label…oh and his desire to play the first vinyl record in space. And there's nothing wrong with that, he's a clever man who has shown the ambition to create his own empire rather than being at the mercy of a major label.
The early White Stripes tracks such as 'Hotel Yorba', 'You've Got Her in Your Pocket' and 'We're Going To Be Friends' exude the whimsical naivety and humour that was in essence what made The White Stripes so endearing. The latter of those tracks, in less than two and a half minutes perfectly captures the innocence of childhood. An unreleased White Stripes track, 'City Lights', was used as a selling point. It is a song White started writing whilst the White Stripes were still active and finished recently. It doesn't flow as effortlessly as classic White Stripes tracks. It is sung in a higher pitch, a trait of White's singing that fans will have noticed he flits in and out of onstage.
As you move chronologically onto the most experimental of The White Stripes work on Get Behind Me Satan and Icky Thump, piano and the occasional maraca shimmy their way in. An acoustic mix of The Raconteurs track 'Carolina Drama' which makes use of violin exemplifies a story­telling country style White would adopt as the years went by. It's a grown-­up alt-­country style he would develop over his solo releases, which appear in the form of 'I Guess I Should Go To Sleep (Blunderbuss)' and 'What and Able (Lazaretto)' which bookend the album.
This album is exactly what it says on the cover, a collection of acoustic tracks spanning Jack White's entire career. For people coming to it expecting surprises, there are very few, most tracks sound like the album versions, with some altered slightly by stripping away certain instruments from the mix. This is a record closer to the heart of old bluesmen White has eulogised as heroes over the years than his later work which has seen him constantly striving for sonic discovery. This album probably best demonstrates where his heart lies, in terms of simplicity and limiting himself once in the studio. The fact that the record lacks little in the way of new/unheard material is the main drawback. It's a collection for the die­-hard White Stripes/Jack White fan rather than someone with a fleeting interest. In these times of constant technological advancement, when the digital age has irreversibly changed music consumption, Jack White is here to remind us that the old­ fashioned pleasures in life should always be celebrated. Garrett Hargan