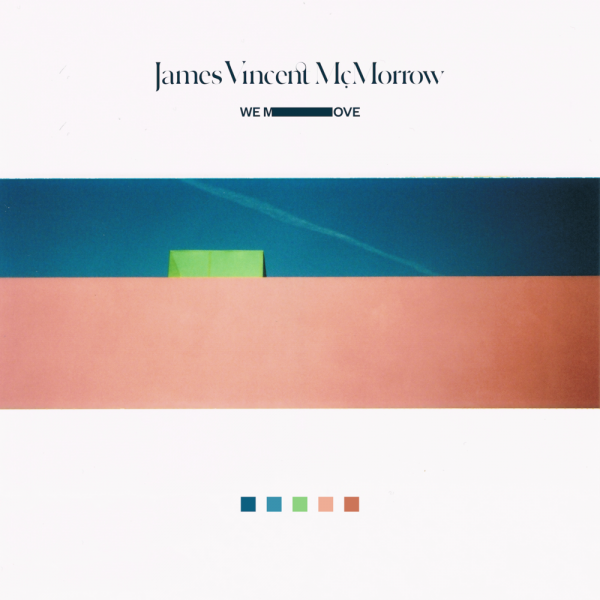 This being his third musical endeavour, Dubliner James Vincent Mcmorrow's We Move is an exciting and re-energized collection brimming with eleven brilliant laid back grooves. His 2010 debut, Early In The Morning, served as a charming introduction to his style, his sombre tone slotting nicely into the indie folk genre, a record comprised of melancholic, angst-laden tracks. His 2013 neo-soul influenced follow-up however took an unsuspected turn, echoing elements of hip hop, electronica and R&B. What he would delve into after that was anyone's guess.
Having worked with major league producer Nineteen85, McMorrow manages to blend his original folk-inspired sound with something more unique. There's a natural progression that enlivens his style and ushers the record down what had once been an uncovered path, still managing to stay true to his original sound.
There's an air of genuine honesty to it. He's managed to strip himself bare with this particular collection, opening up about love, loss and mental fragility, more vulnerable than ever before, making it his most daring piece of work yet. He uses his falsetto voice to full effect, with it emerging as the most incredible instrument once again on the beautifully smooth and soulfully stripped back record.
The starkly produced lead track, 'Rising Water', serves as an ideal album opener. Sampled hand claps, bellowing synths and a pulsating beat lead to an all-consuming chorus in a song that captures his lack of regret associated with the way he treated an ex-lover.
'I Lie Awake Every Night' sees McMorrow address the eating disorder he battled since childhood. Haunting instrumentals and powerful lyrics "weeds growing in my mind" shows just how willing he is to show his vulnerable side on the record. There's a certain malleability to it that makes it feel as though it's designed for movement despite its slow, downbeat tempo.
The electronically tinged 'Evil', complete with glorious harmonies, impeccable vocal layering and infectious musical undercurrents delves deep into the human psyche. It's about trying to figure yourself out as an individual, wondering whether you may be a bad person. It serves as a beautiful album peak, perfectly pulling together new found elements and pairing them with echoes of his initial work, building up and exploding into a glorious climax.
There's a stark contrast between 'Killer Whales', a gentle track which echoes his breakthrough cover of Steve Winwood's 'Higher Love' and the endlessly catchy 'We Move', the most mainstream cut from the release. The low key buzzing guitar riffs of 'Get Low', another track addressed to an old lover, create a seriously cool addition. There's silkily rich vocals, an air of suave and a sultry guitar line that create an emotive track that fully utilises McMorrow's outrageously talented tool kit of guitars and falsetto.
The cleverly titled, 'Lost Angeles', a beautifully soft, downbeat track brings the album to a close. The brilliant lyrics,"Don't let fear control you", suggest that perhaps there were once inner demons holding McMorrow back, but that now he has finally conquered them.
Ultimately, the album lives up to its title in that McMorrow has undoubtedly kept on moving. We Move is his most accessible and most definitive album to date, proving that he has much more to give than it may have initially seemed to some. Paula Murphy