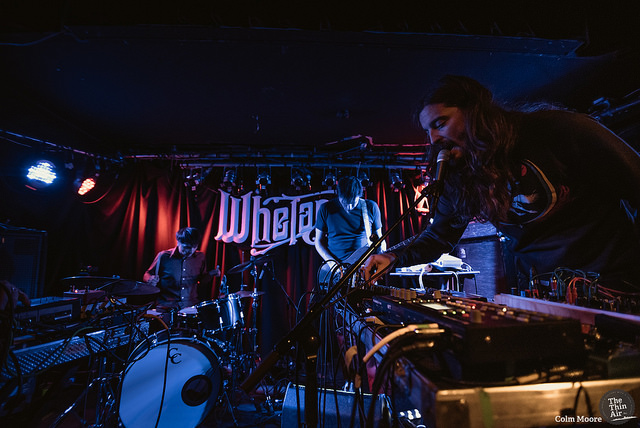 It may be four years since Toronto quartet Holy Fuck last graced these shores – and six since they last treated us to a headline show – but they certainly haven't lost their ability to bring in a crowd, if tonight's packed out Whelan's is anything to go by. Perhaps this being their only Irish date this time around has helped attendance, not to mention their formidable live reputation, but it's heartening to see people haven't forgotten about them in their absence, and with a long awaited and steller new album Congrats under their belts there's a palpable excitement in the room right from the off tonight.
Dublin's Wastefellow, aka Diolmhain Ingram-Roche, kicks things off first of all, still a relatively new name on the scene having released his debut EP Amazed, A Maze! back in May, and with news of the support act confusingly not revealed until mere hours before doors open, many of the earlier arrivers aren't really sure what to expect. It's a suitably impressive showing though, Ingram-Roche performing in a mask and accompanied by visuals as he stitches together warped electronics from his laptop and samplers. It's difficult to make precise comparisons but Flying Lotus and Four Tet are likely influences, while there's often a touch of Animal Collective to his sweetly melodic vocals. Much like tonight's headliners, the use of a live drummer paired alongside the glitchy electronic beats makes for a particularly engaging performance, giving it an edge often missing from more robotic solo electronic performances.
Merely watching Holy Fuck set up their vast, enviable array of junk-shop equipment is dizzying enough, let alone watching them actually put it to use when they break into opener 'Chimes Broken'. Original core duo Brian Borcherdt and Graham Walsh, still dedicated to their original aim of creating electronic music with purely live instrumentation – essentially dance music filtered through a noise-rock prism – position themselves behind tables strewn with toy keyboards, pedals, mixers and a countless wires, facing each other to aid their unspoken musical synchronicity. Where the band once employed a revolving door cast of bassists and drummers, since the fearsome rhythm section of Matt McQuaid and Matt Schulz stabilised prior to 2010's Latin they've been a tighter unit, to the point where bassist McQuaid even has his own (much smaller) table of effects to play with occasionally now as well.
Guitar features more prominently than ever before, primarily by Borcherdt. Having already appeared on Latin mini-epic 'Stay Lit', which as ever is a highlight tonight, it's become a staple of quite a few of the newer songs, more often for extra noise and effects than discernible riffs. Borcherdt is particularly fascinating to watch as he juggles this with his electronics, plays a lap-steel with a butter knife and shouts into a mini-microphone often held between his teeth when he runs out of hands. His and Walsh's vocals have gained greater prominence too, still often wordless and distorted but also turning in hooks with almost comprehensible lyrics on newer tracks like the unusually sunny 'Neon Dad', while the bass heavy 'Red Lights' showcases the locked-in groove that McQuaid and Shultz do so well.
There's an overwhelmingly enthusiastic response from the heaving crowd, as band and audience feed off each other's energy, Walsh even leaping up and down by the time they reach 'Xed Eyes', and their between-song grins betray how much they're enjoying themselves on this final night of their current tour. While the set leans heavily on Congrats and Latin, two old LP favourites close out the main set – signature track 'Lovely Allen' is typically warmly welcomed, before bleeding into 'Super Inuit', with Borcherdt feeding film reel through an old film synchronizer to the bafflement of anyone seeing them for the first time.
The enormous build up of Congrats stand-out 'Shivering' is saved for the encore before 'SHT MTN' caps off the night, and the general feeling is that Holy Fuck have lost none of their legendary live power in their time away. Here's hoping it's not quite as long until they visit us again. Cathal McBride
Photos by Colm Moore