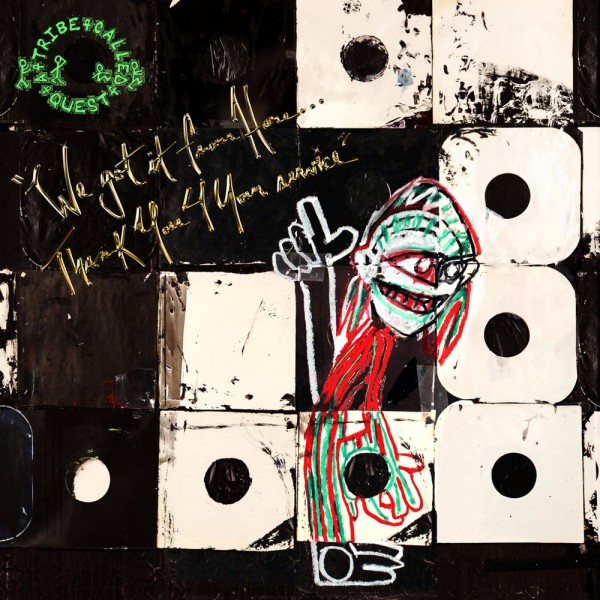 While Bowie's Blackstar is no doubt the most important musical epilogue of 2016, A Tribe Called Quest's final chapter, featuring the sadly departed Phife Dawg, is a minor triumph in itself. The group have a legacy in hip-hop like few others: their one-two of landmark records, 1991's The Low End Theory and 1993's Midnight Marauders, are as close to perfection as the genre gets. Arriving when rap was dominated by Dr Dre led West Coast gangsta rap, NYC's Tribe rejected the violent posturing and casual misogyny of the former while paying homage to the more abstract, arty influences that informed hip-hop's late 70s birth. MCs Q Tip and Phife Dawg to and froed over Ali Shaheed Muhammad's smooth jazz samples, landing a hugely influential style miles away from the cheap synths of g-funk.
Frustrations with their record label and the industry at large saw the group disband in 1998, although they continued to reunite sporadically for the next fifteen years. A performance on Jimmy Fallon's show in November last year sowed the seeds for album number six, despite the tragic news of the following March, when Phife passed away from complications of diabetes. Fortunately, The 'Five Foot Assassain' had already lain down the majority of his vocals, giving We Got It From Here, Thank You 4 Your Service the feel of a true Tribe classic.
Thankfully, it's not solely an exercise in nostalgia. With a history of socially conscious lyrics, the group takes aim at the current president elect several times (although, oddly, not on final track 'The Donald): Phife's decries "Trump and the SNL hilarity/Troublesome times kid, no times for comedy" on 'Conrad Tokyo', while Q Tips refrain of 'all you bad folks must go', meaning blacks, gays, Mexicans, Muslims and the poor, is delivered with an icy matter of factness. It's not all public or political, either: on standout 'Melatonin', Q Tip discusses his reliance on the titular drug, and it's low-key beat, along with Q Tip's rhythmic flow, is another reminder of the group's idiosyncratic greatness.
Key to the album's freshness is producer Muhammad's boundless ingenuity. As bass-heavy and energetic as any previous record, it's been updated with keyboards and blues guitar, while the cold piano of 'Mobius' finds Muhammad looking across town to Wu Tang's RZA for inspiration. The pioneering, try-anything approach is admirable and gives means the record is neither rooted in the past or present, although the lapses into cod-reggae on 'Solid Wall of Sound' and 'Black Spasmodic' do grate somewhat. The jazz of The Low End Theory is largely ignored until the penultimate track 'Ego', using a double-bass intro that near identical to 1991's 'Excursions'.
The group enlisted a plethora of guest stars to pick up where Phife Dawg left off which makes for deeply impressive reading. Joining frequent collaborator Busta Rhymes and founding member Jairobi White, Consequence, Kendrick Lamar, Andre 3000, Kanye West add vocals, as do rockers Jack White and Elton John, with 'Solid Wall of Sound' being built around a 'Benny and the Jets' sample. Lamar has become the go-to guest rapper from Dr. Dre to Taylor Swift, and his fiery verse on 'Conrad Tokyo' is typically excellent, but the real star turn is from Andre 3000, who dominates 'Kids…' from start to finish. After his show-stealing appearance on Frank Ocean's Blonde, a solo debut seems more enticing than ever.
'Dis Generation' features a shout-out from Q-Tip to the current generation of rappers 'Joey, Earl, Kendrick and Cole, gatekeepers of the flow,' and it captures the feeling of this record nicely: aware of their lasting influence, without drowning in self-importance. It's not perfect, being overlong at sixteen tracks, but it's brave and still deeply relevant to hip-hop and the world at large. Without quite being on point all the time, it's still a thrill to hear Phife Dawg and co. refusing to go quietly into the night, and it's a fitting end for one of the greatest acts of their time. Caolán  Coleman